What's the attraction?
Nothing sums up the joy of a family holiday quite like the sound of a small child playing happily in a tepid body of water. But where an older generation might have deemed a day of paddling on a pebble-strewn beach to be sufficient fun for all concerned, nowadays the stakes are higher. Or rather, the slides are.
In the 21st century, a break that involves water is not complete without your offspring launching themselves into a swimming pool via a dizzyingly steep chute with a name such as "Neptune's Wrath" or "Splash Of The Titans". And the burgeoning heartland of these water parks is the United Arab Emirates, where two new developments are ensuring that 2013 is a year for lightly chlorinated excitement.
Down the slide in Deutschland
Germany might not seem an obvious destination for water-park thrills, but it manages a splendidly unusual take on the concept in the form of Tropical Islands (00 49 354 7760 5050; tropical-islands.de) – a colossal former aircraft hangar reconditioned as a holiday wonderland, heated to a constant 26C.
Tucked 45 miles south of Berlin, in the town of Krausnick, it contains a "rainforest", a beach and – in zones such as Tropical Sea and Bali Lagoon – a wealth of options for shrieks and screams, including Germany's highest water slide tower (88ft). Day passes cost €34.50 for adults, €27 for children aged six-14. A one-night stay in August in the tented accommodation of the resort's Rainforest Camp is €182.50 for a family of three, with breakfast and park admission.
Flume at the top
Never willing to be eclipsed by its Emirati neighbour, Abu Dhabi unveiled a rival water feature in January when Yas Waterworld (00 971 2 414 2000; yaswaterworld.com) flung open its gates. Based on Yas Island, the park has 43 slides and attractions, split into four categories – of which Adrenaline Rush is the most nerve-jangling. The six lofty spray-fests in this bracket include the Dawwama "tornado ride" with its 20m funnel and the giant Jebel Drop slide. Day tickets cost UAE$225 (£40) for adults, UAE$185 (£33) for children. A five-night stay at the St Regis Saadiyat Island for a family of three costs from £3,050 with Heathrow flights, transfers and a day's entry to Yas Waterworld with ITC Classics (01244 355 550; itcclassics.co.uk).
Definitely Maya
Mexico takes an inventive approach to water parks on its Riviera Maya shoreline. Slotted 50 miles south of Cancun, Xcaret (001 888 922 7381; xcaret.com) sets out its lazy rivers and snorkelling areas amid Mayan archaeological slivers. Day passes are 1,157 Mexican pesos (£60) for adults, M$579 (£30) for under-12s.
A further 25 miles south, near Tulum, sister site Xel-Há serves similar fare on the edge of a natural coastal lagoon (xelha.com) – adults M$1,027 (£53), under-12s M$514 (£26). A seven-night half-board break for a family of three at the three-star Mahekal Beach Resort in Playa del Carmen, flying from Gatwick on 31 August, costs £3,952 with Virgin Holidays (0844 557 4321; virginholidays.co.uk).
Spanish main attraction
A water-park escape does not have to mean a dash to a distant continent. Spain's fabled PortAventura resort (pictured below) – pitched on the Costa Daurada, south-west of Barcelona (00 34 9 7777 9090; portaventura.co.uk) – boasts the Costa Caribe Aquatic Park. The 16 rides here include a big addition for 2013. Unwrapped in May, King Khajuna is Europe's tallest free-fall water slide, rising to 102ft with a descent angle of 55 degrees.
A seven-night break for a family of three (child under 13) at the resort's Hotel Caribe, flying from Gatwick to Barcelona on 31 August, costs £1,838 in total – with breakfast, transfers and park entry – via PortAventura Holidays (0800 0913886; portaventuraholidays.co.uk).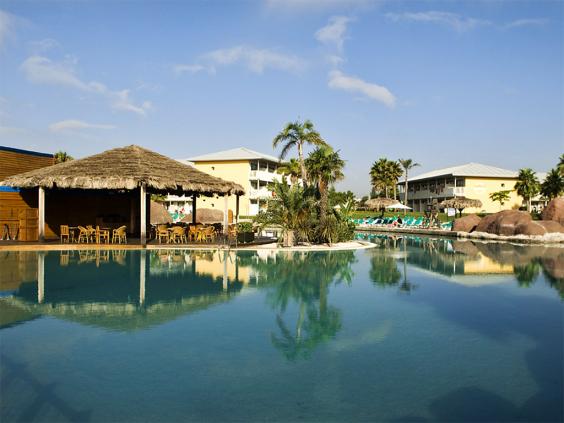 Breton breaks for water babies
Or why not splash about for a week in France? Keycamp (0844 273 6715; keycamp.co.uk) proffers 21 "Splash Parcs" in France. La Pointe St Gilles, at Bénodet in Brittany, provides five swimming pools, four slides of various heights and lots of gentle family amusement. A six-night self-catering break in a two-bedroom Villanova mobile home (sleeping up to six) from 25 August, costs £810 per party – including Dover-to-Calais ferry crossing.
Not so calm on The Palm
At the tip of The Palm – the artificial offshore landmass in Dubai – the five-star Atlantis resort (00 971 4 426 0000; atlantisthepalm.com) has been offering outdoor fun via its Aquaventure Waterpark (pictured below) since 2008. September will see the arrival of the Tower Of Poseidon – a new zone that will include Aquaconda (the world's largest circumference water slide), Poseidon's Revenge (a 380ft slide where riders can hit 37mph) and Atlantean Flyers (the longest zipline in the Middle East). Day passes cost 225 dirham (£40) for adults and UAE$180 (£32) for children – but entry is free if you stay at the hotel. A six-night half-board break for a family of three, leaving Gatwick on 21 September, is £2,891 via Destinology (0808 163 7165; destinology.co.uk).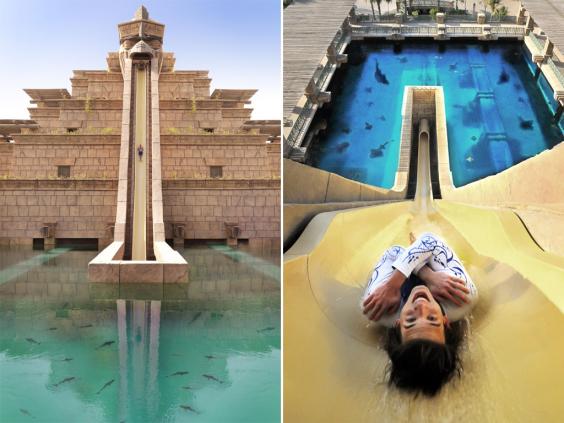 Playing at home
The Center Parcs site at Elveden Forest in Suffolk (08448 267 723; centerparcs.co.uk) premiered its new Tropical Cyclone ride last November – two conjoined chutes which guests tackle on four-man rafts, reaching speeds of up to 30mph. A one-week stay for a family of four in a Woodland Lodge from 2 September is £978.
At Paignton in Devon, Splashdown Quaywest (01803 555 550; splashdownquaywest.co.uk) is the largest water park in the country, with the likes of Devil's Drop (a 49ft vertical-drop slide). Day tickets are £12.50 for adults, £45.40 for families of four, £6.50 for under-fives – prices that are echoed at sister attraction Splashdown Poole in Dorset (01202 716 000; splashdownpoole.co.uk).
Insider information
"There is nothing like a pool complex with slides and chutes to keep kids entertained on holiday. Keycamp's 'Splash Parcs' are picked for their water activities. We have 25 of them across Europe, including in France, Spain and Italy. Each one has an array of facilities such as toddler pools, lazy rivers and Jacuzzis – so there is something to suit all ages."
Michelle Betley-Jones, Keycamp (keycamp.co.uk)
Reuse content