Why travel with a guide book when you can go with the person who wrote it? A break under the guidance of someone who knows their onions – be that archaeology, wildlife or, well, actual onions – can offer greater insights into the destination, and the chance to pick up knowledge and new skills along the way.
An expert-led tour is just what the name implies: a tour, usually in a small group of eight to 16 people, accompanied by a leader with a particular field of expertise. And demand for this type of holiday is on the rise; Steppes Travel has seen bookings for its collection of more than 30 expert-led tours rise by 50 per cent over the past two years.
"Learning from an expert on an individual basis can cost a lot; their fees are seldom cheap. But putting together a group tour with an expert in attendance is a more cost-effective (and often more enjoyable) way to learn from an expert in situ," says Derek Moore, Chairman of the Association of Independent Tours Operators (aito.com).
So, what sorts of tours are available? Pretty much anything; with a small group, it's easy for operators to cater to even the most niche of interests. Among the most popular themes, though, are photography and wildlife. Cazenove+Loyd (020 3553 7938; cazloyd.com) launched its Escorted Journeys Division in 2013, and among its collection is a Tanzania Great Migration Safari, led by BBC Big Cat Diary's Jonathan and Angela Scott. Travellers receive one-to-one photography tuition (Jonathan and Angela have both won the Wildlife Photographer of the Year competition) as well as a superlative safari. Departing 20 February 2016, the nine-days tour costs from £5,880pp excluding flights.
However, expert guides aren't always well known – it's their knowledge, not their celebrity, that matters. "Travelling with a household name generates interest but it's important to create experiences that are relevant and not to rely on star factor," says Jenny Wilkinson of Cazenove+Loyd.
Guides range from eminent historians to brilliant birders. On The Go Tours (020 7371 1113; onthegotours.com), for example, has a new range of Tours Hosted By Us, utilising the expertise of its own long-standing team members.
At the other end of the scale, Black Tomato's Ladakh with the King of Leh (020 7426 9888; blacktomato.com) is escorted by the region's King Namgyal, and includes a palace stay as a guest of the royal family. The price for 13 days starts at £4,318pp.
Author, guide and Turkey aficionado Jeremy Seal isn't quite royalty, but he knows his patch inside out, regularly leading trips to the country. In October he'll front a gulet-based Cultural Walking trip to Lycia for Exclusive Escapes (020 8605 3500; exclusiveescapes.co.uk; seven nights from £1,900pp including flights). "I've been hooked on Turkey for 30 years and hope that shows in the knowledge I'm able to bring to bear, not only in terms of the ground I've covered but the writing and thinking I've done on Turkey's history and culture," Seal says. "But the main benefit is travelling with a person who feels passionate about the place."
Wildlife
Due to their uniqueness and limited departures, expert-led tours are prone to selling out, so you need to book early. Rainbow Tours' Daniel Austin Madagascar Wildlife Discovery Tour (020 7666 1250; rainbowtours.co.uk) has sold out for this November but you can book for 2016. It's led by guidebook author Austin, with an itinerary based on David Attenborough's Madagascar. You might spot such rarities as indri, lemurs, golden-crowned sifakas and chameleons. For October 2016, 18 days cost from £4,585pp, including flights.
Steppes Travel's Kenya: Elephant Insight & Lake Turkana (01285 601 758; steppestravel.co.uk) is also likely to be popular. It is led by BBC presenter Saba Douglas-Hamilton and offers the chance to explore with her family, who have long been dedicated to saving elephants. Walks and game drives with Saba, hands-on participation in research and a helicopter safari are special touches. Departs 4 September and 12 February 2016; 11 days will cost from £8,995pp, with flights.
Less remote, but no less unusual, is Travel the Unknown's Long-Eared Owls of Serbia (020 7183 6371; traveltheunknown.com). "Urban birder" and Countryfile regular David Lindo leads this trip to witness the world's largest gathering of the species, which congregate in a town square. Departs 29 November; five days from £695pp, not including flights.
Photography
Both photography and wildlife are satisfied on Discover the World's new Orcas and Auroras in Norway trip (01737 214250; discover-the-world.co.uk). Based in Andenes, where whales gather and the Northern Lights dance, it's led by zoologist, broadcaster and photographer Mark Carwardine. Departures on 22 and 26 January 2016; four nights from £1,745pp, with flights.
Alternatively, head to the Himalayas with Lonely Planet photographer Richard I'Anson. New for 2015, he's leading World Expeditions' Kolkata, Darjeeling & Sikkim tour on 20 October (020 8875 5060; worldexpeditions.co.uk), which combines a breathtaking trek with the Durga Puja Festival (above). From £2,990pp, excluding flights.
Dive Worldwide's Bali Underwater Photography Workshop (01962 302087; diveworldwide .com) offers sub-aqua snapping with photo-journalist Jane Morgan. There's unlimited shore diving and nine boat dives, to shoot shipwrecks and sunfish. Departs 4 September; 10 days start at £1,975pp, with flights.
Active
Former champion jockey Richard Dunwoody leads Wild Frontiers' new Armenia Horse Ride from 19 September (020 7736 3968; wildfrontierstravel .com). It crosses monastery-scattered hillsides and Silk Road sites and is £1,495pp for nine days, excluding flights.
Meanwhile, amiable author of Driving over Lemons, Chris Stewart, ambles around rural Andalucia on Inntravel's A Walking Week With Chris Stewart (01653 617000; inntravel.co.uk). The writer guides guests between whitewashed villages, local bodegas and his mate Adolfo's olive mill. Departs November; seven nights from £1,050pp, excluding flights.
An expert is perhaps handiest when you're leaving your comfort zone. Gane & Marshall's Into the Arctic (01822 600600; ganeandmarshall.com) includes a two-day sledge-pulling expedition in Spitsbergen, overseen by ex- Royal Marine Commando Alan Chambers, who led the first successful unsupported British expedition to the Geographic North Pole from Canada. Departs March 2016; five days from £1,995pp, including flights.
Not tough enough? The Beyond Travel Company (01892 548 992; thebeyondtravel company.co.uk) has just launched a world-first Antarctic "triathlon" led by Touching the Void 's Simon Yates. The trip includes training in the Alps before the four-week climbing, skiing and kayaking polar expedition in January 2017. And the cost? About £100,000pp.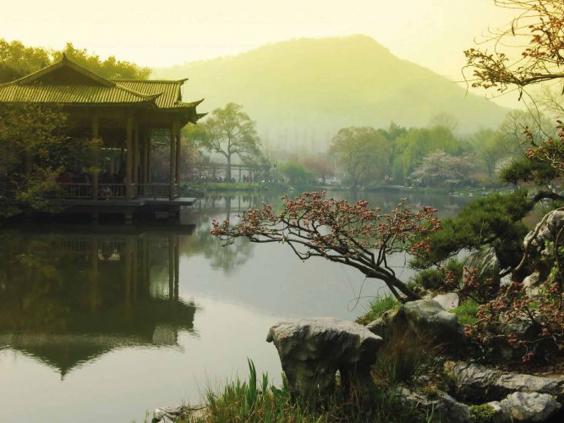 Gardens
One trip that comes with the highest recommendation is Brightwater Holidays' Benmore: My Favourite Garden with Stephen Blackmore (01334 657155; brightwaterholidays.com) – Stephen is the Queen's Botanist. Here, he leads a tour of Benmore, Argyll. Two nights from 4 June start at £315pp, exclu-ding travel.
Further afield, RHS Garden Holidays' Plant Seekers Tour of China (020 3735 1855; rhsgardenholidays.com) journeys from Chengdu to Lijiang with leading horticulturists Christopher Bailes and Raymond Evison. China contains one-eighth of the planet's plant biodiversity, so expect floral abundance and surprises – on one expedition, Raymond found a plant that was new to science. Departs 15 September for 15 days and costs from £4,990pp, including flights.
History
History comes to life in the hands of experts who can totally transform dusty ruins or nondescript fields. Barrie Friend and Rhydian Vaughan achieve this on Titan Travel's new Allied Invasion of Normandy trip (0800 988 5873; titantravel.co.uk). The pair, both members of the Western Front Association, add insight to key landing sites. Departs 8 October; four nights from £949pp, including ferry.
Wolf Hall devotees will like Historical Trips' new tour, The Making of a Tyrant (01722 713 820; historicaltrips.com). Historian and academic Dr Suzannah Lipscomb unearths the truth on a tour through Tudor England, which includes a stay at Thornbury Castle, once visited by Henry VIII. Six days, from 7 September, start at £2,695pp, including transfers.
Exclusive entry is often a feature of expert-led tours, and this is the case for Andante Travel's Angkor Wat in Cambodia & Vietnam (01722 713800; andantetravels.co.uk). Chaperoned by Dr Damian Evans, of the Greater Angkor Project, you'll get unique access to Angkor and other recently unearthed temples. Departs 30 October; 13 days from £2,500pp, excluding flights.
Art and culture
"We design our Escorted Journeys around the expert, to ensure the most is gained from having them," says Jenny Wilkinson of Cazenove+Loyd. This is the case on its Discovering Denmark's Art Scene (020 3740 1225; cazloyd.com), led by Sandy Nairne, the director of London's National Portrait Gallery and one of the foremost experts on contemporary art. Dinner at Noma and a private concert at Frederiksborg Castle are also included. For 30 September, the four-night trip starts at £2,270pp, without flights.
Martin Randall's Edinburgh Festival trip (020 8742 3355; martinrandall.com) includes daily talks by Radio 3 broadcaster Professor Geoffrey Norris. The trip also includes tickets to nine world-class performances, among them Vasily Petrenko, Nicola Benedetti, Iestyn Davies and Lang Lang – ideal for the indecisive. Starts 15 August; five nights from £2,530pp, excluding travel.
Cox & Kings' Royal Academy of Arts tours (020 7873 5000; coxandkings.co.uk/ra) use the connections of RA lecturers to secure exclusive entry to off-limits places. Its new Ireland: Georgian Dublin & Country Houses tour is accompanied by architectural historian Roger White and includes special access to Trinity College. Departs 30 August; six days from £1,495pp, with flights.
Reuse content