There's nothing quite like the sensation of cruising through the blue, surrounded by shimmering fish and limitless space. A new exhibition at the Natural History Museum, "Coral Reefs: Secret Cities of the Sea" (020 7942 5725; nhm.ac.uk; £10), explores the world's subaquatic habitats, the creatures that live there, and what we can do to conserve them.
As well as underwater photography and live sea coral, the exhibition includes a "virtual reef dive". But if you want to try the real thing, there are countless options, from Sharm el-Sheikh to Sri Lanka.
Learn the basics
If you're a beginner, it's worth notching up some training before your trip. That way, you won't need to waste precious holiday time in a classroom. Scuba training centres all over the UK offer entry-level Professional Association of Diving Instructors (Padi) courses, which cover theory and key skills in the safety of a swimming pool, from around £75.
Pull through and you'll be awarded a "referral certificate", allowing you to do the four dives needed to qualify as a Padi Open Water Diver at any Padi Centre, worldwide.
The Red Sea resort of Sharm el-Sheikh has beautiful coral gardens safe for novices to explore. Regaldive (01353 659999; regal-diving.co.uk) offers seven-night holidays in Sharm from £356pp including flights and B&B at the Mexicana Hotel. Open Water courses for referral students cost from £136.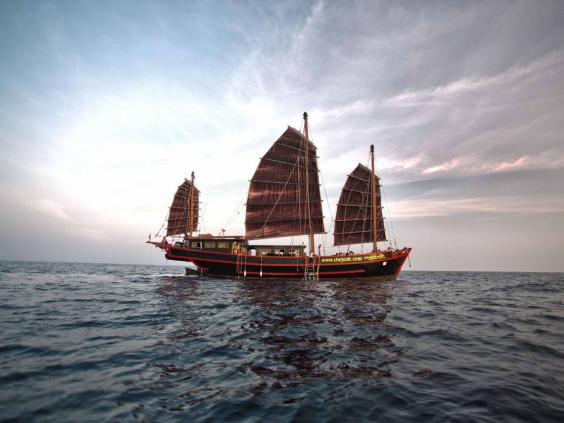 Set sail
For those who like the idea of heading back to dry land for some après-dive relaxation, a resort-based trip is the best bet. But for diehard divers, liveaboard boats present a more satisfying, adventurous alternative. Spend your entire holiday afloat and a whole new world opens up. Liveaboards can reach sites which are too remote for day trippers, at times when the currents are favourable and the light is at its most beautiful.
Blue O Two (01752 480808; blueotwo.com) offers holidays aboard cruisers and sailing ships. A six-night Andaman Sea trip to Thailand's Similan and Surin Islands on The Junk, a three-masted teak sailing ship, costs from £759pp, full board, excluding flights.
Take the family
Youngsters with a fascination for everything wet and wriggly will be in their element on a diving holiday in the Mediterranean. There's plenty to see in the calm, clear waters around the Greek islands of Kos, Rhodes and Lemnos, where Mark Warner (0207 3618 880; markwarner.co.uk) has four beach resorts with Padi dive schools. Supremely family-friendly, they offer free pool-based "try dives" and various scuba courses for adults and children aged eight and above, led by English-speaking instructors. Prices for seven nights at Lakitira Beach Resort, Kos, start at £4,532 for a family of four during the school summer holidays, half board, with flights from Heathrow and transfers.
Broaden your knowledge
To find out more about the aquatic environment you're exploring, join an expedition. The award-winning marine conservation operation Blue Ventures (020 7697 8598; blueventures.org) offers training in species identification and scientific method, after which you can help to collect important data on coral reef ecology.
There are two projects, one in a remote fishing village in Madagascar and the other in a marine reserve in Belize. The long-term aim is to support coastal communities in conserving the spectacular ecosystems they inhabit. Placements last from three weeks and cost from £1,900pp excluding flights. The price includes full board in shared beach cabins, with Padi training available if required.
Dive with giants
To rev up the excitement, head for the deep-water habitat of the world's largest animal. Natural World Safaris (01273 691642; naturalworldsafaris.com) offers a pioneering marine safari which aims to get small groups of swimmers and snorkellers close to blue whales off the southern coast of Sri Lanka, where there are also shipwrecks to explore. You'll be guided by an expert. The nine-day trip costs from £4,695 with B&B at Weligama Bay Resort, excluding flights.
Reuse content