Soaring over Namibia's Skeleton Coast in a single prop Cessna 210, just 1,000ft from the ground, I could see the contours of hundreds of vessels that have run aground on this remote Atlantic headland, slowly corroding in the saline mist and rusting beneath the sand dunes. The only sign of life was the hundreds of seal colonies that commandeer huge sections of this seemingly endless coastline, like infantries patrolling their territories. As we continued further up the coast, a flamboyance of bright pink flamingos escorted us out of their airspace. This is an isolated realm of raging currents and swirling winds, where thick blubber and aerodynamic plumage seem to be the desired attire. "You wouldn't survive for more than a day down there," my pilot, Mark, disclosed with a wry grin. As if I needed reminding.
With a population of just 2.3 million scattered over an area six times larger than England, Namibia is vast, wild and rugged. Bleak yet beautiful, stark yet stunning, it brandishes one of the world's most photogenic and innately cinematic landscapes – unsurprisingly, it has caught the attention of film-makers, as well as travellers.
Chosen by Australian director George Miller as the setting in which to unravel Mad Max: Fury Road – in cinemas this weekend – Namibia's epic landscapes serve as the perfect location to continue the dystopian depiction of the future that he captured so vividly in the first three instalments of the action movie series. Smothered with huge, shape shifting dunes, inhospitable coastlines and rugged mountain ranges, it is a harsh and lunar landscape of staggering proportions.
Large parts of the film were shot on the outskirts of the coastal town of Swakopmund – the southern boundary of the Skeleton Coast – in a rocky and undulating area known as the "Moon Landscape" and it was here that I met the film's Namibian production manager, Raymond Inichab, who also moonlights as a tour guide.
"Here, we have one of the oldest and emptiest deserts in the world," he told me as I stared over the cratered, boulder-strewn scene. "The production crews that came here were stunned by what we have. I'm expecting this to be a busy time for Namibia."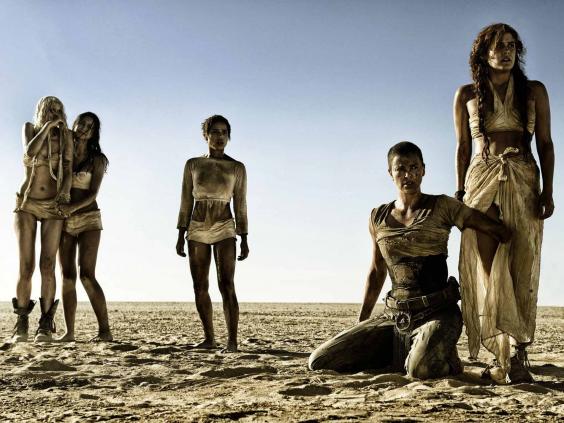 In the first three Mad Max movies, George Miller indulges in prolonged, almost lascivious, shots of the Australian Outback. In Namibia, the director has found a similarly seductive backdrop that is impossible to tear your eyes away from. Producers can spend years composing their mise en scène, but in Namibia the searing sun and roaring winds have designed a set that is all but finished.
Playing out 50 years in the future, Fury Road sees Max, played by Tom Hardy, and Furiosa (Charlize Theron), attempting to traverse a desolate and inhospitable desert while trying to outrun a bloodthirsty gang. As I followed in their footsteps, it didn't take much of an imagination to see why this country had appealed to Miller. While the first three films see Max either chasing, or being chased through Australia's familiar dusty red Outback, flooding in New South Wales had forced production of the film to take place in Africa at the eleventh hour. Nevertheless, the stand-in setting perfectly captures the desperation of the characters.
Despite its apparent hostility, though, this sliver of south-west Africa still supports a star-studded cast of fauna. Staying at the recently opened Hoanib Skeleton Coast Camp, in the north of the country, was like taking up prime position on the red carpet and I was poised to catch a glimpse of one of Namibia's A-list cast of wildlife.
"Would you like a relaxing drink or shall we track some elephants?" asked my guide, Charles, at the end of another sun-baked afternoon.
"Both?" I replied gingerly with the same upward inflection of a glutton unable to choose between two puddings. Within five minutes I was bundling into the back of his 4x4 with a cool box packed with frosty local lagers and a bottle of South African chardonnay, just in case.
As we bumped along the parched bed of the Hoanib River away from camp, the setting sun washed an auburn haze over spinneys of emerald undergrowth while a light breeze swirled sand along the ground. All around me I could see a habitat slowly stirring after the searing heat of the day and an animal kingdom waking up to its nocturnal calendar. Charles had spotted a few faint, but substantial elephant footprints in the sand. We started to follow them eagerly, but cautiously.
As we drove on along the riverbed, a troop of lethargic baboons nibbled at fermenting fruits like office workers indulging in a swift pint after work, while a towering giraffe stretched his already extensive neck to the verdant summit of an acacia tree. Then, as I took another refreshing swig of ice-cold beer, I could see a herd of at least half a dozen elephants wandering along, nose-to-tail in the distance.
The rapid transition from anticipation to reality left me strangely nervous. We had stumbled across a group of elephants in a conservation area the size of Norfolk, just 15 miles from the camp and within just half an hour.
I couldn't help but feel slightly embarrassed that it had all unfolded so easily.
The rare Namibian Desert elephant has managed to survive in this scorched corner of Africa, despite the lack of regular rainfall, alongside other large animals such as lions, oryx and giraffes. They need to eat up to a quarter-ton of foliage every day and we had rudely arrived, unannounced, at dinner time.
Found only in Namibia and Mali, desert elephants have adapted to their surroundings by evolving longer legs, broader feet and smaller bodies, and can survive for up to three days without water. They are the long-distance athletes of the animal world.
Now just 600 or so are believed to exist in the Namibian wilderness and can be found roaming anywhere within an area of 45,000sq miles. I had stumbled across an animalistic needle in a continental haystack. "I bring tourists here from all over the world," said Charles. "And sometimes in two weeks of searching we don't find any elephants." I was struck by their grace in spite of their colossal mass and the dexterity of their long, leathery trunks. Some were using them to pull down whole trees while others could pick off individual leaves with the nimbleness of a master watch-maker.
One of the older females stood up on her hind legs in order to grab the slightly greener foliage at the top of a nearby bush. With her thick, parched grey skin covering quadriceps the size of motorbikes she was able to balance with the poise of a prima ballerina.
All too quickly, murky twilight enveloped us and I begrudgingly had to agree with Charles that it was our cue to leave. Still, this snapshot of serene beauty shared with Namibia's real superstars was the perfect way to end a blockbuster trip.
'Mad Max: Fury Road' is in cinemas now.
Getting there
Simon Parker was a guest of Abercrombie and Kent, which offers an 11-night Quintessential Namibia itinerary (Windhoek, Sossusvlei, Swakopmund, Damaraland and Etosha) from £3,995pp. The price includes all accommodation, most meals, guiding and game drives, as well as international and internal flights and all transfers (01242 855 098; abercrombiekent.co.uk)
More information