Giant sand dunes ripple gracefully towards a magnificent sunset. Salt flats blur towards a dazzling infinity. And while the Namib Desert – the world's oldest – defines the word "parched," the nation's 1,000-mile coastline is pounded by the wild Atlantic. These extremes are home to unique creatures from dune larks to desert elephants.
Namibia is certainly weird. And in the estimation of many travellers, it is also wonderful. Adventures await in this south-west African nation. You can walk and talk with the local community, climb ancient mountains and slide down a sand dune on a piece of hardboard at speeds of up to 50mph (Alter Action, Swakop-mund; 00 264 64 402 737; alter-action.info; US$30/£20 for a morning or afternoon),
The country, repeatedly voted the most enticing in Africa, did not exist three decades ago. Namibia was colonised in 1884 by Germany as Deutsch-Südwestafrika; an often-vicious regime that is interpreted in the Alte Fort Museum, a fortress-turned-museum in Grootfontein. More decoratively, German architecture enriches Swapokmund, where there are masterpieces of Jugendstil (German Art Nouveau) that make you feel you're walking in the Black Forest rather than beside the Atlantic.
Stranger still is Luderitz, in the south of the country, which has the feel of a Bavarian town. Close by, Kolmanskop is an old diamond-mining settlement that has become an eerie ghost town. The main attraction in the south of the country is Fish River Canyon: a 100-mile long, 15-mile wide and 1,700-foot deep gouge in the planet, close to the frontier with South Africa.
For most of the 20th century Namibia was effectively a province of South Africa, and shared white minority rule. It was freed from the colonial shackles only in the late 1980s – a long struggle that is spelled out in the impressive National Museum of Namibia in the capital, Windhoek; there are two sites on Robert Mugabe Avenue; 9am to 6pm, Monday to Friday, 3-6pm at weekends (museums@iway.na).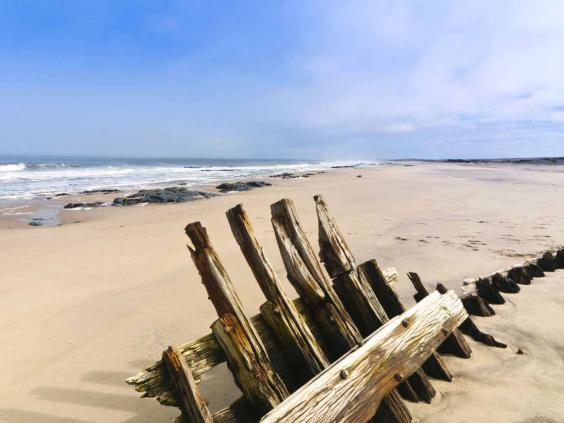 The capital, home to one-sixth of the 2.2 million population, is a well-groomed aberration compared with the rest of Namibia – a compendium of diverse landscapes nearly four times the size of Britain. The ideal way to experience the country is to join an overland trip. Overland trucks are made for Namibian travel, able to negotiate the often-challenging roads and tracks and carry the camping gear that is essential in a country short of guest accommodation.
Many tours start or end in neighbouring countries. For example, Acacia Africa (020 7706 4700; acacia-africa.com) has frequent departures on its 12-day Cape Desert Safari between Cape Town in South Africa and Windhoek, taking in Fish River Canyon, Namib-Naukluft National Park, Spitzkoppe and Swakopmund. Basic prices start at £396, but a kitty to cover food and park admission adds a further US$335 (£223) to the cost.Dragoman (01728 885637; dragoman.com) has an unusual 19-day Family Adventure departing from Victoria Falls in Zimbabwe on 19 July and taking in part of Botswana – though with most of the time spent in Namibia. The price of £1,820 includes practically everything (guiding, national park admission, all meals and accommodation) except international flights.
This trip takes in the Caprivi Strip: a narrow band of Namibian territory, squeezed between Angola and Botswana, that was handed over by Britain to Germany (in exchange for Zanzibar) to give its colony access to the Zambezi river. The terrain is unrelenting scrubland, punctuated by small settlements. At n'Kwazi Lodge (00 264 81 242 489; nkwazilodge.com) you can sign up for community tourism ventures that invite visitors to meet locals and gain insight into the tribulations and rewards of rural life here.
Also, try to meet the San Bushmen, a tribe of diminutive stature who have battled with foes from colonialism to modern life yet still endure.
The finest scenery is in the western part of Namibia, areas of which resemble a cut-price Arizona. A highlight is Spitzkoppe, a spectacular 5,669ft peak. Close by, weatherworn rocks resemble nature's take on Surrealism.
Further south, an old farmstead has been re-invented as Palm wag Lodge (00 264 61 234342; palmwaglodge.com), you can watch the sun set, along with cold beer and wi-fi. The double-room rate of N$1,345 (£75) includes dinner and breakfast, which is just as well because the nearest alternative restaurant is several hours away at Solitaire, a tiny community that sums up the pioneer spirit that still resounds through Namibia. A once-forlorn crossroads has been artfully enlivened to provide a welcome respite on a journey through a magical country.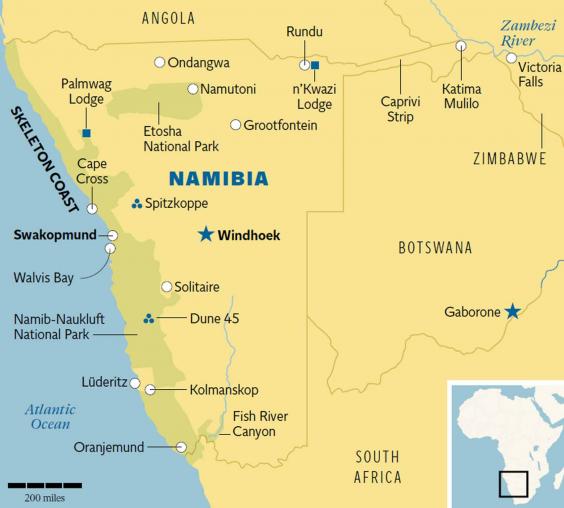 Etosha National Park
One of the finest national parks in Africa, arguably the world, occupies a Suffolk-sized patch of north-east Namibia. At Etosha's heart is a giant salt pan of a whiteness with the power to penetrate even polarised lenses. It also offers an apocalyptic vision of Planet Earth as a sun-dried fossil.
Around the salt pan, camps have been established that offer tremendous opportunities for viewing wildlife – thanks to sensitive protection, and the shrewd deployment of waterholes. Leopards, rhinos, elephants, cheetahs and lions are frequent visitors, while zebras and giraffes are so commonplace some tourists become blasé.
An old German fortress at Namutoni has been reinvented as a comfortable place to stay, dine and be amazed by the antics of the wildlife at the adjacent King Nehale Waterhole. A two-person Bush Chalet is N$2,096 (£114) per night, without meals. Game drives are an additional N$330 (£18) per person. Full details at etoshanationalpark.org.
Dune roaming
As Mad Max: Fury Road demonstrates, much of Namibia resembles a film set of extreme nature. The most dramatic backdrops are to be found in the Namib-Naukluft National Park in the south-west of the country. Particularly striking are the waves of dunes sculpted by wind and time. The landscape is constantly shifting, and the daily incursions by tourists are quickly erased by the breeze.
The signature attraction is Dune 45 (the number refers to the distance from the park gate). Visitors are taken by open safari vehicles to the foot of the dune, from which it is a demanding but rewarding hike to the top of the ridge.
From the summit, you can watch the sun set and then tumble down the escarpment. Many organised trips take in Dune 45, but if you are travelling independently then the Namib-Naukluft Lodge (00 264 61 372 100; namib-naukluft-lodge.com) can offer shelter and organised tours.
Skeleton Coast
There is plenty that is strange about Namibia, but the coast makes a strong claim to be the weirdest feature. Hundreds of miles of shoreline are littered with wrecks of ships lost in the fog that results from the atmospheric faultline between the cold Benguela current and the dry roasted desert.
In addition, the shifting sands mean that one wreck, the Edward Bohlen, south of Walvis Bay, actually now lies three miles inland – an indication of how much has changed since it ran aground in 1909.
Yet the coast also has a surprise wildlife attraction. Amid the wrecks is a raucous colony of Cape fur seals that you can hear from a mile away and smell from two miles off. At Cape Cross, north of Swakopmund, you can walk among the seals (pong permitting) and see the cross that commemorates the Portuguese explorer, Diego Cao, who was the first European to visit Namibia in 1485.
City life
Some street names in the capital, Windhoek, display Namibia's revolutionary credentials – Nelson Mandela Avenue, Fidel Castro Street, Robert Mugabe Avenue – but most still indicate a German colonial heritage: Bach, Bismarck, Goethe.
Begin a tour on Bahnhof Street at the handsome railway station. Close by on Stübel Street, the House of Gems is an excellent place to get a glimpse of Namibia's extraordinary mineral wealth. A quarter-mile south, on the Post Street Mall, fragments of a large meteorite are on display (though in diminishing quantities due to theft).
Windhoek is a good place to shop for Namibian crafts – with the Old Breweries Crafts Market providing the widest choice.
The national institutions are clustered on the other side of Independence Avenue: notably the Tintenpalast, former hub of German rule and now the seat of Namibia's parliament; and the country's mother church, the handsome Christuskirche, soaring over the skyline.
The most agreeable place to stay is the Roof of Africa on Nelson Mandela Avenue, with bedrooms arranged around a flower-filled courtyard and a solar-heated swimming pool (00 264 61 254708; roofofafrica.com; N$1,272/£70 for a double, including breakfast).
On a budget? Then Cardboard Box Backpackers, at 15 Johann Albrecht Street (00 264 61 228994; cardboardbox.com.na) has dorm beds for N$135 (£7.50), including breakfast.
Getting there and getting around
Air Namibia no longer flies between the UK and the capital, Windhoek, so most British travellers arrive via Johannesburg. Typical fares from Heathrow on British Airways (0843 493 0787; ba.com) or South African Airways (020-8576 5505; flysaa.com) are £1,000 to £1,200 return, via Johannesburg. See the warning in "Red Tape" (right). The best alternative, which is also useful for regional airports in the UK, is to fly to Frankfurt and continue on Air Namibia's non-stop flight to Windhoek (00 264 61 299 6111; airnamibia.com). The international airport is located 25 miles (and a N$300/£16 taxi ride) east of Windhoek; most domestic flights use Eros airport, just south of the city. Air Namibia's extensive network of domestic flights serves Katima Mulilo, Luderitz, Ondangwa, Oranjemund, Rundu and Walvis Bay.
The railway is in fair shape, with its hub at Windhoek's handsome station. TransNamib runs passenger services under the StarLiner brand; you can access the timetable at bit.ly/TransNamib. The main link connects Walvis Bay and Swakopmund with Windhoek, a 12-hour overnight journey running five days a week. There are also two services a week south to Karasburg.
Buses connect the main towns, with South Africa-based Intercape (intercape.co.za) the leading operator. Hitch-hiking is reasonably successful.
When to go
Peak season is July to October – winter in the southern hemisphere, which means chilly nights but reliably bright, warm days (except on the perennially foggy Skeleton Coast). From November to June rates are lower and crowds are thinner (with a surge over Christmas/New Year), but temperatures can be uncomfortably high.
Money
The Namibian dollar (N$ or NAD) is on a par with the South African rand. South African notes and coins are used interchangeably with local currency. Don't get stuck with Namibian funds at the end of your stay; they are practically impossible to exchange outside the country. Credit cards are accepted at tourist-related enterprises, but do not let the card out of your sight. Cloning is commonplace.
Red tape
Namibia makes no charge for UK visitors, and simply requires that your passport has six months to run. From 1 June the bureaucracy involved in a flight via South Africa is set to increase for anyone travelling with under-18s. Even if you are only in transit through Johannesburg, you must produce the child's full birth certificate, with extra requirements if the child is travelling with only one parent, with neither biological parent, or unaccompanied.
Crime and safety
Be careful in the capital. The Foreign Office says: "There is a growing level of violent street crime affecting foreign tourists, particularly in Windhoek."
Keeping in touch
Mobile-phone roaming in Namibia can be very expensive for UK users (typically £1.50 per minute to make or receive calls). Instead, buy a cheap pay-as-you-go phone for the equivalent of £10 or less and make outgoing calls for a few pence per minute. Let people know your 00 264 … number and they can call it at no cost to you.
More information
Lonely Planet's Botswana & Namibia (£16.99) devotes slightly more than half its contents to the latter.
Namibian Tourism Board: namibiatourism.com.na
Reuse content