On a terrace with sweeping views of the sunbaked Mbashe valley, the Thembu chief of Mvezo is hosting a recruitment drive for his newly built traditional council centre. He's tall and immaculately groomed, with a presence and delivery that are startlingly familiar. Chief Zwelivelile, better known as Mandla, is unmistakably a Mandela.
Mvezo Komkhulu will feature a lodge and a museum of abaThembu heritage, Mandla tells me later. "Part of its purpose will be to celebrate the life of my grandfather, Nelson Mandela," he says. "Not his political career, since that's covered so well elsewhere, but the traditional customs and values which influenced him."
Nelson Mandela – named Rolihlahla, meaning troublemaker, by his father, Chief Gadla Mandela – was born in Mvezo in 1918. Until a couple of years ago, this tiny Eastern Cape village remained remote, impoverished and obscure, but Mandla's ambitious plans are changing that.
A new brick-paved road now leads from the N2 highway up to Mvezo Komkhulu, which will, he hopes, attract cultural tourists from all over the world. Beyond is the gleaming Nelson Mandela School of Science and Technology, built with funds from Siemens. The opening of a secondary school in this deeply rural region, where women scratch a subsistence living while their husbands labour in distant cities or mines, fulfils one of the late former president's lifelong dreams.
Nelson Mandela: the memorials and landmarks
Nelson Mandela: the memorials and landmarks
1/5 Nelson Mandela: From the Eastern Cape to Soweto

'Release' sculpture near Howick (Emma Gregg www.emmagregg.com)

Emma Gregg www.emmagregg.com

2/5 Nelson Mandela: From the Eastern Cape to Soweto

Qunu, where Mandela grew up (Emma Gregg www.emmagregg.com)

Alamy

3/5 Nelson Mandela: From the Eastern Cape to Soweto

Street art in Soweto (Emma Gregg www.emmagregg.com)

Emma Gregg www.emmagregg.com

4/5 Nelson Mandela: From the Eastern Cape to Soweto

Location map

5/5 Nelson Mandela: From the Eastern Cape to Soweto (GEtty)

Memorial man: the bronze of Mandela in Pretoria

Getty
Mandla, who was born in the middle years of his grandfather's lengthy imprisonment, is Mandela's eldest living male descendant. His desire for his late father, uncle and aunt to be re-buried in their ancestral home of Mvezo made headlines last year. It's clear that for him this is just one part of the big picture. He's determined that Mvezo should claim its place in the network of heritage sites honouring the greatest leader Africa has ever produced.
Under apartheid, the country's cultural institutions recorded just one strand of this complex nation's history. But the first general elections where citizens of all races were allowed to vote took place 20 years ago – the anniversary will be celebrated on 27 April – and over the past two decades a new generation of curators, artists and sculptors have found their voice in some superb contemporary museums and installations.
Dotted along an informal route from Cape Town to Pretoria via Eastern Cape Province and KwaZulu-Natal are a growing number of sites dedicated to Mandela and his contemporaries. They include showy statues, like the new bronze of Mandela outside the Union Buildings in Pretoria; modest memorials, such as Steve Biko's humble grave in King William's Town; and heart-wrenching museums. By exploring independently and taking walking tours with local experts, you can piece together the story of Mandela's life, visiting places where he lived, worked, served out his 27-year prison sentence and made significant speeches.
Mvezo is one of a flurry of new stops on the Mandela trail. Mandla had hoped that his grandfather would live to witness its change in fortunes. "I always told him: 'You must make it to 100'," he says, "and he would reply: 'Just a day at a time'."
Visiting Eastern Cape Province gives you an inkling of the austerity of Rolihlahla Mandela's rural upbringing. In 1920, he and his mother moved from Mvezo to the larger but scarcely more prosperous village of Qunu, 18 miles away. It's a scattered settlement of rolling pastures, maize plots and Xhosa-style rondavels (huts) painted white, apricot or turquoise. In Long Walk to Freedom, Mandela wrote that he loved it "in the unconditional way that a child loves his first home".
His final resting place is here, in a private garden close to his 1990s homestead, which is by far the most substantial building around. It's not open to the public, but it attracts endless attention. As I pause at the entrance, a steady stream of people drive up and jump out to grab a selfie outside the gates.
I visit the Nelson Mandela Museum conference centre and lodge which overlooks Qunu. A curator, pleased to show me around, takes me to the sloping rock which Rolihlahla and his mates used as a slide. Its granite surface, polished by generations of young backsides, shines in the weak morning sun. A scamper away is the site of the primary school where Rolihlahla's teacher, Miss Mdingane, following the custom of the time, gave him an Anglicised name: Nelson.
Qunu was just one of Mandela's childhood homes. He spent most of his youth in Mqhekezweni, a little-known village six miles away, in the care of a relative, Chief Jongintaba Dalindyebo. Jongintaba's compound was recently declared a heritage site, but remains surprisingly low-key.
Jongintaba used to hold community meetings under Mqhekezweni's distinctive circle of gum trees. This shady spot is still used for the same purpose, and as my South African driver, Sisa, and I approach, a gathering is in progress. We're led, discreetly, to the back of the grassy compound, where the hut that Nelson shared with his cousin, Justice, has been preserved. It's a bare room with a couple of beds and a book case.
As we glance out, the doorway frames a view of the assembly. I imagine the two youngsters slipping out to sit on the fringes of similar gatherings, observing Jongintaba's skill as a decision-maker. For Sisa, a penny seems to drop. "So this is where it all came from," he says. "This is important. More people should know about this." He's even more impressed when, at the gate, we meet Justice's elderly widow, Nozolile, who helps look after the site. "Madiba always had a childlike spirit," she says. "He loved to tell stories of the old days, when he was just an ordinary boy growing up in a small village."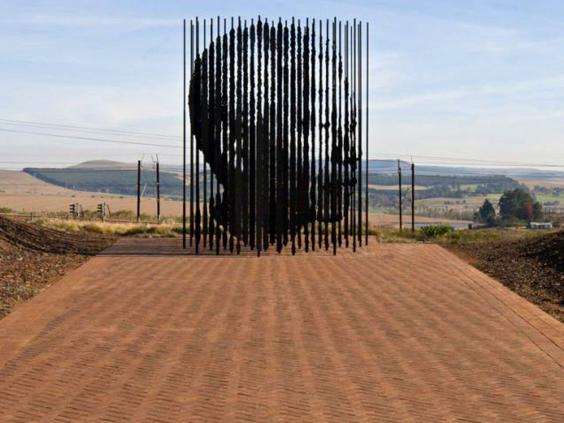 Some points on the Mandela trail celebrate the great man through public art. Marco Cianfanelli's intriguing sculpture Release marks The Capture Site near Howick, the spot where Mandela was arrested in 1962. From a distance, it appears abstract, a cluster of nibbled-looking black metal poles. But as I walk towards it, the poles resolve into a portrait of Mandela in profile. And when I raise my camera to my eye, I discover a magical twist – it's only when viewed through a lens that it really snaps together. In a satisfying reminder of the fragile dynamic between record and reality, the screen of a smartphone renders it perfectly. Another work, The Voting Line by Anthony Harris and Konrad Geel, commemorates the 1994 elections with a long, winding line of cut-out figures leading to a triumphant silhouette of Mandela. I find it near the top of Route 67, a contemporary art trail leading through Port Elizabeth. This rough-edged city played a pivotal role in the anti-apartheid struggle. In 2001, its municipality was renamed Nelson Mandela Bay.
Controversially, Cape Town has been slow to create a fitting, lasting tribute to Mandela. Perhaps the city's guilt over holding him captive is still too much to bear. Even so, there are plenty of historic spots to explore in and around the city. Robben Island, where Mandela served 18 of those 27 years behind bars, was one of the first of the post-apartheid museums. Tours are led by ex-inmates who still remember his presence. They're so popular that the experience tends to be crowded and rushed, but nothing can detract from the emotional punch of staring through the bars of the great man's cell, barely large enough to lie down in.
Shaheed Ebrahim of local tour company Escape to the Cape is considering creating a Mandela-themed itinerary. He held back during the great man's lengthy illness for fear of appearing to be cashing in. Alongside Robben Island, he'd like to include the former Victor Verster Prison near Paarl, where Mandela served the last months of his sentence. "It would be fascinating to meet the guards who prepared him for life outside prison," he says. "They taught him things we take for granted, like how to work a microwave. The first time he saw one, he mistook it for a television."
For completeness, you could also visit Pollsmoor, the notorious high-security prison where Mandela spent six years. There's a restaurant here, a rehabilitation project for ex-offenders, which serves some of the best-value curry for miles.
In central Cape Town, walking tour guide Ivor Shaskolsky, of Footsteps to Freedom, has a plan worked out. He shows me the hunk of the Berlin Wall which Mandela received as a gift, takes me to City Hall, where he delivered his first speech after his release, and walks me past the Parliament Buildings. We end up at a public garden, where a gaggle of schoolchildren of every colour are larking about in the sunshine. "Scenes like this are surely Mandela's most poignant legacy," he says.
In Johannesburg and Soweto, where Mandela lived and worked as a lawyer, the echoes of his former presence are strongest of all. The Nelson Mandela Centre of Memory near his mansion in the leafy suburb of Houghton recently opened its extensive archives of documents, photographs and footage to the public. There is more at Liliesleaf, once the nerve centre of the liberation movement.
At Regina Mundi Church in Soweto, a volunteer guide leads me to the altar steps, turns me to face the pews and says: "You're now in the exact spot where Mandela stood to speak to the congregation in 1997, honouring them for their role in the Soweto Uprising of 1976." I gasp. The altar and interior still bear the scars of the gunfire that erupted when armed police pursued student demonstrators into the building.
Later, I visit 8115 Orlando West, Vilakazi Street, the little bungalow which Mandela shared with his first wife, Evelyn, and his second, Winnie. A museum since 1996, it contains few truly personal possessions, but simply stepping inside feels like an intimate privilege. In Johannesburg, I pore over handwritten letters in Mandela's cell on Constitution Hill and absorb biographical details of Mandela the activist and politician at the award-winning Apartheid Museum. Its main exhibition is so powerful it leaves visitors reeling or, like me, sobbing.
The latest generation of cultural guides were still at school when Mandela was released. Jo Buitendach, of Past Experiences, leads fascinating tours through Mandela's old haunts in Johannesburg, whose inner city is regenerating so rapidly that the images on Google Street View, shot in 2010, look startlingly out of date.
"Things may be changing fast, but there are still people here who met Mandela in person," she says, "and some of the stories we tell come directly from them. Yes, he will always be an icon. But he was also utterly human, and that's what we want to remember."
Travel essentials
Getting there
Emma Gregg travelled as a guest of South African Airways (0844 375 9680; flysaa.com) which flies from Heathrow to Johannesburg.
Visiting there
Apartheid Museum, Johannesburg ( apartheidmuseum.org).
The Capture Site, Howick ( thecapture site.co.za).
Constitution Hill, Johannesburg ( constitutionhill.org.za).
Liliesleaf, Johannesburg ( liliesleaf.co.za).
Mandela House, Soweto ( mandelahouse.co.za).
Nelson Mandela Centre of Memory, Johannesburg ( nelsonmandela.org).
Nelson Mandela Museum, Mthatha and Qunu ( nelsonmandelamuseum.org.za).
Regina Mundi Church, Soweto ( reginamundichurch.co.za).
Robben Island (robben-island.org.za). Route 67, Nelson Mandela Bay ( bit.ly/Route67).
Touring there
Escape to the Cape, Cape Town ( escapetothecape.co.za).
Footsteps to Freedom, Cape Town ( footstepstofreedom.co.za).
Past Experiences, Johannesburg ( pastexperiences.co.za).
JMT Tours, Soweto ( jmttours.co.za).
More information
Reuse content