"Les moutons," Medhi decided finally, his glass of mint tea paused en route northwards as he considered the question. Yes, definitely: the sheep were what bugged him most about Essaouira nowadays. He lifted the glass and slurped a full stop.
Following his half-hearted sales pitch, the shopkeeper and I had settled into a discussion about the changes to Morocco's most celebrated coastal resort. In the eight years since my last visit, the Marrakech style set had painted a sheen of gloss onto the blue-and-white-washed town. The place now seemed awash with boutique hotels and stylish cafes, many of them more metropolitan than Moroccan, and tourist craft shops lined the streets. The car park was filled with daytripper coaches.
Of course, Essaouira is still bound by the honey-hued sea fortifications on which Orson Welles filmed Othello and its centre is still criss-crossed by narrow alleys. And beyond a harbour full of fishing boats, the Borj El-Berod watchtower still slumps like a melting sandcastle – the inspiration for Jimi Hendrix's "Castles Made Of Sand", locals still insist, happily ignoring the fact that the song predates his visit in 1969 by two years. But it seemed confirmation of a shift towards mainstream holidays when in 2011 Sofitel opened a 147-room golf hotel just outside the town.
International hotel chains and golf courses are a long way from the hippy-leaning, seagull-wheeling town of old. I could understand how that might be an irritation in modern Essaouira even if the incessant off-season wind was nothing new. But sheep? Just wait, Medhi told me.
Our conversation drifted until we were interrupted by a torrent of people in the alley. "Voilà," Medhi said, as daytrippers hurried behind a guide's raised umbrella. "Les moutons."
All of which is what took me north, past Safi and 30km of beach misted by breakers, to Oualidia. Not much in the way of coach tours in this small resort; just white houses hooked around a lagoon that's sheltered from the Atlantic by red-sand cliffs. In fact, not much of anything, which is half the attraction.
With few holidaymakers around, Oualidia out of season is as seductive as its whispered phonetics (waa-lee-dee-a). There were no entreaties to admire non-existent craft shops, no children requesting "un dirham, monsieur". I almost had to hustle a couple of fresh oysters (the local speciality) from a fishermen.
Small wonder it's cherished by Moroccans and in-the-know Europeans. King Mohammed V holidayed here in the 1950s and his ruined waterfront palace retains its ring of guards. His grandson, the current king Mohammed VI, visited in 2010 and simultaneously ordered investment in local infrastructure and a ban on construction along the foreshore; an effort to preserve a resort whose proximity to Casablanca and Marrakech has seen it tagged a Moroccan St Tropez. A few city ex-pats now maintain chic weekend villas among the older blue-shuttered houses, and cosmopolitan guests drift between infinity pool, immaculately groomed sands and hammam spa at La Sultana, an 11-room outpost of the Marrakech style hotel that is Oualidia's newest and most luxurious hotel by far.
There's a frisson of French Riviera in summer, too, when younger holidaymakers sizzle before the breakers on Grande Plage. And year-round, weekend diners from nearby cities come to lunch in fine seafood restaurants; one gent dressed in blue blazer, chinos and impeccable moustache strode into L'Araignée Gourmande like a Moroccan David Niven.
Nevertheless, Oualidia is no St Tropez. Not unless that's the fishing village before Bardot changed everything. Instead, it is a coastal escape for connoisseurs: a place to do nothing more complicated than admire the golden sandflats that materialise and vanish with the tides, filling the air with vast drifts of gulls.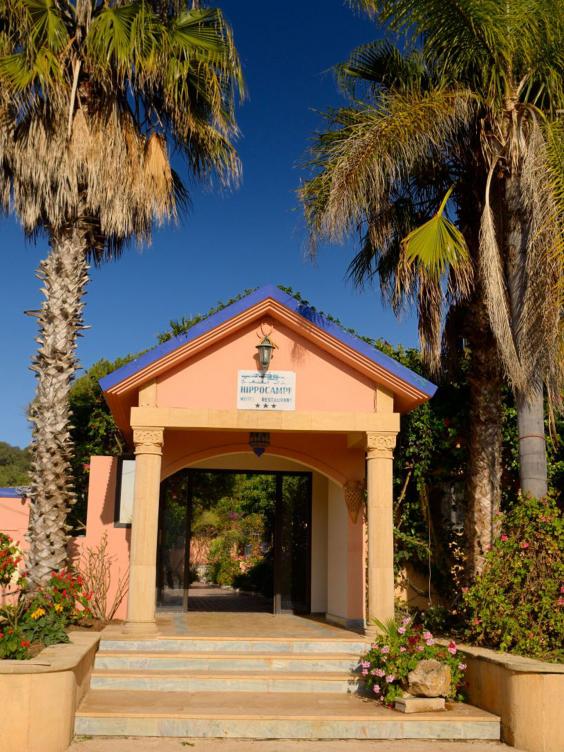 I could have lost a whole week simply admiring the view from the terrace of L'Hippocampe. Family-run, perfumed by flowers and sea air, it makes up in charming staff and waterfront location what it lacks in luxury compared to La Sultana. Besides the view there's a pool and petanque court shaded by a fig tree. It wasn't hard to understand manager Muhammed's point of view when he told me he had not left Oualidia in years.
Rousing myself from delicious languor, I signed up for a lesson with Surfland surf school. "The lagoon is a real natural wave pool," French owner Laurent Miramont said as waist-high waves unfurled across the sandbars. "Oualidia is a paradise for beginners because it has small waves of amazing perfection and beauty. For me, Oualidia is not just a feeling of sport, but of nature and a spirit of friendliness."
I spent a happy morning on a longboard, yet distraction was everywhere. The sunshine was warm, the morning air as crisp as champagne. I spent as much time watching two storks circle a minaret as riding waves.
For it's not only surfers that flock to the lagoon. "Regardez les oiseaux!" commanded Mustapha as we pootled 9km upstream on his boat, Honda. White egrets and spoonbills peered at us from the reeds and curlews piped in alarm on the mudflats.
Mustapha was disappointed that I was too early for the flamingos, due to arrive like a carnival troupe in February. But I didn't mind a bit. Spray from detonating ocean breakers misted the cliff tops like smoke, but the lagoon within was as languid as a daydream. Families worked crops on a green hillside dusted with yellow rape. Sheep grazed around a domed white tomb.
After Mustapha dropped me off, I ascended towards a 17th-century kasbah, built by the village's namesake, Sultan El Oualid. It became something of a habit – each day a few locals and I would congregate on a rusty canon to watch the ocean and lagoon blur into dusk. As I passed the palace ruins once again, a beanpole with a paratrooper's badge stepped from a sentry box. Trouble, I thought.
"Bienvenue à Oualidia," he said. A colleague grinned and saluted me. Welcome indeed.
Travel essentials
James Stewart travelled with Lawrence of Morocco (01672 500 555; lawrenceofmorocco.com), which offers five nights' half-board at L'Hippocampe from £780 per person including flights from Gatwick to Marrakech and private transfers. It organises half-day surf lessons with Surfland for £35. British Airways (0844 493 0787; ba.com) flies to Marrakech from Heathrow and Gatwick; easyJet (0843 104 5000; easyJet.com) flies from Gatwick and Manchester.
More information
Reuse content