It looked like a spectators' car park at a busy Nevada rodeo, where the best way to get up close to the animals is simply to stand on the roof of your SUV and whip out a camera lens the size of a drain pipe. And when the kids get too excited and venture too close to the crazy critters, why you just holler and pull them back.
Stetsons, baseball hats, beanies, canvas cloches, military floppies, bright hoodies, would-be French legionnaires: all were on show. And with the multi-coloured hat-fest came striking T-shirts and vests, baggy shorts, khaki pants, a bright yellow anorak, polo shirts and sleeveless fishing vests.
I could see them all. A hundred or so people, surrounding a couple of dozen 4x4s. They were perched on the roofs of their vehicles; or standing outside them, trampling the grass; or edging towards the open dirt space where the action was taking place. I could see them – but I just couldn't believe what I was looking at. Because what was happening only a few metres away from this effectively illegal gathering was something far more dangerous, wild and spectacular than any steer-wrestling exhibition or tie-down roping.
This was the Mara River in south-west Kenya's Maasai Mara National Reserve. The radio chat between the rangers must have been intense throughout the morning to bring this amount of traffic to the site of a potential "crossing". There is neither a start nor finish to the annual migration cycle within the Serengeti ecosystem. But the search for food and water by 1.5 million wildebeest, 500,000 Thomson's gazelle, 200,000 zebra and 18,000 eland, along with a quarter of a million other residents that include lions, leopards, cheetahs and other predators, means the seasonal route from Tanzania into Kenya necessitates that the migrating herds will at some point risk their lives as they cross the Mara.
The daily spectacle is a reminder that survival of the many often comes with the bloody death of the few. They rope wild bulls in Reno and call it a sport. In the Mara, crocodiles pick off wildebeest and turn the river red with blood at "crossing" times, and they call it tourism.
It's a natural wonder and – depending on which report you read – more than half of the three million tourists expected to visit Kenya each year will travel to the Maasai Mara to see the migration. A substantial upward revision of that figure is expected soon, due to rising numbers of Chinese visitors. At the peak, between July and September, 8,000 people – each of whom pay an $80 entrance fee – are to be found somewhere in the reserve's 1,510sq km every day. The wildebeest do what they do, but the human "migration" supposedly has rules to ensure Africa's natural cycle is not disturbed too much. I was watching the rodeo crowd from the opposite bank of the Mara, where only a few 4x4s had parked. I took the chance to re-read the list of rules I'd picked up at the Oloololo Gate entrance. They include "Do not sit or stand on vehicles' roofs at any time. Do not alight from vehicles at river crossing points. Always stay 25 metres away from the animals. No shouting clapping, or cheering. No littering."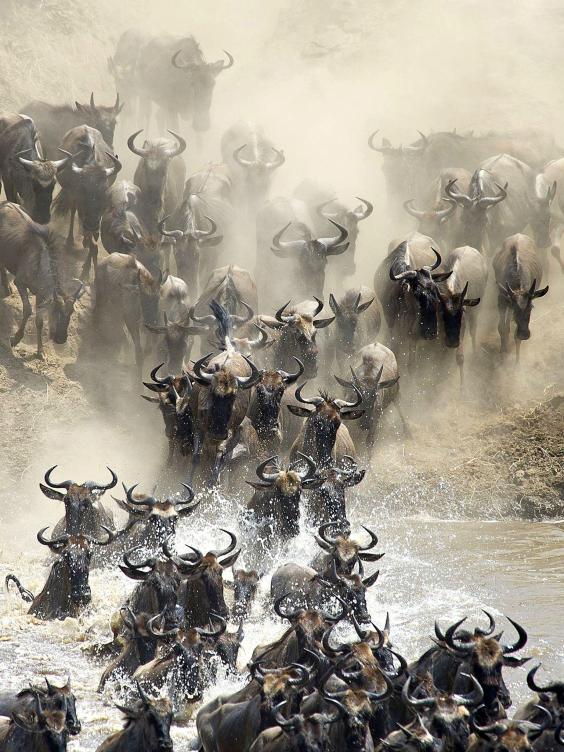 Wardens, whose job it is to police the reserve, were standing outside the Land Rovers. They looked like they couldn't care less. Maasai guides, in their checked tribal robes, were among the crowd, watching as camera-laden tourists edged dangerously away from the vehicles to within a few metres of wildebeest nervously waiting to make their way down to the crossing point. It looked insane; as deranged as someone casually trying to walk across a Formula 1 circuit during a race.
My own guide, Joseph Ole Koyie, a knowledgeable Maasai from the Sanctuary Olonana tented camp were I was staying, was also distressed. Built on a private stretch of the Mara just outside the reserve, Olonana is the embodiment of Kenya's safari industry wish-list. It is astoundingly beautiful, ecologically conscious and respectful of its wider role in conservation. Throughout four days, I never felt I was intruding on the migration's natural flow. That's how it should be.
Olonana appeals to a small number of clients, with luxury tents and dining that wouldn't be out of place in a five-star Mayfair hotel. The Mara's small number of luxury camps fits with Kenya's long-term plan of lowering numbers coming into the Mara, without affecting income. But how serious are the nation's decision-makers about this? Is it simply to enforce tourism quotas – and to price most people out?
Botswana's safari industry has already chosen the high-end option. The private game reserves in the Kruger National Park of South Africa are variants of the same strategy. However, a Kenya government report recently estimated that although up to 70 per cent of the 108 camps and lodges in the Maasai Mara area were effectively unlicensed and not paying their share of the Mara's upkeep in taxes, there were no plans to close them down. In the short-term Kenya can't afford such a gesture.
Unlike easy-to-rope-off heritage buildings that tourists want to box-tick before they die, must-see natural ecosystems such as the Serengeti, the Red Sea Reef, Mount Kilimanjaro or the Ngorongoro Crater are struggling to find new survival strategies for increasing global appetites.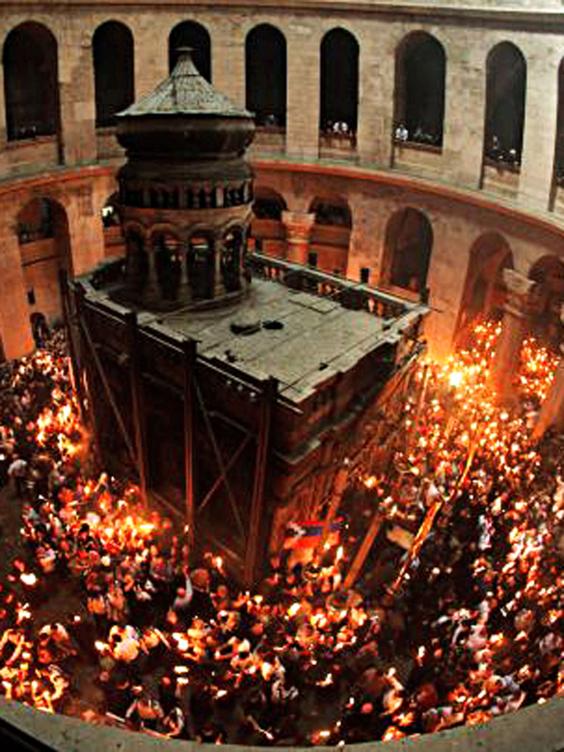 Peru's city in the clouds, Machu Picchu, the ancient Inca citadel that was built in grey granite more than 600 years ago, is currently visited by a little more than 2,000 tourists a day. It might have escaped the attention of 16th-century Spanish Conquistadors, but it can't escape the effects of 21st-century tourism. The footfall of international visitors is eroding parts of the site. Walking the Inca Trail is supposed to be the symbolically perfect way of getting there (rather than using the railway from Cusco). In 1984, 6,000 people used the trail. By the Millennium it was 82,000. It has now passed 100,000. Add to that the fact that fuel used for cooking on the trail comes from local timber and recent forest fires, and Machu Picchu itself looks threatened.
The solution? There has been talk of building a mountain highway and even a cable car. Helicopter flights have been authorised, but ecologists fear their impact on Andean condors. Entrance fees, along with income from the Inca Trail brings the Peruvian economy more than $10m a year. With other jobs, related tourism and support industries, the economic value of Machu Picchu is huge. Quotas and restrictions, if they come with lost income, won't happen for Machu Picchu just yet.
So how do you cope as a tourist if you know the crowds may spoil an adventure? A few years ago I was in Jordan and wanted to visit the rose-red carved monuments at Petra. The mountain city between Aqaba and Wadi Arabah is now, despite its remoteness, recognised as one of the wonders of the world. So it gets busy. The Siq is the high-sided narrow canyon that exits at the Treasury building. If you are first into the Siq, as dawn breaks, you can climb to the Deir (or "monastery") in an hour and be on your way out before the rush. Or take the "Petra by night" tour which sees 2,000 candles line the canyon, before you emerge with the Treasury bathed in candlelight and Bedouin music. For now, solutions such as these can help to an extent. However, an ecosystem such as the Maasai Mara doesn't have Petra's options.
Joseph Koyie doesn't believe the Mara is under threat. Driving away from the crowded crossings towards Tanzania, he showed it was still possible to move sensitively among the migrating herds. Nevertheless, he wants the reserve's long-term sustainability to come before short-term benefits. The days of the rodeo crowd, ignored rules and safari in the Mara as a mass-spectator sport, need to end. So is the Mara's future about persuading people not to come? It might be. The alternative could be a very large crowd – but nothing to see.
Travel essentials
James Cusick was a guest of Sanctuary Retreats (020 7190 7728; sanctuaryretreats.com) which offers three nights at Olonana from £790pp, including luxury tented accommodation, all meals and drinks, safari activities, return road transfers to the airstrip in the Mara, a Maasai Village visit, sundowners and bush meals. James travelled from Nairobi to the airstrip near Sanctuary Retreats with Safarilink (00 254 206 000 777; flysafarilink.com.
More information
Was your long-anticipated visit to a great cultural or natural wonder ruined by too many tourists? Get in touch at travel@independent.co.uk or tweet us @indytravel
Reuse content