In a restaurant next to the beach, youths are beating funky rhythms on what appear to be pieces of scrap metal. Women dance a chicken strut while those watching salute with beer bottles and offer shouts of joy. Is this Nigeria? Haiti? Or, possibly, Salvador in Brazil? As a matter of fact, this is France. To be specific, Réunion, a volcanic island in the Indian Ocean that is an "overseas department" of France. Thus you pay with euros, get served croissants for breakfast and, even in the tropical heat, often experience a certain chic Gallic shrug.
Réunion rarely attracts international attention. The occasions for which the island, just south of Mauritius, gets noticed tend to be when Piton de la Fournaise, Réunion's very active volcano, blows its top. Otherwise, Réunion is viewed as an exotic French colony (true) or, for the most part, simply overlooked. Yet anyone who has had the good fortune to encounter Réunion's vernacular music forms (maloya and sega) is aware that an exciting music scene exists here.
Where sega is light and melodic – the island's pop music – maloya, a music sung in Creole patois and reliant almost entirely on home-made percussion instruments and voice, is Réunion's equivalent of roots reggae. For aficionados of world music, Réunion is a treasure island.
Musical tourists should try to attend the Sakifo Musik Festival. This celebration of Indian Ocean music – alongside Réunion artists there are performers from neighbouring islands Mauritius and Madagascar; acts from the French mainland add international flavour while keeping the tropical vibe – takes place in St-Pierre, a Creole town on the island's south-west coast. Stages are built along the beachfront, so the festival presents a truly lovely way to hear live music. That the temperature is balmy, the sea delicious, the food (fresh fish and spicy stews) yummy and the locals attractive all suggests that there are few finer places to experience music than at Sakifo.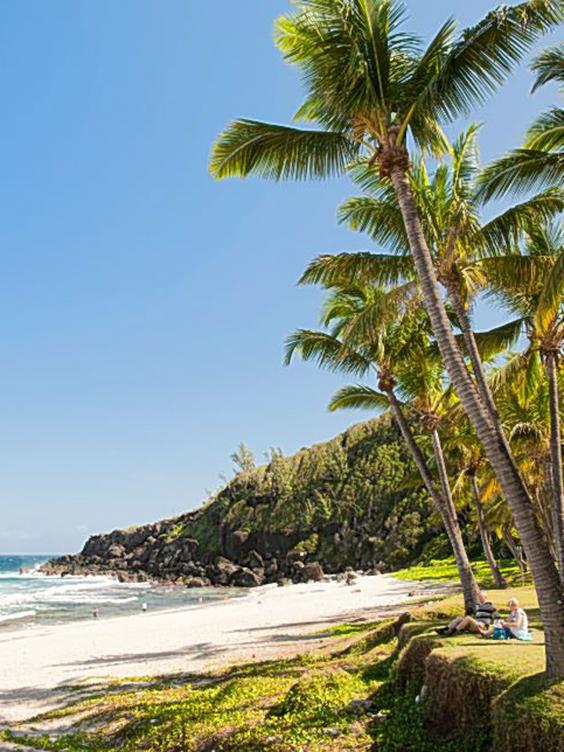 The perfect getaway
Sakifo festival is only once a year, but visitors to Réunion at other times need not worry: music is a major part of Réunion culture and you'll find it all across the island. Free weekend concerts often take place in towns and villages. The raison d'être behind Réunion's music scene is its isolation – for centuries, the French government treated the island as a big sugar and vanilla plantation – and a Creole culture that blends African, European, Chinese and Indian influences to lend Réunion a unique sound. As do the sugarcane shakers and recycled steel percussion: played by musicians with a sense of rhythm and magnificent voices, this is elemental music-making and as funky as James Brown.
First, hire a car and explore le sud sauvage (the wild south). Initially, the towns are small and the land lush; the coast is black rock and black sand. Then the landscape becomes a vast lunar park. Lava from eruptions has poured out from Piton de la Fournaise and flowed to the sea, leaving a long, black scar. With mist hanging in the atmosphere and the sea crashing below, this stretch of Réunion feels eerie, at once prehistoric and futuristic.
Don't ignore Réunion's east coast; it offers access to Hell-Bourg – a pretty Creole village – and good walking among extinct volcanoes. Réunion lacks the beaches of neighbouring Mauritius, so St-Pierre and other seaside towns have built beaches and artificial lagoons. But it's best to avoid the resorts, as the local musicians are not often found in them. And after a day's volcano climbing, what could be better than a cold beer in a bar where the locals beat out the funkiest rhythm you've ever heard, while chanting in Creole?
Plan it
France is the only European country with regular direct flights to Réunion. Car hire is reasonable and there's a good bus system.
Accommodation ranges from backpackers' hostels to five-star hotels; homestays abound in rural areas.
Sakifo Musik Festival tickets are available at the gate in St-Pierre (23-25 May; sakifo.com).
No permits are necessary for trekking on  the volcanoes.
Réunion experiences a cool, dry winter from late April to October; the peak tourist season is from late June to early September.
Detour
You've climbed a volcano, now how about mountain biking down Le Maïdo? This spectacular mountain involves an early-morning start to see the sunrise across the Cirque de Mafate, an undeveloped terrain that suggests a lost world. The Maïdo massif has 150km of marked mountain-biking trails that range from beginners' routes to those best left to experts. There are several companies offering mountain-bike services, such as group rides and guides for those who don't wish to cycle alone.
Essential experiences
* Watching Christine Salem, the soul queen of Réunion, or Danyèl Waro, the godfather of maloya, in concert.
* Climbing the active volcano Piton de la Fournaise and marvelling at its lunar landscape.
* Falling on your knees in awe at Le Maïdo, one of the most impressive viewpoints in Réunion and a superb two-wheel destination.
* Going heritage-hunting among the stunning Creole buildings of Hell-Bourg, a beautiful village tucked away in the Cirque de Salazie mountains.
* Driving around le sud sauvage (the wild south), an exciting day trip that provides lush, tropical scenery, wild beaches, lava fields and insights into the island's large Indian community.
Travel essentials
Location: Réunion, the Indian Ocean
Best time of year: May to October; the Sakifo Musik Festival takes place in early June
Ideal time commitment: One week
Essential tip: Take good walking boots Pack: Sunscreen, hat and beach gear
This is an extract from 'Great Escapes', published by Lonely Planet (£29.99). To order a copy, go to shop.lonelyplanet.com