'I never knew of a morning in Africa when I woke up that I was not happy." Had Ernest Hemingway stayed at River Farmhouse, he might have written his famous words that adorn its living room walls especially for this place. A 45-minute drive from Zambia's side of the tumultuous Victoria Falls, this beautiful new addition to Waterberry Lodge, a five-minute walk away, is a calm haven right on the banks of the Zambezi. Available only for exclusive use, there wasn't even the murmur of other guests to disturb us as we slipped into our infinity pool that seemingly flowed directly into one of Africa's mightiest rivers.
The Rooms
On the site of Waterberry Estate's erstwhile farmhouse, this white single-story property has four en-suite double or twin rooms, leading off the huge living area. Named after the compass points, we chose the East room – an African sunrise guarantees you'll wake up happy.
The entire house has been designed with eclectic flair by British owner Tessa Prior. Exquisite paintings of African wildlife look down on warthogs and geckos made locally from scrap metal, intricately styled china vases, pots and plates and pretty wrought-iron floor lamps. Everything blends in seamlessly with squashy leather sofas, colourful rugs, bold cushions and dark wooden furniture.
The kitchen has all the mod cons, but with our private chef creating delicious meals, we barely set foot inside. With dining tables indoors and out, we chose to eat on the veranda after drinks by the fire-pit, perfect for stargazing, and felt so relaxed we could have melted into the night.
River Farmhouse is ideal for a special family holiday, with a playground halfway between the house and lodge. Its immaculate gardens border the Zambezi, harbouring hippos and crocs, so mini-David Attenboroughs need careful supervision. On our last evening, it seemed happy hippos were having a party, laughing deep into the night as they chomped away on the lawns.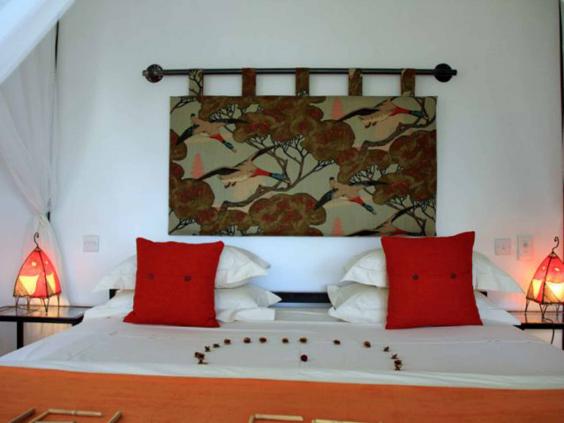 Out and About
River Farmhouse offers two in-house activities daily, including guided birding walks and sunrise and sunset cruises in a private boat. For a genuine glimpse of local life, take a relaxed – and far from voyeuristic – walk with lodge carpenter Webster Maninga to his nearby village, which is also home to most of Waterberry's staff.
Victoria Falls is deservedly the star attraction. The Zambezi tumbles frenetically 100 meters below at a startling rate of 550 million litres per minute. Footpaths lead to the best viewpoints, but be prepared: crossing Knife Edge Bridge across the gorge is like wading through the world's wettest, noisiest carwash. Lunar rainbows can be seen during full moons (park fees US$20/£12.50; 00 260 21332 1404; zambiatourism.com).
Adrenalin junkies can experience the Falls by helicopter or micro-light (from US$150-US$320/£94-£200; 00 260 21332 3589; seasonsinafrica.com), by white-water rafting (from US$150/£94; 00 260 213326629; safpar.com) or for the ultimate thrill, the stomach-churning Big Air Package includes a bungee jump, gorge swing and cable slide (US$170/£106; 00 263 213320606; shearwatervictoriafalls.com). Waterberry can arrange these activities, their prices including return transfer to the Falls. Whatever you choose, keep some time free to enjoy the Farmhouse.
The Food and Drink
You can self-cater at River Farmhouse but to date, no guests have done so. If you must, there are shops in Livingstone for provisions. Far better to indulge in the luxury of the private chef: our meals included delicious avocado and feta salad and tilapia in a lemon butter sauce, followed by a boozy trifle. Should you feel like socialising, stroll to the lodge and join other guests for dinner overlooking the Zambezi.
For unique fine dining, the restored steam-locomotive Royal Livingstone Express runs 10km from town to Victoria Falls Bridge, with sundowners and four-course dinner provided by the exclusive Royal Livingstone Hotel (Wednesdays and Saturdays; US$186/£116 including transfers to/from Waterberry; royal-livingstone-express.com).
The Essentials
River Farmhouse at Waterberry Zambezi Lodge, Livingstone, Zambia (00 260 213327455; riverfarmhouse.com). Expert Africa (020 8232 9777; expertafrica.com) offers four nights at River Farmhouse from £2,263 per person, including South African Airways flights from Heathrow to Livingstone via Johannesburg, transfers, full-board accommodation, private chef and housekeeping staff, private use of river boat and two in-house activities.
Reuse content