As I gaze out over the Katuma river, hippos spilling into the water in the fading light and umbrella acacia trees melting into silhouettes, the temperature drops and hairs stand to attention along my arm. The birds are suddenly silent. It feels like dusk, as the black hole of the moon's shadow slides across the sun. And yet it is only midday in Tanzania.
In fact, none of this has happened yet. However, it's likely that this is how the day will unfold in a year's time, when the annular eclipse casts much of Africa into the shadows on 1 September 2016. And rather than standing on a pavement with mirrors or pinhole projectors, what could be more dramatic than witnessing the effect the eclipse has on wildlife?
The annular eclipse (the one that forms a "ring of fire") will start in the Atlantic Ocean, move across Gabon, the Republic of the Congo, Tanzania, Mozambique and Madagascar, and out into the Indian Ocean. Most of these places are logistically or politically complex to visit, but experts are citing Tanzania as the destination to watch it from, since the country's dependable weather, invariably clear "big skies", abundant wildlife and peaceful reputation make it a top tourist destination.
Those in western Tanzania – from just below the Mahale Mountains down to the towns of Mbeya and Tunduru – can expect to observe the magical circle of light, peeping around the moon's shadow in absolute symmetry for up to three minutes and six seconds. For those in Katavi – the only national park directly on the path of annularity – a special combination of wildlife and perfect syzygy promises a unique experience.
The rest of Tanzania will witness a partial eclipse. Terry Moseley, a former president of the Irish Astronomical Association and a fellow of the Royal Astronomical Society, explains: "The darkness is not absolute, in this case about 97 per cent, so annulars do not produce the special effects seen during totality, but they do have an eerie twilight beauty of their own. If you are situated on or near the central line, the ring appears as a circle, and the symmetry is spectacular. We may also get the beautiful effects of Baily's beads around the edge of the sun."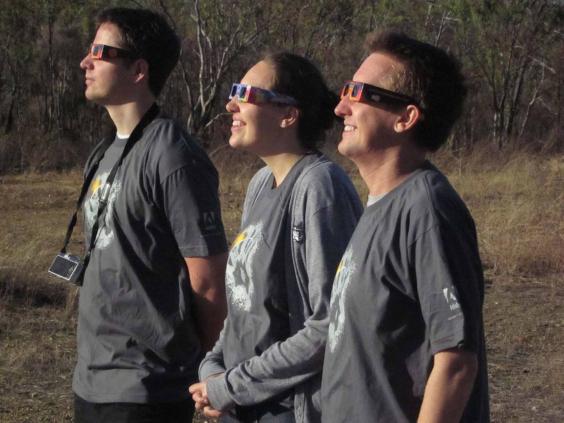 Perhaps most spectacular will be to witness the behaviour of the animal kingdom. Sven Liebchen, a safari guide for Authentic Tanzania, says: "During the eclipse, we can certainly expect diurnal birds to fall silent, while owls may hoot and frogs call – these animals respond very quickly to changes in light. Insects are very sensitive to temperature change and will also quieten. The behaviour changes in larger animals will be more subtle – lions and elephants may be less concerned, though perhaps hippo or the herds of grazing animals will react more obviously."
Indeed, Professor Paul Murdin, of Cambridge University and a senior fellow of the Institute of Astronomy, comments: "I witnessed the eclipse in Zimbabwe in 2001. The diminishing light and warmth caused hippos sleeping on a sandbank to wake and disperse into the river, seeking breakfast. When the sunlight returned, they were clearly not sure whether to eat or go back to bed." He adds: "The drama of an eclipse is not only awe-inspiring for us; the sudden chill has a very real physiological impact."
If you're considering booking a safari that coincides with the eclipse, it's worth asking your tour company a few questions. Better still, find a specialist astronomy tour company. Check whether it provides equipment, such as telescopes, and whether an astronomer will be joining the tour. Safari guides will know animal behaviour, but may not be knowledgeable about celestial events. Be sure eye protection is supplied, since looking directly at the sun can cause serious damage to eyesight. When it comes to accommodation, consider camping – a good camp in Tanzania will offer beds, en suite bathroom tents and spectacular night skies. Alternatively, lodges offer all mod cons and a little distance from the wildlife. Finally, try to be mobile on eclipse day. Should there be cloud cover, you'll want to move to be sure of the ideal viewing location.
Arriving in Tanzania in August is also the best time to see the Great Migration, so consider adding a safari in the Serengeti before heading west in preparation for the eclipse. September is also considered an excellent month to climb Mount Kilimanjaro, while all three islands in the Zanzibar archipelago are stunning year-round, so a restful beach break could be an excellent way to end a safari of a lifetime.
Getting there
There are no direct flights from the UK to Tanzania. Swiss (0845 601 0956; swiss.com) flies to Dar es Salaam from Heathrow via Zurich; Kenya Airways (020 8283 1800; kenya-airways.com) flies from Heathrow via Nairobi; Qatar Airways (0844 846 8380; qatarairways.com) flies from Edinburgh, Heathrow and Manchester via Doha; Emirates (0844 800 2777; emirates.com) flies from a range of UK airports via Dubai; and KLM (0871 231 0000; klm.com) flies from a range of UK airports via Amsterdam, as well as to Arusha, which may be useful if heading for the Ngorongoro or Serengeti first.
Staying there
Authentic Tanzania's Thousand Star Camp, Katavi National Park (www.authentictanzania.com).
Katuma Bush Lodge (mbalimbali.com).
Specialist eclipse tour planners
The Independent Traveller (01628 522772; eclipse.independenttraveller.com) has a five-day eclipse safari in Tanzania departing 29 August, starting at £2,887pp excluding international flights. Extensions are also available.
Safari Consultants (01787 888590; safari-consultants.com) has a 10-day Tanzania Annular Eclipse tour departing 24 August 2016, taking in remote Ruaha and Katavi, from £5,515pp including flights from Heathrow.
More information
Top photography tips for the eclipse
If this is your first eclipse, the advice is just to enjoy it as a visual, cerebral, visceral, emotional spectacle. But if, like me, you simply can't resist trying to capture the event on camera, consider the following:
1. Most importantly, daylight is much reduced during the eclipse, but the brightness of the part we see is just as dangerous to your eyes as the full sun. Proper eye protection must be used when taking photographs of the eclipse.
2. Plan your shots – try to capture a range of photos: people, landscapes, wildlife, as well as eclipse close-ups.
3. No flash is needed for photographing a solar eclipse, so it's all about the aperture, shutter speed and ISO.
4. For really sharp shots on longer exposures, a tripod is crucial. A remote switch is also useful.
5. Filters are important. You may need several neutral-density filters stacked on top of each other as the sun is so bright. Alternatively, Baader AstroSolar aluminised plastic (photographic grade) makes an excellent home-made filter.
Reuse content