Why go now?
Of the 363,000 Brits who visited Mexico last year, only one in five ventured beyond Cancún's beach resorts. Fewer still made it to the country's capital. But those who brave this concrete jungle (one of the world's largest metropolitan areas) will find top-notch museums, decadent dining and vibrant shopping, arts and nightlife.
Next week, Mexico City becomes more comfortable to reach when AeroMexico introduces the Boeing 787 Dreamliner to its Heathrow service. With frequent connections to the coastal resorts,  Mexico City offers the perfect urban  prelude to a laid-back beach break.
Touch down
Benito Juárez airport (aicm.com.mx/en) is well within the city limits, about 11km east of the centre. AeroMexico (0800 977 5533;aero mexico.com) flies there three times a week from Heathrow, with overnight flights in both directions; return fares from £588pp. British Airways (0844 493 0787; ba.com) has six weekly Heathrow flights (daytime outbound, overnight return) from £689pp.
Mexico City's metro system is fast, efficient and cheap (each journey costs 5 pesos/£0.25). Luggage is not allowed and the airport station is somewhat inconvenient to access, but if you're travelling light, the journey to Centro Histórico (1) takes roughly 40 minutes. However, the best bet is to take a taxi. Fares are regulated: the 30-minute drive to the centre (traffic permitting) costs around 200 pesos (£10). In addition to Mexican pesos, US dollars are widely accepted.
Get your bearings
Mexico City fills a huge, natural basin (formerly a lake) ringed by mountainous peaks. The oldest part of the city, the Centro Histórico, was built atop the Aztec capital, Tenochtitlán, which the Conquistadors razed to the ground in 1521. Beyond the centre, the city radiates outwards, encompassing dozens of neighbourhoods, each with its own identity. The most alluring are bohemian Coyoacán, upmarket Polanco, artsy Roma and classy Condesa. At Plaza de las Tres Culturas (2), three cultures – Aztec, Spanish colonial and contemporary – meet, defining this vast and complex city.
The main tourist office (3) is in Condesa at Avenida Nuevo León 56 (00 52 555 553 1901; 10am-3pm and 5-7pm, weekdays). Eleven additional information booths (in key tourist areas such as Reforma, Zona Rosa and the airport) are open at weekends.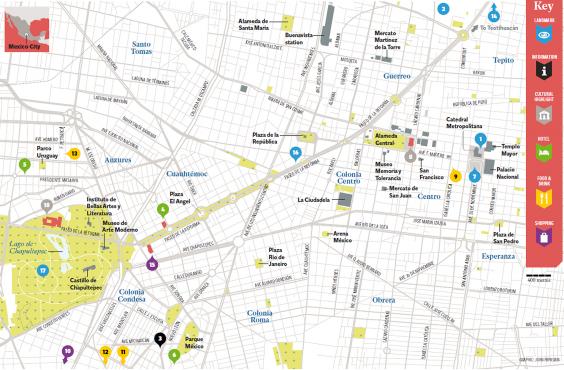 Click HERE for larger version of map
Check in
The St Regis Mexico City (4) at Paseo de la Reforma 439 (00 52 555 228 1818; stregis.com/mexicocity) is one of the best hotels in town. It's located on one of the city's main arteries and features luxurious rooms and a high-end spa. Doubles start at US$500 (£333), room only.
Habita Hotel (5), at Avenida Presidente Masaryk 201 in Polanco (00 52 555 282 3100; hotelhabita.com) is more design-focused, with a rooftop pool and an eye-catching exterior of frosted glass panels. Doubles start at US$172 (£107), room only.
For something cosier, try The Red Tree House (6) at Culiacán 6 (00 52 555 584 3829; theredtredhouse.com), a charming, 17-room B&B in the Condesa district. Doubles start at US$125 (£83), including breakfast.
Sunday morning: go to church
At Basílica de Santa María de Guadalupe (14) on Plaza de las Américas (00 52 555 118 0500; virgendeguadalupe.mx), there are seven churches to choose from. This is a place of pilgrimage for the faithful (the most pious walk the final approach on their knees). The oldest church here dates from 1536 and the largest (capacity 50,000) from 1974 with  flamboyantly retro interiors and a shrine to Our Lady of Guadalupe – Latin America's prevalent Catholic icon (6am-9pm, daily).
Out to brunch
Treat yourself to the champagne brunch at Reforma 500 (15) in the Four Seasons Hotel at Paseo de la Reforma 500 (00 52 555 230 1818; fourseasons.com/mexico). Sit inside or in the courtyard garden and choose salads,  ceviche, sushi, pasta, quesadillas or paella from the buffet, washed down by bottomless mimosas (Sundays, 11am-4pm; 1,340 pesos/£60pp).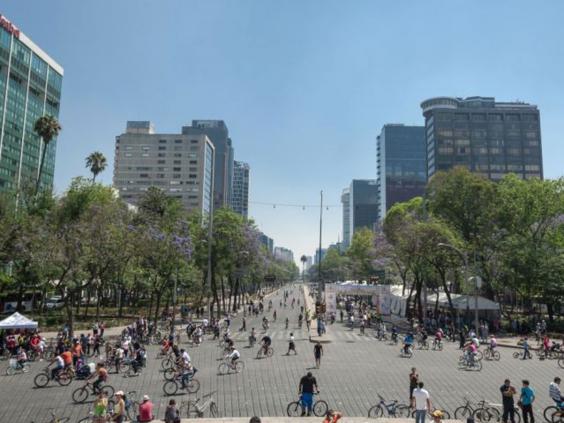 Take a ride
Until 2pm on Sundays, the usually traffic-choked Paseo de la Reforma (16) is a pedestrian zone, drawing joggers, cyclists and roller-bladers. Join the fray by borrowing a free bike from the rental stations on the strip. Just leave your ID as a deposit and a bike is yours for three hours.
A walk in the park
The green expanse of Bosque de Chapultepec (17) is the city's biggest park with a boating lake and zoo. The city has almost nine million residents and on a sunny  Sunday it seems they're all here.
Cultural afternoon
Chapultepec is also home to the must-see Museo Nacional de Antropología (18)  (00 52 554 040 5300;  mna.inah.gob.mx; 9am-7pm, Tuesday-Sunday; 59 pesos/£2.70). This world-class facility has artefacts from the Olmec and Mayan civilisations to mighty Tenochtitlán. Don't miss the intricately carved Stone of the Sun and the stunning (replica) feathered headdress of the Emperor Moctezuma.
Icing on the cake
Mexico City's most awesome archaeological site is an hour's drive. Teotihuacán (city of the gods) housed 250,000 people until it was mysteriously abandoned before even the Aztecs. If climbing the main pyramid's steps doesn't take your breath away, the view will. Pre-book a day-trip from £32pp, including transfers, entry and a tour (020 8090 3890; dosomethingdifferent.com).
Take a hike
The vast square at Zócalo (7), or Plaza de la Constitución, is the beating heart of the Centro Histórico. This was the centre of Tenochtitlán with grand buildings constructed with stone torn from Aztec pyramids. Start at Palacio Nacional (bit.ly/PalacioMex; 9am-4pm daily; entry free), the seat of government where Diego Rivera's epic murals provide a vivid historical snapshots.
Cross to the square's north-east side for the remains of Templo Mayor, the largest of the pre-Hispanic pyramids; it includes a museum (00 52 554 040 5600; templomayor.inah.gob.mx; 9am-5pm, Tuesday-Sunday; 57 pesos/£2.65).
Opposite is the Metropolitan Cathedral, one of the oldest and largest in the Americas. Ogle its Baroque interiors free of charge (8am-7pm). Next, leave Zócalo, following Calle Francisco Madero (a busy shopping street) to the extravagant  Palacio de Bellas Artes (8). Art Nouveau outside, Art Deco within, this cultural icon features more expansive murals on its first and second floors (00 52 555 512 2593; bellasartes.gob.mx; 10am-6pm, Tuesday- Sunday; free).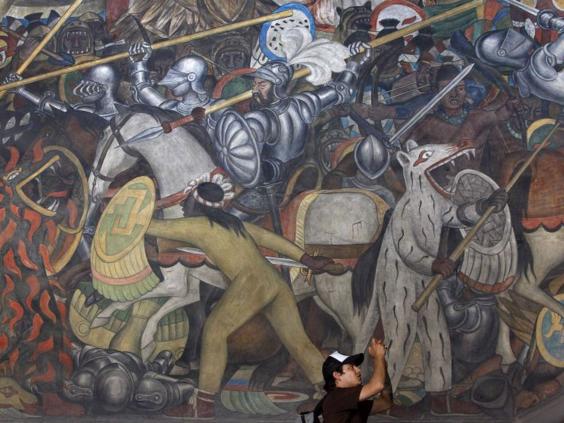 Lunch on the run
Azul Histórico (9) at Isabel la Católica 30 (00 52 555 510 1316; azulrestaurantes.com) is in the shady courtyard of a 17th-century palace. It specialises in Mexican dishes, such as chicken with mole (a rich, spicy sauce).
Window shopping
For the best souvenir shopping, relocate to San Angel for the wonderful Bazar Sábado (10) at San Jacinto 11 (elbazaarsabado.com; Saturdays, 10am-7pm). The Bazar itself is a charming, two-storey colonial mansion whose rooms harbour pottery, jewellery, fashion and artworks. The adjacent plaza features a warren of covered stalls (also Saturday only) with brightly-coloured blankets and religious icons, while the streets are lined with artisans (many in traditional dress) selling bags, rugs, textiles, masks and baskets, woven from palm fronds and  pine needles.
An aperitif
Long considered tequila's poor relation, mezcal – a fiery spirit made from agave, with a distinctive, smoky flavour – has shrugged off its working-class image to become the city's trendiest tipple. There are dedicated mezcalerias everywhere; try Corazón de Maguey (11) at Plaza Jardin Centenario 9 (00 52 555 554 7555; corazondemaguey.com) in Coyoacán, a picturesque area with a village vibe.
Dining with  the locals
A few blocks away on a leafy Coyoacán square, Las Lupitas (12) at Plaza Santa Catarina 4 (00 52 555 554 3353) is a great bet for traditional home cooking. The ancient, eponymous Lupita serves hearty snacks such as burritos and chivichangas in brightly-painted premises bursting with colonial character.
For something more upmarket, head to Pujol (13) at Francisco Petrarca 254 in Polanco (00 52 555 545 4111; pujol.com.mx). This is fine dining with an indigenous twist from the celebrated chef, Enrique Olvera. Expect plenty of traditional ingredients, including grilled insects – which was an Aztec staple.