Travel essentials
Why go now?
Brazil hosts the Fifa World Cup from 12 June to 13 July, and Salvador da Bahia is the most alluring venue. It is the nation's third city – after Sao Paulo and Rio – and was its first capital, from 1549 to 1793. Defending champions Spain kick off against the Netherlands here on 13 June. Fans will discover a city as vivacious as it is cultured and historic.
Next month also marks the annual Festa de Sao Joao, on 24 June, in which the city's squares are filled with dancing to traditional forro bands.
Touch down
There are no direct flights from the UK. The easiest connections are offered by Air Europa (0871 423 0717; aireuropa.com) from Gatwick via Madrid, and by TAP Portugal (0845 601 0932; flytap.com) from Heathrow, Gatwick and Manchester via Lisbon. Fares, even during the World Cup, are available for £900 return.
I travelled with Journey Latin America (020 8622 8444; journeylatinamerica.co.uk), which offers tailored trips across Brazil. A five-night trip to Salvador excluding flights costs from £486pp.
Flights arrive at Salvador's Deputado Luis Eduardo Magalhaes airport, 28km north-east of the centre. Airport bus S002 departs every 20 minutes from 7am-8pm and terminates an hour later at Praca da Se (1) near the historic Pelourinho quarter. The one-way fare is 3 Brazilian reais (R3/80p). A taxi costs around R80 (£21).
Get your bearings
Home to nearly three million people, Salvador is the beating heart of the north-eastern state of Bahia. It was colonised by the Portuguese at the start of the 16th century and became their capital and a focal point for the gruesome slave trade, with thousands arriving from Benin, Nigeria, Angola and beyond. That chapter of history continues to influence through a dominant African culture, in everything from food, costume, music and dance.
Today, Salvador combines pretty, colonial architecture with modern skyscrapers and lively beaches, all packed on to an Atlantic-lapped peninsula that guards Baia de Todos os Santos (All Saints' Bay).
Salvador is divided into the Cidade Alta (Upper City) and Cidade Baixa (Lower City). Its heart is Pelourinho, the cobbled old quarter named after the flogging pillars used to castigate slaves.
The bohemian, beachy neighbourhood of Rio Vermelho bookends the city to the south and the upper and lower districts are connected by the Lacerda elevator (2) on Praca Municipal in Cidade Alta (6am-10pm). The 30-second journey costs just 15 cents (1p).
The tourist office (3) is next door on the upper level (visitbrasil.com; 9am-6pm).
Check in
Villa Bahia (4) at Largo do Cruzeiro de Sao Francisco 16 (00 55 71 3322 4271; en.lavillabahia.com) is located in atmospheric Pelourinho and is among Salvador's best pousadas. The colonial townhouse has 17 rooms with four-poster beds and a pool. Doubles from R530 (£142), with breakfast.
Casa do Amarelindo (5) at Rua das Portas do Carmo 6, (00 55 71 3266 8550; casadoamarelindo.com), also in Pelourinho, has 10 luxurious rooms with dark wood floors and Jacuzzis. Doubles from R350 (£93), including breakfast.
In Santo Antonio, a 10-minute stroll from Pelourinho, is the Hotel Redfish (6) at Ladeira do Boqueirao 1 (00 55 71 3241 0639; hotelredfish.com). Rooms are large and boldly decorated. Doubles from R220 (£59), including breakfast.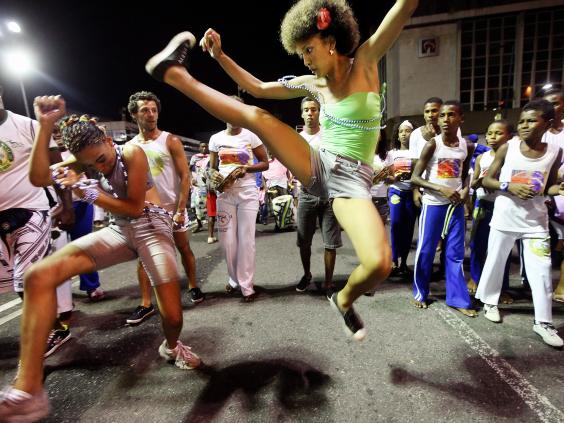 Day One
Take a view
The terrace beside the Lacerda elevator (2) gives an excellent view across Salvador's modern districts below and across Baia de Todos os Santos, including the busy harbour and the island of Itaparica on the other side of the bay.
Take a hike
From the lookout, head over to the neighbouring Palacio Rio Branco (7) (00 55 71 3117 6492; 9am-1pm weekends, 10pm-6pm weekdays; entry free). The nation's first government building has an impressive Neo-classical lobby and a small museum on Bahia's history. Walk north-east across Praca da Se (1) and on to Largo Terreiro de Jesus, a square dominated by the Portuguese-style Cathedral (8) (8.30am-5pm daily; R3/80p), built in 1862 with Lisbon sandstone. Next door is the salmon-pink Museu Afro-Brasileiro (9) (00 55 71 3283 5540; www.mafro.ceao.ufba.br; 9am-5pm weekdays; R6/£1.60), highlighting the region's African heritage. Tickets also cover the Museum of Archaeology and Ethnology downstairs.
Cross the square, pausing under shady palms, to enjoy spontaneous performances of capoeira – an old and energetic artform developed by slaves, that fuses martial arts and dance.
Turn left on Rua das Portas do Carmo and continue to the very end to emerge on to Largo do Pelourinho (10). The baby-blue building at No 8 is where Spike Lee filmed Michael Jackson's video for "They Don't Care About Us" with local drum group Olodum. A photo on the balcony will set you back R2 (50p).
Lunch on the run
Across the square at No 19 is Senna Restaurant (11) (00 55 71 3324 4501; 11am-7pm daily except Sunday). It is also a cookery school and museum of Salvador's old culinary habits. The cosy dining room on the first floor of this 17th-century townhouse hosts a daily buffet (R44/£12) of old Bahian favourites. Try the stewed fish and acaraje – bean and onion croquettes.
Window shopping
At Praco do Artesanato (12), there's a cluster of souvenir stalls selling native berimbais – single-string percussive instruments made from a calabash shell.
Elsewhere, domino-playing artists display their work along Rua das Laranjeiras (13). The art is bold and bright and captures the spirit of Bahia.
An aperitif
Thirsty locals gather around the tiny bar of Cravinho (14) at Terriorio de Jesus 3 (00 55 71 3322 6759; ocravinho.com.br). The tipple of choice is cachaca, a sugar-cane spirit served from tiny wooden barrels. Do as the locals do and down it in one (from R2.50/70p).
Alternatively, head to the fourth-floor rooftop terrace at the Casa do Amarelindo hotel (5) for a fruity Creole punch (R25/£7).
Dining with the locals
In the back streets of Pelourinho is Maria Mata Mouro (15) at Rua da Ordem Terceira 8 (00 55 71 3321 3929; mariamatamouro.com.br). This charming restaurant has a pretty courtyard and defence walls built in 1549. Highlights of the menu include lamb in tamarind sauce with mandioquinha mash (R76/£20).
Mama Bahia (16) at Rua das Portas do Carmo 21 (00 55 71 3322 4397) serves hearty, unpretentious dishes, accompanied by live guitar music. The star of the menu is moqueca, a rich stew of coconut milk, palm oil and seafood – usually oysters, shrimps or octopus (from R34/£9).
Day Two
Sunday morning: go to church
The splendid early Baroque church of Sao Francisco (17) on Rua de Ordem Tereira celebrates Sunday mass at 8am (normal visiting hours 10am-3pm Sundays, 9am-5.30pm other days). Brazilian gold and jacaranda wood were used in the construction in the early 1700s. It was built by slaves – some were even permitted to worship inside. Its outdoor courtyard is lined with Portuguese azulejos (tiles) depicting the life of St Francis of Assisi.
Out to brunch
Opposite the church, Le Glacier Laporte (18) at Largo do Cruzeiro de Sao Francisco 21 (00 55 71 3266 3649), specialises in crêpes. Among the 22 options are peppered calabrese sausage and queijo cheese (from R17/£5). There are also weird and wonderful fruit juices such as umbu, abacaxi and siriguela.
A walk in the park
The lush public square of Campo Grande (19) on Avenida Sete de Setembro opens 6am-7pm daily. Under the swaying palm and mango trees stands a statue of a native warrior defeating a dragon that represents Portugal. There is also a number of stalls selling Bahian handicrafts.
Cultural afternoon
Beyond the intricately carved wooden door of the Museu de Arte da Bahia (20) at Avenida Sete de Setembro 2340, is a collection that includes the work of native painters such as the 18th-century artist Jose Teofilo de Jesus (00 55 71 3117 6138; bahiamam.org; 2-7pm weekends, 1-7pm Tuesday-Friday; free).
Take a ride
A taxi to the Barra district (21) should cost about R20 (£5). The main attraction is the crescent-shaped shoreline, popular for its sheltered waters. Try stand-up paddle boarding (R60/£16 for an hour's lesson) or relax in a deck chair for R3 (80p).
At the southern end of the bay stands the 16th-century Santa Maria Fort (22) at Largo do Farol da Barra. It houses a maritime museum (00 55 71 3264 3296; museunauticodabahia.org.br; 8.30am-7pm daily; closed Monday, August-December; R10/£3). Take the trail around the back of the fort to see where the bay converges with the Atlantic.
Icing on the cake
Try capoeira with a class at the Mestre Bimba Capoeira School (23) at Rua das Laranjeiras 1 (00 55 71 3322 0639; bit.ly/MestreBimba). Hour-long lessons with veteran professor Adubos take place almost hourly, 9am-6pm (R25/£7).
Reuse content