There's an enigmatic eeriness to this white-tiled French Renaissance mansion facing Mount Royal Park. A peek through the glass front door gives a glimpse of unexpected grandeur: perfectly preserved mouldings, whitewashed wood panelling and a characterful fountain installed by the original Italian architect. Built in 1912, Casa Bianca started life as the Montreal Jewish quarter's first clinic. It now sits amid a row of modified townhouses and Brooklyn-style brick buildings on a charming tree-fringed esplanade which borders hip district, the Plateau.
The house became a private residence in the Eighties, then a guesthouse in recent years. Today, a homey feeling makes the set-up especially appealing to free spirits happy to forgo fancy facilities for the charms of an authentic creaky-floored homestay in this cosmopolitan corner of the city. Ring the bell and you can't be sure anyone will answer, but give the manager, Sophie, a ring on her mobile and she'll be there to welcome you in.
The Bed
Five idiosyncratic, high-ceiling bedrooms are spread over two floors that are divided by a sweeping staircase. They're pared back, but with personality: colourful organic linens and interesting art has regular guests eager to give different rooms a go, depending on how much space they need. Upstairs, St Laurent is getting a makeover and will soon have a private terrace. The two-roomed corner Rachel Suite has a chic Sixties-style suspended wood-burning fireplace as its centrepiece, while the Marie-Anne Suite, directly below, is the brightest boudoir. When there's no one occupying its snug sitting room, you might find in-house yoga sessions taking place in it. Across the entrance hall, the open-plan Esplanade suite has a free-standing claw-foot bath, as does the similarly spacious Mont-Royal.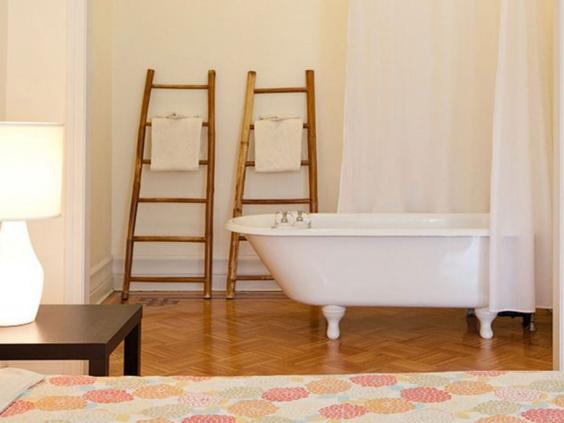 The Breakfast
Interesting guests and convivial breakfasts contribute to Casa Bianca's house-party feel. Freshly brewed coffee lures you down, between 8.15am and 10am (11am at weekends), when you'll find the table laid with fresh seasonal fruit, flaky croissants, plump muffins and eggs to order – all hard to resist. To really earn that feast, get up early for a yoga session with Jennifer Cloutier, who is often the one scrambling or poaching the organic eggs.
The Hosts
After owners Lisa Bush and Scott Vineberg met on an archaeological dig during their college years, he tempted her back to his hometown where they ran various successful independent ventures. A few years ago the couple traded the unforgiving Canadian winter for an endless Californian summer and transformed their Quebec home into this bohemian B&B. Sophie Gauthier is the cheery Girl Friday who runs the relaxed operation and she couldn't be more helpful when it comes to dishing out insider tips on where to go and what to do.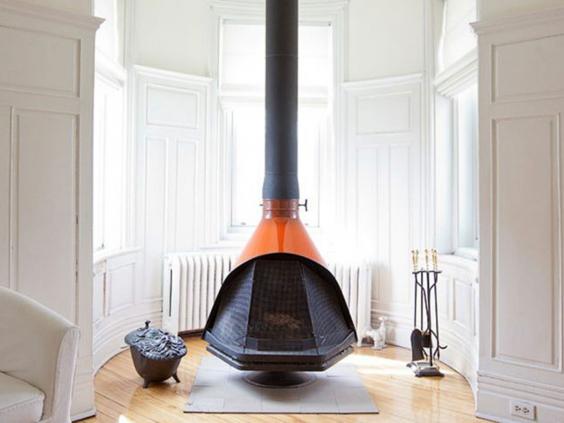 The Weekend
Designed by the same chap who was behind New York's Central Park, Parc du Mont-Royal is the impressive green space where you can picnic by pavilions, hit hiking paths and take in panoramic views from the mount's peak. Within it – and on Casa Bianca's doorstep – are public tennis courts (open from May to October).
Those after more urban thrills should do a circuit of Boulevard St Laurent. Also known as "the Main", this shop-packed thoroughfare mixes purveyors of vintage trinkets with fashion-forward boutiques. To explore the cycling-friendly city on wheels, borrow a bike from one of the hundreds of Bixi stations; Montreal's public bicycle system costs from C$5 (£2.70) per 24 hours, and operates April to November (montreal.bixi.com).
The Pit-stop
Indie coffeeshops are plentiful in the Plateau, but unassuming Café Névé at 151 Rue Rachel Est (001 514 903 9294; cafeneve.com) has earned cult status for its local roasts. Carnivores should aim for Schwartz's Deli at 3895 Boulevard St Laurent (001 514 842 4813; schwartzsdeli.com) and order a smoked-meat sandwich with a side of signature, dark-brown fries. Go when you're hungry and don't be deterred by the queues.
"Bring your own" is de rigueur at many restaurants, so ask at Casa Bianca where best to pick up a bottle of wine, then head to La Colombe at 554 Avenue Duluth Est (001 514 849 8844; lacolomberestaurant.com) for French-Canadian classics.
The Essentials
Casa Bianca, 4351, Avenue de l'Esplanade, Montreal, Quebec, Canada (001 866 775 4431; casabianca.ca). Doubles start at C$119 (£65), suites from C$199 (£108), including breakfast.
Reuse content