A red Maserati zooms down Rodeo Drive like an Exocet missile. It is hot, 30C in the shade. That doesn't stop a woman with a sea of brown hair and shades like saucers sliding out of the Saint Laurent store with more shopping bags than you'd think a single human could carry. But then she isn't about to walk far. A black Mercedes pulls a U-turn and swoops in to pick her up. Perhaps she's going to lunch on Canon Drive around the corner – at this time of day, cars queue up to decant well-heeled, shopped-out Angelenos into the arms of the road's restaurateurs. Or maybe she is just moving on to Bijan at 420 North Rodeo where you can pick up $30 socks, $2,000 suits and – not long ago – $12,0000 chinchilla bedspreads. It is only a few hundred metres away, but you drive everywhere in Beverly Hills: walking, an LA friend says to me in what I can't tell is a joke or not, implies simplicity of purpose. They don't go in for that here.
Not long ago, though, these six square miles were as simple as a placecould be. The city of Beverly Hills – part of Los Angeles County – was founded a century ago this year by a real-estate man with his eye on the main chance. Burton E Green bought the 3,500 acres on which the city now sits with the intention of drilling for oil. Instead of crude, however, he found aquifers, and, taking a punt, formed the Rodeo Land and Water Company to develop the land for which he'd paid $1.2m. Thus the city has the distinction of being one of the few places in the world born not of oil but its absence.
The water in the Beverly Hills aquifers helped LA to expand. In 1900, it was a city of only 100,000 but 10 years later it had already drawn in 10 film studios. By 1921, 80 per cent of the world's film industry was concentrated here and the money it generated made it largely immune to the ravages of the Great Depression. Beverly Hills would, in due course, become heir to this largesse.
In pictures: Beverly Hills
At first the land that made up Beverly Hills, carved into lots by roads which some claim were modelled on screen siren Theda Bara's curves, attracted few buyers. Only after Margaret Anderson was persuaded to leave her Hollywood Hotel to start a new venture, The Beverly Hills Hotel, did the seeds of an actual city begin to germinate in the foothills of this new "pink palace".
Although incorporated as a city in 1914, it was another five years before the first film stars arrived to imbue the place with its now famous character. Attracted by the bucolic atmosphere, silent-film stars Douglas Fairbanks and Mary Pickford bought a 56-acre estate, "Pickfair", at 1143 Summit Drive. At first, the neighbourhood was unenthusiastic about the newcomers. Fairbanks was recorded as saying, "they told me they didn't want actors in the area as it lowered the tone". Yet within a few years they were joined by stars of the very highest wattage: Rudolph Valentino, Gloria Swanson, Ronald Colman and others. Within 20 years, the 90210 zipcode was the glitziest in the country, the font of celebrity and a spunky example of US self-belief.
Is it still the place to soak up the off-cuts of glamour, though? Does it remain a centre for celebrity-spotting tourists? There is much talk these days of "celebrity drain" in Beverly Hills. Some claim that aggressive paparazzi have led many famous faces to more private Brentwood, that it is a town hollowed out by its own fame. Some point to Starline Tours – which 75 years ago started offering trips that tick off the gates of celebrities' mansions in Beverly Hills (current price: $42 a go) – and the fact that it now offers a tour beyond the centenary city's borders, as evidence. It is hard to reconcile that with the endless pictures of Kim Kardashian and Kanye West floating around here, and while not particularly out for rubber-necking, I walked into Rod Stewart and his wife and found myself in a restaurant two tables away from the Osbourne clan. No one seemed particularly plussed by the presence of either.
Rodeo Drive, which cuts through the south-west of the city, still draw the crowds, too. Most of Rodeo's customers now hail from the Far or Middle East but it remains a place of pilgrimage for anyone in possession of a credit card and a desire to do a "Julia Roberts in Pretty Woman".
It will not help you squeeze into that Chanel top, but it is reassuring for the greedier among us that Beverly Hills is still well served by restaurants, more than a decade after Wolfgang Puck's Spago started answering the phone with: "Good evening, we have absolutely no tables ..." The beautiful dining room at Bouchon on North Canon, Thomas Keller's outpost here, reverberates to the sound of movie industry chatter. The food may be French – the menu runs from boudin blanc to poulet roti – but the conversation is pure LA: "She'll never be a big star," I hear one diner say in a stage-whisper as he walks past us chatting into a phone.
For dinner, there is Cecconi's (8764 Melrose Avenue) a discreet marble-lined Italian restaurant. Here, the crowd is chic and the conversation quieter. The fresh pasta and Aperol spritzes are unsurpassed anywhere in town. If your tastes are a touch more democratic, or you just want a snack, then visit the 24-hour cupcake vending machine at Sprinkles on Little Santa Monica Boulevard.
It is the same sense of the fanciful that the city is focusing on during its centenary. Addressing the crowds at the block party which opened the festivities, the mayor Lili Bosse spoke of celebrating the "unique identity" of the place. The celebration was just that, involving a 10ft-high birthday cake cut into 15,000 pieces and Martha Reeves singing "Dancing in the Street".
If you don't fancy one of the weekly "Walks with the Mayor", effectively a guided tour (8.30-10am on Mondays), you can experience the centenary in the city's hotels. These are at the centre of the social solar system, so it is perhaps natural that the biggest names have collaborated on the "suite 100" campaign. Commemorative rooms, each designed to reflect a facet of celebrity culture and each starting at $1,914 a night, have been built at Montage Beverly Hills, the Beverly Hilton, L'Ermitage Beverly Hills and the Peninsula Beverly Hills. It seemed a sure fire attention-winner and a boon for the city when it was planned. The only problem is that the centrepiece of this campaign was the beautiful Marilyn Monroe room at the most storied of all the establishments, The Beverly Hills Hotel – a place which is now adding a whole new chapter to the ongoing drama of the city.
They used to say that the Beverly Hills Hotel was where you went to be seen. Six months ago, you would have battled George Lucas and Leonardo DiCaprio for a table in the Polo Lounge restaurant and every wannabe starlet in town for a lounger at the pool.
But on my visit in May, the place seemed sad and half empty. I never counted more than 10 people around the pool beside which Faye Dunaway and her Oscar were photographed in 1977. I arrived two days after Jay Leno, Ellen DeGeneres and Sharon Osbourne implored the world to shun the 208-room hotel, after the Sultan of Brunei, whose finance ministry is its ultimate owner, instituted Islamic law (Sharia) in his oil-rich South-east Asian nation. "It's not a political issue," said Leno to CNN. "This is not something that's debatable." Russell Crowe dissented: "I don't agree with the boycotting of Dorchester Collection hotels. It only hurts the hard-working staff who I consider friends," Crowe tweeted. And it is hard not, in some ways, to agree with him.
It is the sort of issue that has moral compasses spinning. On one hand, it can only ever be praiseworthy that people are being encouraged to put their money where their principles are. But, being there and seeing the staff, stuck between the swell of celebrity opinion and a disconnected autocratic billionaire, it is hard not to have sympathy for them. This is a storm they could not have anticipated – but for which they will bear the brunt. Sitting in the Polo Lounge on my second evening, one of the white-jacketed staff cut through the frenzy. "I am gay myself," he said to the couple eating an anniversary dinner next to me, "I don't want anyone stoned. But the hotel and the Sultan are separate things."
Walking in the morning, as no one else seems to, from the hotel to North Santa Monica Boulevard, past the lawns which seem to have been shaved with a Gillette blade and the vast white houses radiating morning light, the city seemed as empty as a movie studio at night: a vast unfathomable set, with all the tensions between fantasy and reality that such places are heir to. Beverly Hills is a magnificent confection, the most authentic inauthentic place you could dream of. It is impossible not to fall in love with it.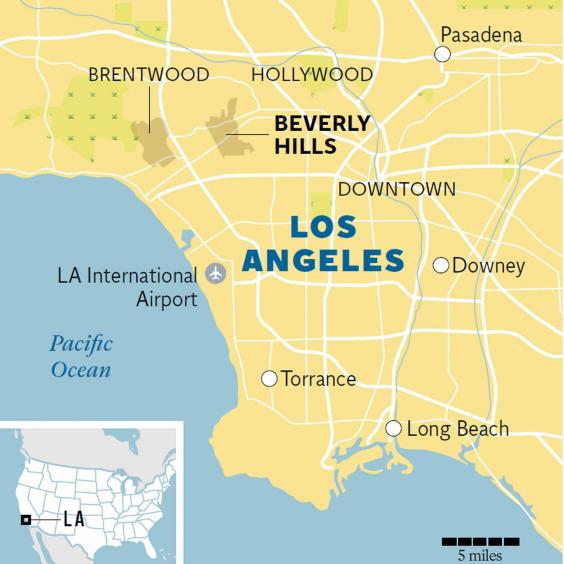 Travel essentials
Getting there
Samuel Muston flew to Los Angeles from Heathrow with BA (0844 493 0787; ba.com), which offers direct flights from £554 return.
Staying there
The Beverly Hills Hotel, 9641 Sunset Boulevard (001 310 276 2251; dorchestercollection.com). Doubles from $485 (£303), room only.
Eating and drinking there
Spago, 176 North Canon Drive; (wolfgangpuck.com).
Bouchon, 235 North Canon Drive; (bouchonbistro.com/beverlyhills).
Cecconi's, 8764 Melrose Avenue; (cecconiswesthollywood.com).
Sprinkles, 735 South Figueroa Street; (sprinkles.com).
Polo Lounge, 9641 Sunset Boulevard; (dorchestercollection.com).
Visiting there
Star Tours (starlinetours.com).
Walks with the Mayor (bit.ly/MayorWalk).
More information