The air hangs heavy over the Klyde Warren Park. It is hot. The sun doesn't so much beat down as encircle and then enclose you. It's almost like a cuddle. I feel tired. But most of all I feel sorry for Klyde Warren himself.
According to my guide, when Kelcy Warren stumped up $10m for the naming rights of this extraordinary 5.2-acre construction, which sits over the top of the Woodall Rodgers Freeway, he insisted that his son, for whom the park is named, would have to work on it. Asked what his son would be doing exactly, he replied: picking litter. No mean task in this weather.
Competitive altruism, alongside the Dallas Cowboys, is a municipal obsession. Joan Didion described a woman she had met in Dallas in the 1960s as "charming and attractive" and "accustomed to the hospitality and hypersensitivity of Texas" and little has changed on that score. A name on a plaque is the Lone Star state's equivalent of beatification. It has had an extraordinary effect on a city that until recently was known only for oil, cowboys, big hair and JR Ewing. Today, the city's real growth industry is art.
Laid out in 19 contiguous blocks across the 68 acres south of the park is the Dallas Art District, the centre of the city's cultural whirligig. You will find collections of international interest on these neat, tree-lined streets.
At the Dallas Museum of Art – where the benefactor's list is approximately the size of Hadrian's Wall (the Rachofsky, Rose and Hoffman families alone have contributed $215m) – you will find a vast 22,000-work collection that covers 5,000 years of human expression. The special collections are revolving, but of the permanent galleries the sub-Saharan works by Igbo, Senufo and Kota peoples are particularly interesting, as is the Wendy and Emery Reves collection, with its many Renoirs, Van Goghs and Pissarros.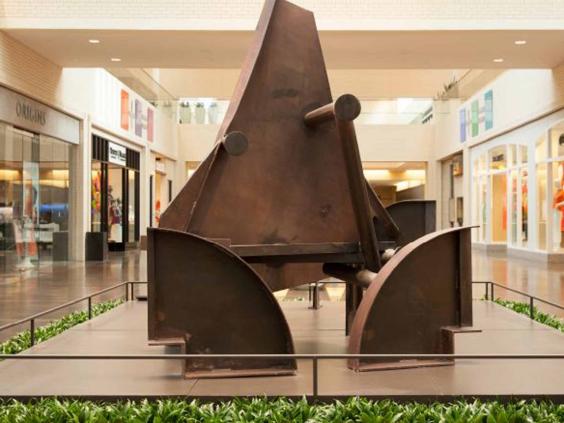 Just down the road, you come to the Nasher Sculpture Center, described by my taxi driver as "the most beautiful spot in town". Designed by Pritzker-winning architect Renzo Piano, it is a low-rise building with an arresting avenued garden. But it is not just a pretty face – it houses works by Matisse, Picasso, Henry Moore, Miro and Giacometti. The real interest here is in the way that the collection was acquired. The curators built it up laterally, giving an idea of the artists' development down the years. Smaller than the DMA and the Nasher, but no less interesting is the Crow Collection of Asian Art, which asserts itself to be "your passport to the art of Asia". If you are a fan of jade, the Margaret Doggett Crow bequest is not to be missed.
After half a day in the Art District, I must confess that I retreated, from the heat and the people, back to my hotel: the Rosewood Mansion at Turtle Creek. There were two reasons for this. First, it is very impressive and second, Mary Stamm. She has held the title of the hotel's chief concierge for 25 years and presides over the Mansion like a smiling Bourbon monarch. Everything is taken care of, everything just so.
The hotel occupies a 4.5-acre site in a stretch of the city known as Turtle Creek. It is sleepy and beautiful. There is an award-winning restaurant under Frenchman Bruno Davaillon; a dark, atmospheric bar and a fitness centre and pool for those of that bent. But that is all chicken feed to the real draw, which is Stamm's peerless knowledge of the art scene. It is the brightest star in Dallas's hotel firmament.
Only 10 minutes' drive away, NorthPark is the only shopping centre I have visited which displays works by Warhol, Joel Shapiro, James Rosenquist, Antony Gormley and Beverly Pepper among its 225 posh frock shops. Designed in 1965, it combines two Dallas pre-occupations – commerce and art – under a single roof.
The Dallas Design District satisfies highbrow cravings with its collection of more modest galleries. The Dallas Contemporary is particularly good. When I visited at the end of last year, Mario Testino's series of photographs of native Peruvians in traditional dress was on show.
My final stop seems to be a statutory requirement for anyone visiting Dallas. Yes, the Southfork Ranch. Almost before you are out of your car – it is a way out of town – you find yourself on a golf buggy weaving in and out of the buildings.
"Over there is the pool where a dead Kristen famously floated."
"Above the dining table where the family ate is a gen-u-ine Waterford crystal chandelier."
It is all wonderfully camp and the gift shop sells everything from Texan cookbooks to JR fridge magnets. That said, unless you are a Ewing connoisseur, you might want to make it an afternoon-only trip.
Not so long ago, one might have considered Southfork a televisual microcosm of Dallas itself. A playground of excess and oil, shopping and family feuds. But a lot has changed. Walking its streets, it feels comfortable in its skin, cosmopolitan, relaxed and not a little cultured. Like the TV show that bears its name, Dallas the city has been reborn – and it has seldom looked better.
Getting there
The only non-stop flights from the UK to Dallas-Fort Worth are on American Airlines (0844 499 7300; americanairlines.co.uk) and British Airways (0844 493 0787; ba.com) from Heathrow.
Staying there
Rosewood Mansion at Turtle Creek (001 214 559 2100; rosewoodhotels.com). Doubles start at $360 (£240), room only.
Visiting there
Arts District: thedallasartsdistrict.org
Dallas Museum of Art (dma.org). Free; $8 for special exhibits.
Nasher Sculpture Centre (nashersculpturecenter.org). $10.
Crow Collection (crowcollection.org). Free.
Northpark Shopping Centre (northparkcenter.com).
Dallas Contemporary (dallascontemporary.org). Free.
Southfork Ranch, Parker (southforkranch.com). Tours $15.
More information
Reuse content