Sandals in Antigua is not my first taste of an all-inclusive holiday resort. About 20 years ago I was backpacking around the barren Bahias de Huatulco in Mexico with a school friend when we saw an enormous Club Med shimmering across a deserted bay. We swam over, scaled a wall and dropped down into a samba party where a man in an Arnie mask handed us rum cocktails and directed us to the free food. For two days we feasted unchecked, judged a dirty joke competition and joined the Club Med Staff Conga. Greed in the gift shop was our undoing. We were grabbed running for the perimeter and spent a tense hour in the local jail; but my taste for the resort de luxe was born.
There followed stolen spells in the Four Seasons, Singapore; the Sheraton in Sarawak and later, while crewing a tall ship around the South Pacific, 27 minutes in a heavenly hot tub at the Hilton, Bora Bora. Corporate luxury is all very well; but when it's illicit and free, the pleasure is all the greater. Morally, I suppose I thought I was striking a blow for the islanders outside the gates.
Therein lies the problem with these resorts: almost all come with a high wall and guarded gates. The perimeter fence marks the cavernous divide between the luxury inside and the poverty outside. While you are enjoying your walk-on part in The Truman Show, with all the pampering that that entails, you can't help noticing that outside, people live in shacks on rationed water – and some of those people are serving you cocktails.
This is where Sandals is different. Butch Stewart, its founder, is a Jamaican who has built 21 Sandals resorts all around the Caribbean. So, unlike its rivals, Sandals is Caribbean owned and run. It is the biggest single contributor to the economy of the Caribbean, employing more than 15,000 people.
There are 12 applicants for every job. Those who get them seem genuinely happy, proud of what they offer, and sincerely fond of "the Chairman". For many, Butch is a hero, but a personable one on easy terms with the staff, with whom he can often be seen playing dominos in a quiet corner. The result is that the gated tension you sense in the other multinationals is absent here.
Butch was also a fan of Club Med and developed the all-inclusive concept to become the region's market leader. He calls it "luxury included" and claims they include more of it than anyone else. So, if you're a scuba-diving golfer who likes your lobster and cocktails by the trayful, you're practically holidaying for free. There are no bar tabs, no tips, no hidden extras. You never look at a price list or carry any money, and as a consequence you feel calmer. The atmosphere is of bountiful generosity. There is a full bar in your room that makes the usual minibar, with its daily reckoning, seem officiously mean. No one ever tells you the kitchen or the bar is closed. You eat and drink when you want – all night, if necessary.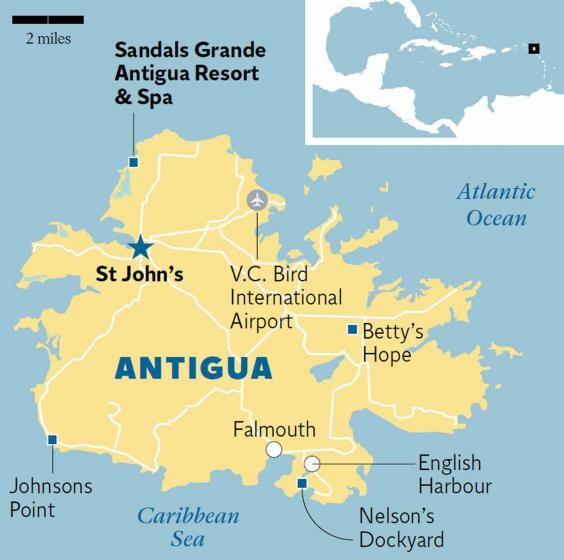 Amazingly, no one does. It's like when UK pub closing times were relaxed and there was no point in getting drunk before last orders any more. When the bounty is unlimited, people seem to take only what they need. Or maybe such continence is because it's "Couples Only".
It's an ominous phrase. I imagined diners clinking cutlery and gazing mournfully around with nothing to say to each other. Or ageing swingers encircling a camp fire, throwing room keys into a pot. As with much at Sandals, my scepticism was confounded. Monogamy seems triumphant and it's not just the honeymooners or Americans who chat animatedly to each other. There are "couples massages" and private starlit dinners on the beach. At sunset, couples meander the immaculate gardens, cooing at each other like the turtle doves fluttering around them. The romance is so infectious, I found myself booking my wife into a scuba diving course.
She was touched, of course, but elected nevertheless to stay on the beach next morning, as I was whisked a couple of miles out across the glittering sea, to a sunken German shipwreck from 1912. My co-divers were irrepressible, jolly Americans who "dove" their way around the tropics and were taking full advantage of Sandals' varied scuba sites. We saw barracuda, stingray and moray eels lurking among the ghostly funnels of the wreck.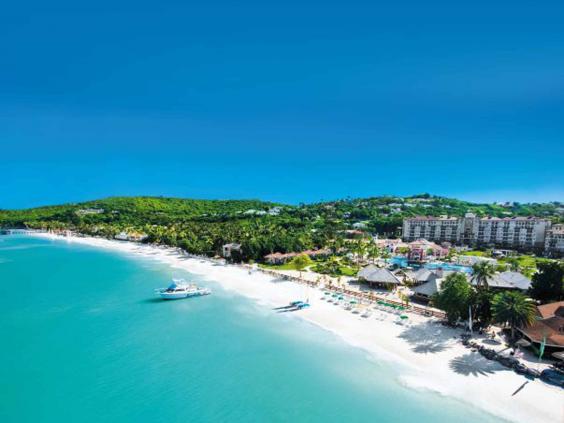 I was concerned that my wife was starting to feel "Sandalised": supine on her beach bed, incapacitated by luxury, waving over an attendant to adjust her sunglasses. The staff are trained to recognise the symptoms – and in a flash Mr G, the immaculately handsome general manager, had enrolled us in a quad bike tour of the island. We spent two joyful hours bouncing along white, heat-hazed roads, dirt tracks and fields of acacia and tamarind trees, their seed pods jangling in the breeze.
The ruins of Antigua's sugar factories dot the island, the oldest are picturesque stone windmills. We stopped at Betty's Hope, the first and largest of these, established in 1674 by Sir Christopher Codrington and owned by his family until 1944. Some of the profits funded the Codrington Library at All Souls, Oxford.
Betty was Sir Christopher's daughter, but whatever "hope" she enjoyed contrasted with the genocide of the native Arawak and Carib slaves that first worked there and who were replaced by generations of West Africans.
Little remains but the ruined Estate House and Distillery and the towering stone windmill, with its cogs and rollers for extracting the cane juice – imported, like me, from Sheffield. There is a fascinating exhibition on the site, curated by Dr Reg Murphy, an eminent Antiguan archaeologist, who leads teams from the US to excavate the ruins.
We motored on through groves of carob trees and succulent agave, occasional mango trees and a few fields of corn and sweet potato. Dewlapped cows graze carefully. It's a beautiful, sparse landscape. Once the indigenous forest went, the sugar cane monoculture gave way to acacia scrubland. The Sandals Foundation, which helps to support local schools, has also sponsored a tree planting programme, in an effort to restore some of the protective canopy.
The climax of our quad biking found us atop a spectacular bluff overlooking the coves of Falmouth and the hurricane-proof English Harbour, where Nelson had a dockyard and a famous regatta gathers every May. To our left was the wild Atlantic, with the luxuriant Caribbean on our right; Guadeloupe and the rest of the Leeward Isles stretching before us to the south.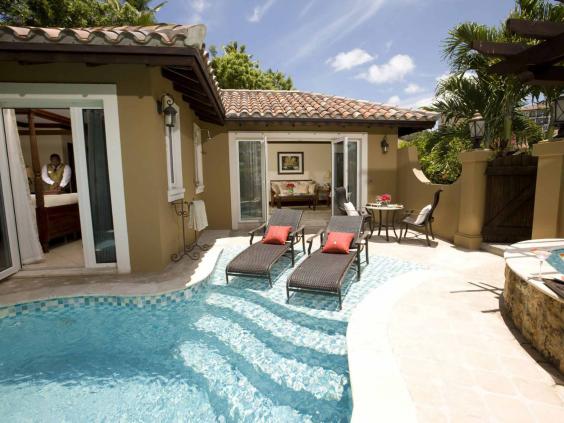 Nelson's Dockyard has been restored, much of it under Reg Murphy's direction, and is now utterly beguiling with a small hotel and museum in the old warehouses that held canvas and cordage, pitch and tar. Most enchanting are the stone columns of the former sail loft, like a topless Greek temple wreathed in hibiscus, and the Capstan House where ships were "careened" in the water so the ratings could scrub their hulls, drunk on the rum with which they were paid.
Reg hopes it will win the Unesco World Heritage status it deserves, and without which the arcade of local shops may have to become glitzy boutiques for the cruise ships.
We taxied back to Sandals, tired but elated, our driver proudly showing us the new Chinese-built Viv Richards Cricket Stadium and the multi- coloured shopfronts of Antigua's capital, St John's. It is the gentlest, friendliest of Caribbean islands and if you want to stay "local but luxury", you won't do much better than Sandals.
Dominic West stars in 'The Affair', which continues on Sky Atlantic at 9pm on Wednesday
Travel essentials
Sandals Resorts (0800 597 0002; sandals.co.uk) is currently offering a two-for-one sale. Seven nights' all-inclusive at Sandals Grande Antigua Resort & Spa costs from £1,499pp. The price includes return flights from Gatwick, transfers and accommodation in a Mediterranean Honeymoon Oceanview Club Suite. Valid for departures 27 August to 22 October.
Excursions are available through Island Routes Caribbean Adventure Tours (islandroutes.co.uk).
More information
Reuse content