A strange, dark shape in the brilliant blue-green waters of Saint Andrew Bay caught our helicopter pilot's attention as I enjoyed the aerial panorama of Panama City Beach. We moved in for a closer look. "I think they're rays," he indicated over the intercom as we strained to make out the amorphous underwater blob that appeared to shape-shift as we moved closer.
Rays? Was he pulling my leg? The mysterious shadow covered several acres at least and the idea of it being composed of any kind of sea creature, let alone rays, seemed outlandish. There would have to be thousands of them. It had to be seaweed, or something similar. But no, our pilot was absolutely spot-on. It was a maritime mob of southern cownose rays. The vast congregation ebbed and flowed just beneath the waves, seemingly indifferent to the currents running from the Bay into the Gulf of Mexico, forming a fluid brown discolouration between the two arms of St Andrews State Park.
"They're starting to mass for their autumn migration," our pilot explained. "They spend all summer up here and then suddenly appear in these great clouds for several weeks before they all head south to Mexico and South America for the winter. Pretty cool, hey?" I had to agree, but it was just one of several surprises I encountered in this quiet corner of the Sunshine State, Florida's "secret beach".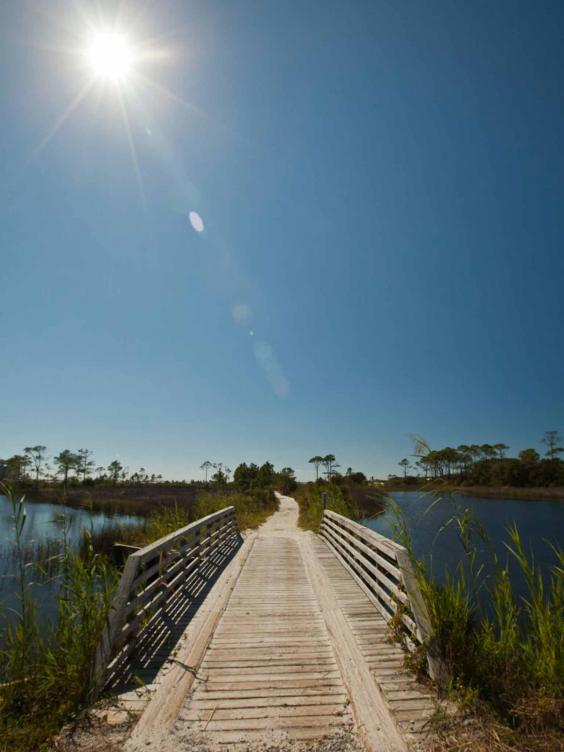 That is, unless you are there this month. This was September, when the summer heat had started to ease and the 27 miles of sugar-white sands were vast, empty expanses. Panama City Beach, on the north-west "Emerald Coast" in the state's Panhandle, is not your typical Floridian tourist trap, with the notable exception of March when the Spring Break college hordes turn up en masse in a bid to out-party each other in boisterous frat style. For the remaining 11 months of the year, it is an absolute delight for anyone who enjoys off-the-beaten-track elbow room with just enough activity to quicken the pulse every now and then.
Hotel choices run the gamut from typical to eclectic, with some characteristic high-rise apartment-style offerings mixed in among a handful of well-preserved 1950s motels. Meanwhile the array of attractions varies from the scenic helicopter tour to a traditional amusement park full of seaside rides.
The beaches are blissfully powder-fine underfoot and encourage long, lazy strolls with the warm Gulf waters lapping languorously at your toes, but this is not excitement central in terms of sea-going adventures. Stand-up paddleboarding is popular; parasailing and surfing not so much.
Dining options are satisfying without veering towards the foodie pretensions of resorts further south, and the 30-acre Gulf World Marine Park is the nearest it gets to themed mass-market appeal. There remains a refreshing, homespun charm here that's difficult to find on the south-east coast.
Yet that is not Panama City Beach's prime distinction, either. The area is at the confluence of three remarkable land-and-sea ecosystems; the great roiling mass of rays provided the first clue, along with the dozens of dolphins that frolicked in ever-present nonchalance just offshore. The curious sand cliffs of St Andrews State Park are another notable marker, the dune lakes of Camp Helen State Park the clincher, a mix of freshwater wetlands and scrub oak forests that are unlike anything else I have seen in Florida.
The waters of the Emerald Coast are home to a large community of Atlantic bottlenose dolphins and, along with the great seasonal cownose ray spectacle and the occasional shark, form one of the richest marine environments in the south-east US.
St Andrews State Park adds a rare element of coastal dune landscape, a state rarity that is as endangered as the Florida panther, due to maritime erosion and man-made effects. There are now only a handful of similar ecosystems in the region and the State Park's is the leading example, with scalloped 20ft cliffs that are fascinating territory for amateur geologists – or just anyone with a bucket and spade.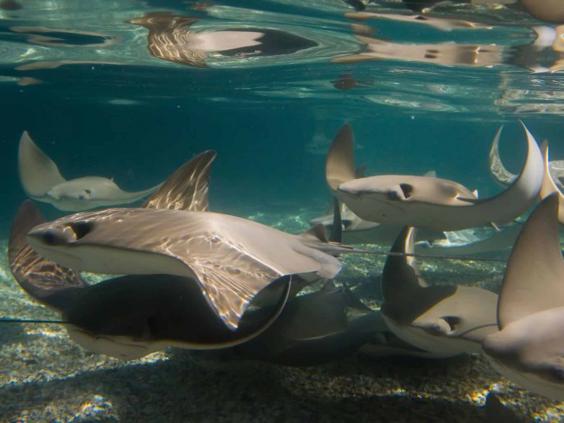 There is little in the way of facilities, just a beach shop and a few fishing piers; the feeling of seclusion is seductive. Close by, Shell Island is true Robinson Crusoe territory – seven miles of untouched barrier island to explore in almost complete isolation.
Several miles west of St Andrews and Panama City Beach, Camp Helen is at the centre of one of only five coastal dune lake environments in the world. It's a rare ecosystem, trapped between the ocean and freshwater hinterland, which attracts a rich variety of birdlife and rewards a gentle hike along its many trails that stretch from the beach to the thickly-forested interior. If your visit coincides with an occasional dune breach, when the sea breaks through to mix with the brackish water of Lake Powell, water conditions can vary from bright blue to dark brown and highlight a fascinating flow between sea-going and freshwater-based organisms.
Ultimately, though, you may just find, as I did, that the best way to enjoy Panama City Beach is simply with your shoes off, sauntering from hotel to bar, bar to restaurant and restaurant back to hotel. In a state that likes to spread things out, being able to explore on foot makes for a rare treat indeed.
Getting there
Panama City Beach is a five-and-a-half-hour drive from Orlando, or little more than an hour by the new Silver Airways daily direct flights (from $143/£95 one way; silverairways.com). Both British Airways (0844 493 0787; ba.com) and Virgin Atlantic (0344 209 7777; virgin-atlantic.com) fly non-stop to Orlando from Gatwick. Atlanta, served by BA and Delta (0871 221 1222; delta.com), is an alternative at a similar driving distance.
Staying there
Tidewater Beach Resort offers fully equipped condos from $140 (£93) per night (001 850 636 8000; wyndhamvacationrentals.com).
More information
Reuse content