I thought I was going to a plant nursery but instead I find myself in a rough, wild setting surrounded by massive clumps of tropical blooms, many much taller than myself. The scent of nutmeg is in the air, hummingbirds are hovering among dramatic stands of huge torch gingers, their scarlet flowers as big as a baby's head.
There are dozens of vivid lobster-claw heliconias and banana plants with pink and purple flowers all growing in this jungle-like setting amid an eerie scattering of old ruins. It is about as far from your local garden centre as you can imagine. Yet the Balthazar Estate, in the middle of the Caribbean island of Grenada, is where most of the flowers are grown for Grenada's exhibit at an event which takes place far across the sea: the Chelsea Flower Show.
The people of Grenada are proud of the fact that they have won 10 Gold Medals at Chelsea, where their exhibits effectively act as a showcase for the island's tourist industry. The climate, rainfall and volcanic soil make Grenada incredibly productive and floriferous. Along the roadside you see palms, papaya and mango trees and there are old rum distilleries and cocoa plantations. As well as Balthazar, there are a number of private gardens and spice-growing establishments open for plant-lovers to visit.
The whole Chelsea operation is masterminded by Suzanne Gaywood, a Grenadian who is resident in England and who works in conjunction with her team. "Team effort is everything," she told me. "We all pull together to make this happen."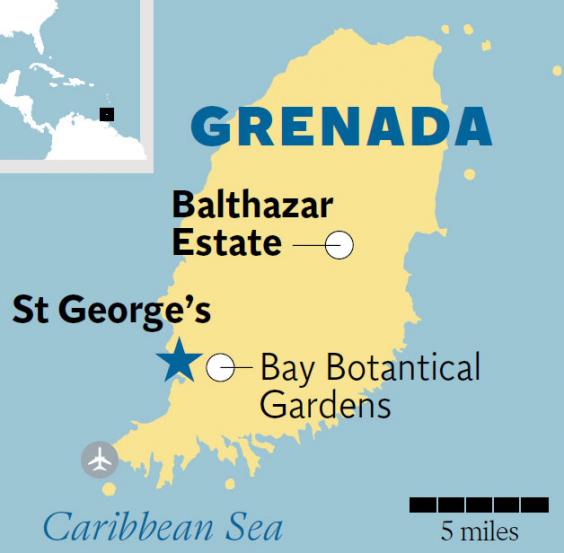 Denis Noel, the owner of Balthazar Estate, was the first person Suzanne recruited. Sitting in his lovely old plantation house, he tells me that in the 1700s sugar cane was grown here, then in the 1800s bananas, cocoa and nutmeg (still one of the country's most important crops) took over. They were still being farmed when his grandfather bought the estate in 1945. Eventually the acreage was cut and Denis started farming flowers: 26 tropical varieties are grown, for the home and export markets.
The next team member I visit is Fletcher Frank, who grows anthuriums. The journey to his nursery takes me up roads which wind high through woodland. "The altitude and cool temperatures [a mere 29-31C] suit them, as does the 80 per cent humidity," Fletcher tells me as we gaze down to where several shade houses can be seen among the lush greenery. Each house contains 5,000 plants sporting flowers with vivid pink or red spathes or bracts, from which the spike, or flower proper, extends. Anthuriums are epiphytes, which derive their moisture and nutrients from the air, so are grown on raised beds filled only with coconut shell. As well as being very decorative they also have a long vase life, which makes them ideal for showing at Chelsea.
As any flower arranger will tell you, blooms are not the only thing you need – foliage is essential to set them off. In the Bay Gardens, set high up in the cool rainforest, huge old mahogany and white cedar trees clothed with giant philodendrons and shrubs embellished with bromeliads are to be found growing as if in a lost paradise. The owner, Albert St Bernard, who also helps to arrange the stand, will pick some unusual pieces to bring.
It is John Criswick of St Rose Nursery, however, who supplies the bulk of the foliage. He cultivates a wide range of multi-textured plants including enormous philodendrons, ferns and cordylines in many shades of green, yellow and magenta. He established this nursery 30 years ago and also plays an important role at the show itself.
"He is the one who knows all the Latin names," I am told by Cathy John, president of the Grenada Horticultural Society, when I meet her at her home. Her role is to travel all over the island seeking out spices and prize plant material which she buys or asks the grower to donate.
"We need big bold plants, long-stemmed orchids and such like. Members of the Orchid Circle are all proud to donate. In fact all over the island people ring us and invite us to see what they have," she told me. "I like to surprise Suzanne with something special.
"We begin here on the Monday before the show, when we wash and condition the plants and pack them in boxes using fleece. The boxes are labelled so we know which can 'sleep overnight' when we get there and which must be taken out immediately."
This year's exhibit is entitled "Spice Isle – Spices, Rainforest and Beach", bringing together some potent elements of Grenada's attraction. I wish them luck ... and another Gold.
Chelsea Flower Show (rhs.org.uk) runs from 20-24 May. BBC TV coverage begins Sunday on BBC1 at 5.35pm.
Travel essentials
Getting there
Virgin Atlantic (0844 209 7777; virgin-atlantic.com) and British Airways (0844 493 0787; ba.com) fly from Gatwick.
Visiting there
Caribbean Horizons (001 473 444 1555; caribbeanhorizons.com) in St George's offers a Floral Delight Garden Tour from US$120 (£75) for two people for a half-day.
Balthazar Estate, St Andrews (001 473 442-7514), admission US$10 (£6.25) call before arrival.
St Rose Nursery & Garden, St George's (001 473 440 5870), entry US$6 (£4) or free if buying plants.
More information