For the majority of visitors to Mexico's Riviera Maya, Mérida remains undiscovered. Yet the largest and most attractive city on Mexico's Yucatán peninsula has much to recommend it: a relaxed atmosphere, lively street-life and a fascinating history, not to mention plenty of good quality accommodation at reasonable prices. It also makes a good base for visiting the great Mayan ruins of Chichén Itzá and Uxmal. Late October is a particularly good time to go as the sweltering summer heat is cooling and the International Maya Culture Festival is getting into gear with a programme of exhibitions and concerts (17-26 October; ficmaya.com).
Mérida's Zócalo or main square, generally called la Plaza Grande, is a place where you can easily waste a whole day watching the world go by. In the shade of imposing laurel trees and royal palms, vendors sell "Mayan" trinkets and shoe-shine boys ply their trade while couples have intimate conversations on the confidenciales – white, S-shaped double seats.
At dusk, the square puts on its party clothes. There's music virtually every night, with salsa bands challenging you to put aside inhibitions and dance with the locals. Well worth a visit is the Palacio de Gobierno (on the north side of the square) for its impressive series of huge murals painted by native artist Fernando Pacheco: they depict the history of the Mayan people (free entry).
A half-hour stroll up Calle 60 takes you to a contrasting face of Mérida – the broad, airy boulevard of Paseo de Montejo. Its solid, Parisian-style mansions were built in the early 20th century by the wealthy owners of sisal plantations, to give their city a touch of European chic. Montejo continues to be the posh end of town with banks, international restaurants and modern bars.
The true heart of the city, for most of Mérida's population, is the market district a couple of blocks south-east of the Zócalo. This is undiluted Latin America, with uneven pavements, dangling electrical cables, and shops where you can buy just about anything. The market building is vast and crowded; chilli peppers are piled high in multi-coloured mountains. The people here, both shoppers and vendors, resemble the portraits in Pacheco's murals: Mayans, direct descendants of the people who built the extraordinary cities which now lie in ruins around the Yucatán peninsula.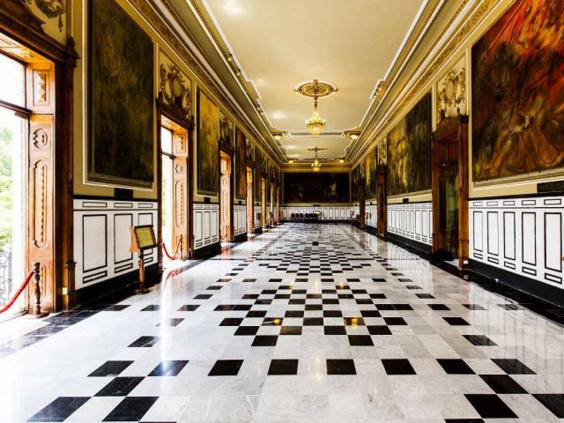 UNPACK
Hotel Julamis at 475b, Calle 53 is a tranquil, seven-room boutique hotel (00 952 999 924 1818; hoteljulamis.com), 10 minutes' walk from the city centre. Its air-conditioned twin rooms start at US$69 (£43) including gourmet breakfasts (the new owner is an experienced chef) and a sundowner tequila on the roof terrace with great city views.
Elsewhere, the Hyatt Regency on Avenida Colón/Calle 60 (00 52 999 942 1234; merida.regency.hyatt.com), just off bustling Paseo Montejo, has undergone a stylish facelift this year. Doubles with breakfast start at US$92 (£57).
THINK LOCAL
On Sunday mornings between 8am and 12.30pm, a section of central Mérida is closed to traffic, allowing citizens and visitors alike to take to their bikes. Bici-ruta, as it's called, is an excellent way to see the city and feel part of the local scene.
Rent a bike at a shop on the Paseo de Montejo, between Calles 45 and 47 for 20 pesos (£1) an hour, and join the slow-moving peloton of families on all kinds of novelty cycles as they wend their way down Calle 60, blissfully free of buses, and on to the central square. Free drinking water is available along the route.
EAT
Apoala (00 52 999 923 1979; apoala.mx) in the Parque Santa Lucía, is the latest addition to Mérida's foodie scene. It offers a beguiling mix of southern Mexican dishes from the Yucatán and Oaxaca. Worth trying are the tacos, ceviche, arrachera steak and (unusually for Mexico) the salads. There's a wide selection of Mexican wines, while the house cocktail, featuring the fearsome mescal liquor, is recommended. Fans of al fresco dining can eat outside under the colonnade of the Parque Santa Lucía. A three-course lunch costs around 400 pesos (£20).
DRINK
The Mexican staples, tequila and mescal, are not produced in Yucatán, though they are readily available. The truly local liquor is Xtabentun, which is made from honey, anise and rum. It's usually drunk as a digestive or in coffee, when it's called café Maya. The Mayan vegetable chaya (tree spinach) is used in the very refreshing agua de chaya, usually combined with lime, sugar and ice. Chaya is also added to tequila to make a startlingly green margarita. An appropriate place for a tasting is La Chaya Maya, a Yucatecan restaurant at Calle 55 and 62 (00 52 999 928 4780; lachayamaya.com).
SPEND
Mérida is the place to buy a hammock. It has a long tradition of weaving the often beautifully coloured items which for many Yucatecans serve as a bed, not just garden relaxation. The best Yucatecan hammocks are made from sisal but these are hard to find. Cotton makes a good alternative while nylon is harder-wearing and cheaper, but less comfortable. When choosing a hammock you need to check it for the closeness of the weave (closer means better). Hamacas el Aguacate at calle 58, No 604 has a great variety for upwards of 300 pesos (£15) (00 52 999 989 5789; hamacaselaguacate.com.mx).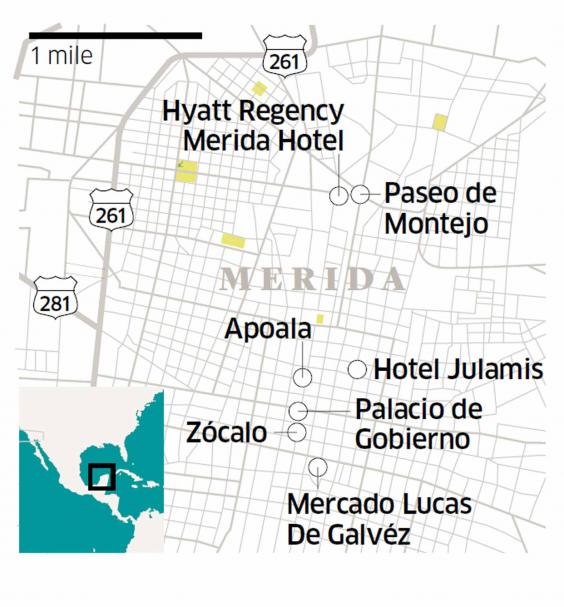 DON'T MISS
The Gran Museo del Mundo Maya at 299E Calle 60 Norte (00 52 999 341 0435; granmuseodel mundomaya .com; 8am-5pm, closed Tuesdays; 150 pesos/£7) is undoubtedly Yucatán's best introduction to Mayan culture. The building, inspired by the sacred Mayan ceiba tree, houses a wide collection of Mayan artefacts. A related exhibition explores the development of living things in the Yucatán area following the massive impact of the Chicxulub asteroid, 65 million years ago.
GETTING THERE
The most convenient airport for Mérida is Cancun, three hours away by road. Fly there from Gatwick with Virgin Atlantic (0844 874 7747; virgin-atlantic.com), BA (0844 493 0787; ba.com), Thomson Airways (0821 231 4787; thomson.co.uk) or Thomas Cook (0870 758 0205; thomascook.com). The latter two also operate charter flights from Manchester, Birmingham, Newcastle, and Glasgow.
MORE INFORMATION
Mexican Tourism Board (020 7488 9392; visitmexico.com).
Reuse content