Growing up in Yorkshire, I was never really enamoured by autumn. The carefree summer days of shorts and T-shirts were over too quickly, to be replaced by drizzle and squelch. At least winter could be properly cold and crisp, but October was always rather damp and middling.
Over in the States though, autumn is celebrated and treasured, especially in New England, not least because days stay sunnier and warm much later into the year than in Britain. "Fall" is anchored around celebrations such as Halloween, but particularly by the changing colours seen across thousands of acres of forest and woodland: a startling transformation from temperate green to rich and ruddy yellows, oranges, and vibrant reds.
Websites and local television stations from Connecticut to Maine give leaf-peeping alerts, as peak foliage-spotting opportunities arise. More visitors come to gaze upward at trees in September and October than for hiking in summer or skiing in winter. Many, though, just stick their head out of the car window, snap a few photos, buy a fridge magnet and head home. But as I found in Vermont last year (where around three-quarters of the state is forest), it's easy to plunge into the fiery heart of Fall colours. You can do so on foot or bike, by dog sleigh, and even sleeping among the branches – which should have even the most lazy city-dwellers lacing up their hiking boots quicker than you can say "deep-fried, beer-battered pickles".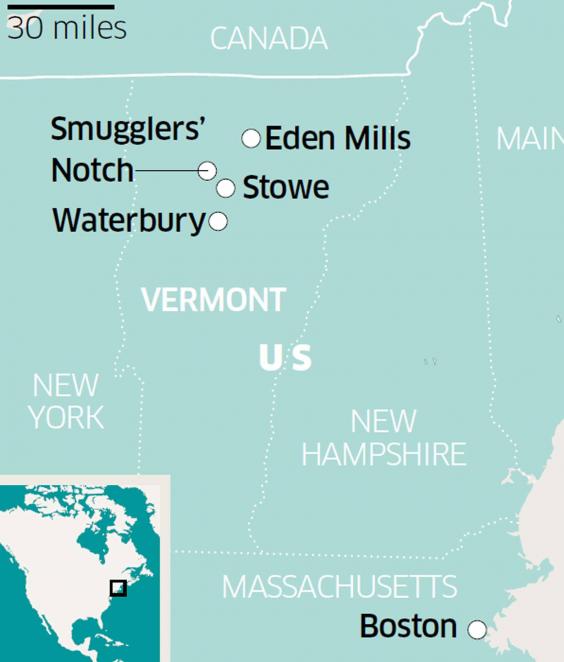 Those bad boys of the gherkin world are served at the Crop Bistro and Brewery (cropvt.com), on Mountain Road in Stowe, typical of the unpretentious atmosphere in the laid-back resort village, which is a three-and-a-half hour drive north of Boston.
It's where I ate on my first evening in Vermont after a day's hiking on Mt Mansfield. Known as Moze-o-de-be-Wadso (mountain with a head like a moose) by the original Abenaki locals, it's the highest mountain in the state (4,393ft) and, on my visit in early October, it was swathed in a breathtaking canopy of russet red Sugar Maples.
From its peak you can look north to Quebec, over to the White Mountains in New Hampshire and to the Adirondack Mountains in New York State. It's easy to climb, though, thanks to its cable car primarily meant for the winter's skiers, leaving you to scramble only the last few hundred yards to reach its flat top.
Back down at the base station, I drove 15 minutes through romantic-sounding Smugglers' Notch to Arbortrek Canopy Adventures (arbortrek.com) for some zip-lining. I have to admit, based on previous attempts at this activity (gliding down wires suspended through trees, high off the ground), I'm rather in the "is that it?" camp. However here, due to the guides' enthusiasm, the fact we were right in among the riot of colours, not to mention getting up towards 35mph while 70ft off the ground, it was a much more exhilarating experience.
Although my main base was the plush Stowe Mountain Lodge, I spent a night further south near Waterbury at the more intimate Moose Meadow Lodge. Owners Greg and Willie had recently completed a splendid, two-storey treehouse, tucked privately away from their main Adirondack-style wooden home among mature pine trees. It has a bedroom on the top floor and living/dining area below, as well as shower and wrap-around deck. I awoke the next morning to a duvet of fog that acted as a perfect matt backdrop to the vibrant colours of the leaves, before Greg, who is a Justice of the Peace, dished up French toast and bacon then hurried off to marry a gay couple from Texas.
On my final day I drove north, close to the Canadian border, where most of the car radio's stations were in a Quebecois French that my schoolboy level of comprehension struggled with. My destination was a spot in the middle of the middle-of-nowhere, called Eden Mills, to meet professional dog sledder, Jim Blair.
When not racing in winter, Jim fixes wheels to his sleds and lets his 34 Alaskan huskies pull visitors through the woods for some close-up leaf peeping. Jim's front room is a rather surreal, tail-wagging experience as Lily, Rose, Waffle, Flint, Amis, Jersey, Buttercup and pals greet newcomers to a chorus of excited canine singing while they loll around on sofas waiting for the call to get harnessed up.
After helping do that, we were off on a circuit around the wooded farmstead, me in the passenger seat while being driven by Blair, who hollered and yelled in a seemingly-secret language he shared with the dogs.
In the middle of the 45-minute trip they were let off for a cooling dip in the pond and a run about, before we harnessed up and set off again, this time with me at the controls. With a bit more luck than judgement I managed to master not only the correct shouts to steer us around the various paths, but equally importantly, got the hang of the brakes quickly, too.
That evening I celebrated with more beer-battered pickles in Stowe. It's difficult until you've been to New England in autumn, I thought as sauce dripped off my fingers, to believe that leaves and trees can be a tourist attraction in their own right. But they are, and even more so when you take the time to slow down and see them away from the highways and byways. I'm still not sure if I'll appreciate October back at home, though. Still, a grey, dreary day in Britain is the perfect excuse to slope off to the pub and hunker down by a crackling log fire to gaze into to the red, orange, and yellow flames and think back to that blaze of colour in Vermont.
Getting there
Will Hide travelled as a guest of Discover New England (01825 763636; discovernewengland.org), and Virgin Holidays (0844 557 3859, virginholidays.co.uk) which offers flights from Heathrow to Boston and seven days' car hire in late September from £779pp (two sharing).
Boston is the gateway to New England and is served from Heathrow by British Airways (0844 493 0787; ba.com), Virgin Atlantic (0844 209 7777; virgin-atlantic.com) and Delta (0871 221 1222; delta.com).
Staying there
Stowe Mountain Lodge (001 802 253 3560; stowemountainlodge.com) has room-only doubles from $316 (£198) in leaf-peeping season (late September to early October).
Moose Meadow Lodge (001 802 244 5378, moosemeadowlodge.com) offers the treehouse $475 (£297) per night for two people, including breakfast, while rooms in the main lodge start from ($267) £167, B&B.
More information