The bus was about to plummet 200m off the cliff and into the Pacific – or so I had convinced myself. The tyres, centimetres from the edge, crunched over scree and discarded onions which lay scattered in the road. It wasn't hard to imagine where the truck carrying the delivery had gone. The thick fog restricted visibility enough to veil the trucks hurtling towards us, but not enough to hide the debris that littered the road.
In a bid to distract me, my seat neighbour, Alejandro, pointed out of the window: "The scenery is beautiful up here. We have mountains, surf, jungle, tasty food, great people – and it's quieter." I clutched his hand in panic as the bus skidded around another tight bend.
Certainly, northern Peru has fewer headline attractions than the Inca ruin-rich south and the lakes on the Bolivian border. In March it was announced that Lake Titicaca, the world's highest navigable lake and one of Peru's main tourist attractions, would undergo £300m-worth of water treatment to reduce pollution. Meanwhile, debates continue to rage over the environmental damage caused by 2,500 visitors a day to Machu Picchu, with plans for 10-minute visiting slots proposed. I wasn't heading north because I was an eco-warrior. The truth is that Lima during the southern hemisphere winter is unbearably cold.
Locals call the fog that blankets Peru's southern coastline between June and November La Garua. It's the type of cold that seeps into your bones and refuses to leave. Limeños march around the capital city with their puffer jackets zipped up to their ears, while optimistic tourists wearing shorts and vests shiver uncontrollably over the free Wi-fi in Starbucks. It's for this reason that Lima's moneyed citizens often decamp to Máncora to avoid the winter climate.
One thousand kilometres north of Lima, Máncora District is a coastal region of sweeping white beaches, palms, superlative surfing, and expensive restaurants. It's home to some of the best waves in South America, and the houses of Peru's millionaires line the coast. The juxtaposition of Máncora's clientele – stringy-haired surfers alongside Chanel-toting, silicon-stuffed Barbie dolls – is a curious one.
The main thoroughfare of Máncora town is a dusty, down-at-heel affair stuffed with cheap liquor and souvenir shops, but it's surrounded by beauty. Sirena's coffee shop and bar wouldn't look out of place in Nice, while just a few doors down is Angela's Place, a vegetarian restaurant catering to Peru's health-conscious middle class.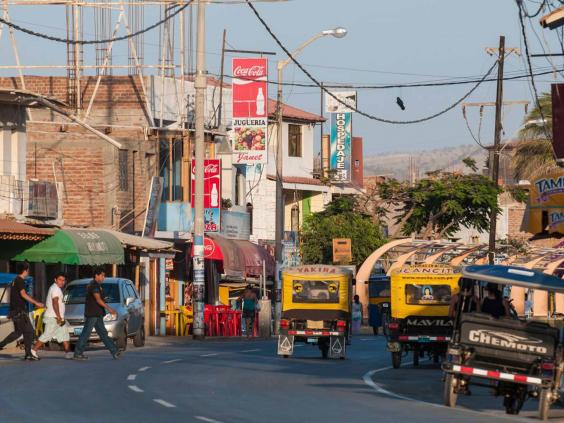 But it's the restaurants attached to the resorts that are the biggest draws for the Peruvian nouveau riche. From the clean lines of the DCO Hotel's minimalist plates, to the exceptional vegan food dished up at exclusive wellbeing resort KiChic, these restaurants are where Peruvian jet-setters want to see and be seen; I got the feeling I was rubbing shoulders with celebrities I didn't recognise.
However, I wasn't here to eat, but to surf, and I was itching to get out into the waves. I was staying at KiChic (only those staying in hostels stay downtown), and, armed with a wetsuit, I headed back into town on a golf buggy along the world's bumpiest "road", to rent a Miami longboard at a surf shack on the beach.
The coastline was packed with American girls learning how to ride their first waves and, as it was my first time back on a board in a few years, I was relieved that the surf was relatively gentle. For serious boarders, 50m up the beach there's a roped-off section where beginners aren't allowed. The waves looked bigger there, and there was certainly less laughter going on. I was terrified of getting mown down by one of the frowning surfers slicing through the waves so I let my instructor remind me of the best way to paddle out.
"Ok, like a cat, move from crouch to stand," Luis told me. He let go just as a wave reared its head and I sprang up and promptly fell off the board. Six goes later, Luis had stopped paddling me out and I had managed to stand up for more than 10 seconds. I mustered a goofy air-punch and fell in again, but I'd done it. A papaya juice and huevos revueltas (scrambled eggs) at Green Eggs and Ham was ample reward for my efforts, after which I headed back to KiChic, ready to spend the rest of the afternoon in a hammock.
After several days of clambering out to sea on my board, my legs and shoulders ached from paddling and catching waves. The wind picked up as I sat with a Pisco Sour cocktail, bundled up in a rug by the beach on KiChic's stylish four-poster sunlounger. The setting sun lit up the ocean like a flare, highlighting writhing humpback whales out to sea. Their bodies breached the waves, followed by their tails slapping the water, the sound drowned out by the wind as the sun set on this northern Peruvian outpost.
I hadn't seen any centuries-old ruins, but I had found a sunshine bolthole in the depths of the Peruvian winter. Heading out early the next day to get to the water before the surf schools broke out, I found an ocean rippled with the orange sunrise, and just one spidery wetsuit-clad surfer on the horizon: a real surfer's paradise.
Getting there
The writer flew from Heathrow to Lima with American Airlines via Dallas (020 7660 2300; aa.com); returns from £575.
Getting around
Cruz del Sur (cruzdelsur.com.pe) operates comfortable long-distance buses between Lima and Máncora (20 hours).
Staying there
Ki Chic, Máncora (00 51 73 41 15 18; kichic.com). Doubles start at US$200 (£133),including breakfast.
More information
Reuse content