Often saddled with the reputation of being Montreal's beautiful but fusty big sister, Québec City morphs into a festival city during August. Expo Québec, from 15-24 August, is effectively a pumped-up city fair, while monstrous firework displays explode above the St Lawrence River on 6, 9, 13, 16 and 20 August. Both diversions offer a handy excuse to push beyond the Old Town's photogenic heritage sights in a city that has quietly discovered a sense of contemporary individuality in recent years.
Rue St Joseph is the heart and spine of the recently revitalised St Roch area, where closed-down shops have been replaced by microbreweries such as La Korrigane (001 418 614 0932; korrigane.ca) and local artist showcase-cum-hangout Galerie d'Art Factory (001 418 800 8846; galeriefactory.com). The venue that best captures the city's spirit, however, is Le Cercle (001 418 948 8648; le-cercle.ca), a hybridised restaurant, bar, gallery and performance space.
Elsewhere, old and new blend successfully. The city grew up around the area that is now the Quartier Petit Champlain (quartierpetitchamplain.com). Crafts- people and independent designers have taken over the old merchant homes and warehouses to create an engaging browse-a-thon of boutiques, woodcarving studios and glass-blowing workshops.
But ventures into the 21st century are merely the icing on the cake; Québec City's joys remain in the past. Founded in 1608, it is the only fortified city in North America. A walk along the city walls from rue Saint Jean, skirting the edge of the Citadelle and finishing at the Terrasse Dufferin boardwalk, brings to mind an era of sieges and muskets. For a proper insight into the early days of what was then New France, however, an afternoon in the Musée de la Civilisation (001 418 643 2158; mcq.org) is in order.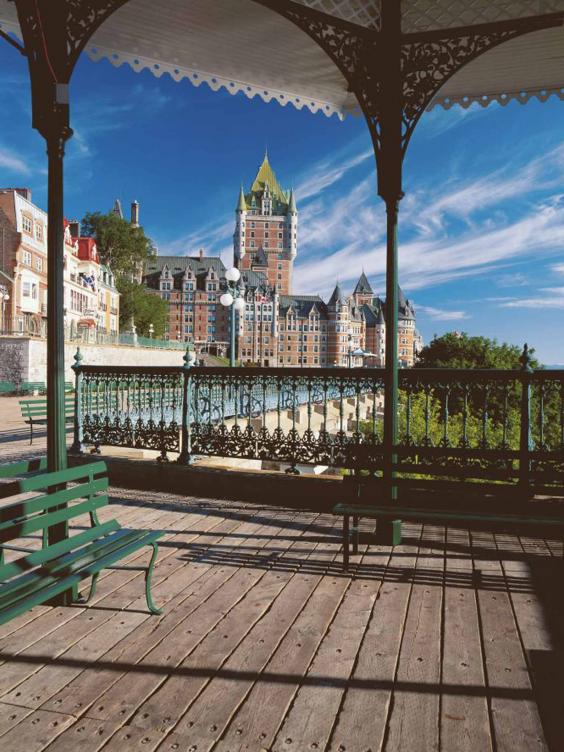 The museum digs into how an outpost of French fur traders made a series of alliances with the indigenous people, and eventually created a territory that stretched across the American mid-west all the way to New Orleans.
Having opened last autumn, the hi-tech This is Our Story exhibition on the first floor delves into Quebéc's native Americans. But it's not about how things used to be, it's about how the groups live now. Forestry management, urban reserves and complex governance structures are all part of 21st century life. Unexpected modernity creeps in once more to Canada's old-world city.
Unpack
The word "iconic" is grotesquely overused when it comes to hotels, but the Fairmont Le Château Frontenac (001 418 692 3861; Fairmont.com/Frontenac-quebec) legitimately manages to work its way into just about every Québec City postcard and so can just about sustain the cliché. It reopened in June after a serious refurbishment, however, so photos of the multi-turreted, fantasy masterpiece will no longer be spoiled by scaffolding. The heavy wood panelling and elaborately engraved lift doors of the gigantic lobby remain, but the makeover brightens elsewhere. Meanwhile, the restaurants have been reconfigured to give more tables prime river views. Doubles start at C$330 (£184) but non-guests can visit the basement-level micro- museum, with remnants from the castle that originally stood here.
Think local
Cruise ships pull up along the St Lawrence River, but locals tend to stretch their legs or pound their pedals along the Charles River tributary. The Corridor du Littoral bike path stretches for 50km (30 miles) along it (routeverte.com), but the sensible turnaround point after 12km is Montmorency Falls, where the water plummets further down than it does at Niagara Falls.
Écolocyclo (001 418 692 2517; ecolocyclo.net) offers daily bike rentals, including maps, cycle locks and helmets for C$34 (£19) a day.
Eat
Québec City has more restaurants per head than any other city in Canada, and the food scene is finally moving away from the stuffy French fine-dining archetype. A fine example is Petits Creux et Grands Crus (001 581 742 5050; www.petitscreux.ca), on Avenue Cartier, the in-the-know hang-out strip. Sharing platters on the sunny terrace are what this relaxed joint does best. Each dish does one ingredient multiple ways – so the C$33 (£18) Tout Canard platter has a confit, dried duck and duck salad.
Drink
Québec has a strong microbrewing scene which the 24 taps at Le Projet (399 rue Saint-Jean; 001 418 914 5322) showcase with a youthful vibe. Here, the beer list is king and local breweries lean toward British-style red and brown ales or Belgian brews.
Spend
Most music-lovers will never forgive Québec for inflicting Celine Dion on the world. But give its music a second chance at the Sillons Le Disquaire record store (114 Avenue Cartier; 001 418 524 8352; sillons.com), including folk-tinged singer Tire Le Coyte.
Don't miss
The Notre Dame Cathedral (right: 001 418 692 2533; notredamequebec.org) is the oldest in North America, outside Mexico. After a couple of rebuilds, it bears little resemblance to the 1664 original, but this year's 350th anniversary has brought special privileges from the Vatican.
A chunk of the outer wall has been cut out to install a "Holy Door"so pilgrims can pass through the metal gateway, engraved with an image of Jesus, in solemn contemplation of the other passages they'll have to take within their lifetime.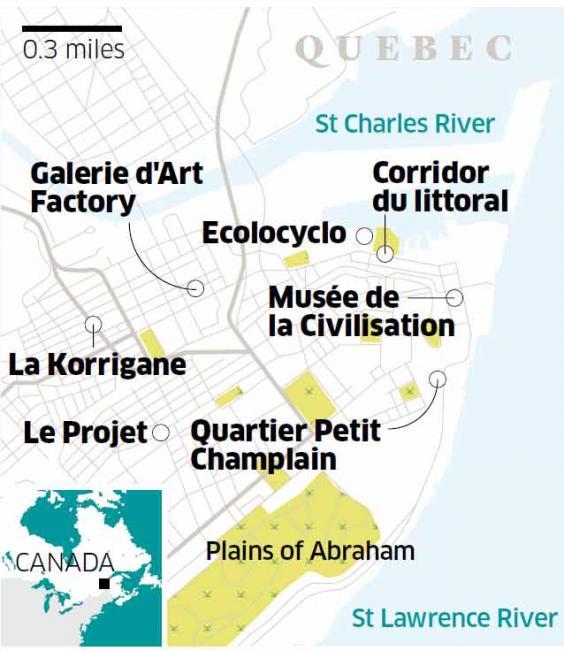 Getting there
There are no direct flights from the UK to Québec City. One-stop routes from Heathrow via Toronto with Air Canada (0871 220 1111; aircanada.com) are generally the quickest way of getting there. Returns cost from around £610. Or you could fly direct to Montreal and travel overland from there. Flights are offered from Gatwick by Air Transat (020 7616 9187; airtransat .co.uk), Air Canada and British Airways (0844 493 0787; ba.com). Alternatives include going via Philadelphia from Heathrow or Manchester with US Airways (0845 600 3300; usairways.com). Returns cost from around £507, but layovers are longer.
More information
Tourisme Québec, 12 rue Sainte Anne (001 514 873 2015; bonjourquebec.com).
Reuse content