'Why would you want to take the coastal road?" said Pablo, as he waved me off from the Laguna Garzon Lodge. "It's 40km of dirt road." He stared at me, and shrugged. "Maybe you'll like it."
He was right – the dirt road was why I'd come. Until recently, I'd always associated Uruguay's coastline with Punta del Este, the brash beach resort where the River Plate meets the Atlantic Ocean. I'd heard of José Ignacio, too – the formerly sleepy fishing village, 22 miles north of Punta, that is now the St Tropez of the southern hemisphere. That sounded almost worse.
But I'd also heard whisperings of another Uruguay. Of a coast beyond Punta's Maldonado province, with pristine beaches, fishing villages, and wild sand dunes. All you had to do to get there, apparently, was to hop on a tiny wooden raft and cross a couple of lagoons.
In the event, I wasn't even sure I needed to find it. For a resort, Punta was rather beautiful, and that bastion of privilege, José Ignacio, turned out to be an alluring mishmash of thatched cottages and New England-style shacks, piled on to a promontory of sand dunes. The clientele was rich, but not aggressively so; it was a place where oligarchs swap their BMWs for bikes, where, at even the most iconic restaurants – such as La Huella, dug into the dunes on the crescent of beach – the dress code is shorts and flip-flops. José Ignacio seemed rather normal – low-key, even. What, I wondered, could be across the lagoon?
Laguna Garzon is only five miles north, but already a world away. I joined a line of Audis – the dinghy-powered raft fits just three cars – and watched windsurfers zipping through a biosphere famous for its migratory birds, wind-whipped dunes and Pablo's floating hotel, where the "rooms" are little cabins, balancing on the tide.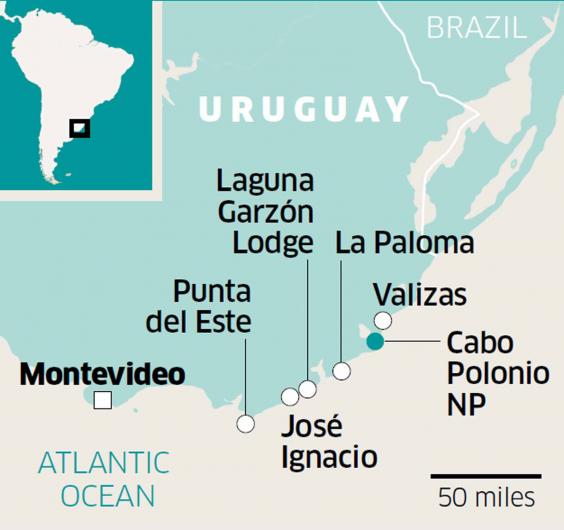 Beyond that, following the shoreline to Rocha, Uruguay's northern- most coast, was, according to the map, a main road. Or dirt track, as Pablo insisted. He was right.
Within minutes of leaving the lodge, the tarmac had unravelled into gravel, houses had given way to wild cacti, and the Atlantic battered the roadside dunes. Then, an hour in, it was narrowing and petering out, the potholes so deep that only a 4x4 could manage. Here was the Rocha lagoon, 27 square miles encased by wetlands.
Its entrance, where the Atlantic floods in, is just a few hundred yards wide; but with no raft, crossing it demands a 40-mile detour – from dirt road to a sealed highway and back to dirt again. Here, finally in Rocha province, the sand dunes were a quarter-mile thick, the never-ending beach deserted as far as both horizons.
It doesn't have to take so much effort to reach Rocha – another road from José Ignacio has only 20 minutes or so of track, before heading inland on the highway – but one of the joys of going north is in the solitariness of getting there. Beyond the lagoon, the settlements start: La Paloma with its lighthouse, pretty little La Pedrera, whose one main street empties on to a colossal arc of beach, and, an hour north, the other Punta.
In Montevideo, people had frowned when I'd mentioned Punta del Diablo, declaring it ruined by the crowds who flock for Christmas; but out of peak season (which, here, lasts all of two weeks), it was the beach of dreams: a two-street village with whale-sized rocks sheltering its neat strip of sand. Unlike the more exposed coastline further south, here was a place for swimming, its only concession to resort status a smoothie bar and a strip of wooden beachside stalls selling everything from homemade hair bands to fish empanadas.
Most people come to Rocha for Cabo Polonio, a national park midway between La Pedrera and Punta del Diablo that's home to a community living without electricity, running water, or roads. Access is via five miles of dunes, in military grade 4x4s that leave on the hour. I took the truck to a beach lined with rainbow-painted shacks and crammed with backpackers, families, and a colony of sea lions honking offshore. To the south, the beach yawned towards the horizon. To the north, the dunes marched on towards Valizas, five miles up. If you hike between the two, someone had told me in Montevideo, you'll cross some of the highest sand dunes in South America.
You can believe that, I thought, sitting on the beach at Valizas, having taken the more orthodox route of driving. At the southern end of the beach was a deep channel of water; beyond that were dunes that looked positively Saharan. The more intrepid were being shuttled in tiny boats across the channel, diminishing into pinpricks as they scaled the dunes; everyone else sat back on the beach, drinking maté, the Uruguayan national drink, and monitoring their efforts.
Rocha will change of course. Regulars say it's already developing fast, and a bridge is being built to replace the Garzon raft next year. Next will come tarmac. Then, probably, the crowds. But for now, it still feels hidden. At Pueblo Barrancas, an upmarket beachside campsite at La Pedrera, I fell asleep to the roar of the ocean, and woke to the screech of birds in the trees above me. The next morning, I walked along the beach; in the height of summer, it took 15 minutes to meet another person. It'll be a while before it's ruined.
GETTING THERE
Journey Latin America (020 3051 4271, journeylatinamerica.co.uk) offers a 10-night tailor-made Uruguay holiday from £2,358pp. This includes Air France flights via Paris and Buenos Aires, transfers and accommodation: three nights' with breakfast in Montevideo, three at Laguna Garzon Lodge, and three at Pueblo Barrancas.
STAYING THERE
Playa Vik (00598 94 605 212; vikretreats.com) has double rooms from US$675 (£450), B&B.
Laguna Garzon Lodge (00598 4480 6016; lagunagarzon.com.uy) has double rooms from US$200 (£133), including breakfast.
Pueblo Barrancas (00598 4479 2236; pueblobarrancas.com) has pre-erected tents from US$80 (£53), including breakfast.
MORE INFORMATION
Reuse content