New York's most misunderstood borough is changing at breakneck speed. All over the diverse and colourful Bronx, new buildings are rising and new ideas are bubbling away. Culture is coming to the fore: artists are moving in, the first Bronx Fashion Week happened in September. The Bronx Museum of The Arts – a must-see for its photography collection depicting a rather more battered-looking borough in the 1980s – is hosting a prestigious sculpture show on Randall's Island, called Flow 2014, until November (bronxmuseum.org/exhibitions/flow14) featuring installations by artists such as Robert Raphael.
New hotels are opening, too; the idea of staying in the Bronx is no longer as mad as it would have seemed a few years ago. The latest new boutique hotel, the Umbrella, is due to open this autumn in Melrose, South Bronx; around £1.2bn has been spent in the past 10 years on new developments in Melrose alone.
The South Bronx, long a place of dodgy repute (if not necessarily reality), is thriving. For many locals this was always the case – but visitors and new residents moving into the shiny new high rises are finally beginning to see for themselves. The Bronx is not short of sights either. The elegant mansions of Grand Concourse and the forthright concrete box of the Bronx County Courthouse – with its bold exterior sculptures by Joseph Kiselewski – cry out for more eyes upon them. Down the gentle slope from the Courthouse, the plaza outside Yankee Stadium throbs on game days. The Stadium and Bronx Zoo are the area's two biggest conventional attractions – but people are starting to see beyond them.
Crime is down, new shops and restaurants are opening, the Bronx River waterfront is being cleaned and new parks have opened – such as those at Baretto Point (complete with brand new floating lido) and Hunts Point. The Hub – the so-called "Broadway of The Bronx" is constantly being improved. This intersection of roads comes alive with the sound of people spilling out of Mexican restaurants by night, and by day checking out highbrow offerings like the Bronx Documentary Centre (bronxdoc.org) – a gallery, education and screening space for new media and documentary flicks.
You can see why even Donald Trump wants a slice of the Bronx – he aims to open a controversial £130m golf course at Ferry Point here next spring. Few New Yorkers seem to welcome it, but it will certainly alter the Bronx's brand if it sees the light of day.
UNPACK
The brooding, bulky façade of the Bronx Opera House Hotel, on East 149th Street, doesn't exactly scream fun, but this historic building hosted everyone from the Marx Brothers to Harry Houdini in its past life as a theatre, in the 1920s and 1930s. It was a nightclub and then a church, but since 2013 has been the Bronx's first boutique hotel. The Opera House Hotel's great-value rooms are decked out in a soothing autumnal palette and the public areas have been restored to the kind of glitziness they exuded in their previous theatrical incarnation (001 718 407 2800; operahousehotel.com).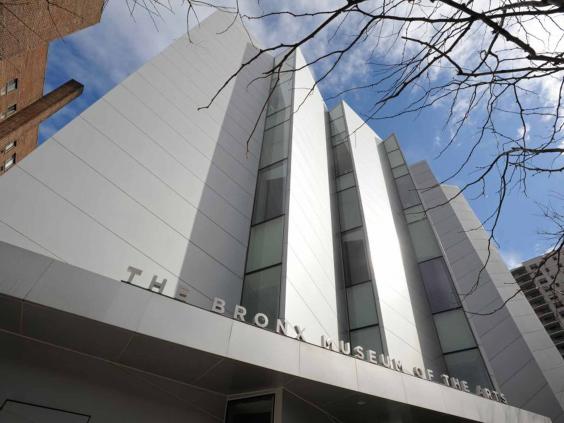 THINK LOCAL
Images of urban decay are probably the first things that enter your mind when you think of the Bronx. Rolling bucolic fields are not. Yet this is one of the city's greenest boroughs, with the huge Van Cortlandt Park, New York Botanical Garden (nybg.org), Bronx Zoo (bronxzoo.com) and the beautiful Pelham Bay Park, which even has a wide, sweeping sea beach. The city has been busy opening new green spaces along the Bronx River – such as Hunt's Point Park – and tidying up existing ones including Starlight Park. The whole riverside area here is being regenerated and turned into a new green lung for the district; a kind of watery quasi-High Line is the long-term concept that city planners have in mind (nycgovparks.org).
EAT
The Bronx is New York's hub of Puerto Rican immigrants, culture and food – and newly opened Don Coqui, on City Island, offers an excess of Caribbean creativity on a plate. A favourite of Bronx rapper Fat Joe, Don Coqui is part of a small, family-owned chain which prides itself on dishing up the most authentic Puerto Rican flavours such as roast pork, fried plantain, and rice with pigeon peas. San Juan's ubiquitous frozen cocktails are the thing to sup – and the drink that lends itself the place's moniker. A spicy mango coqui is the perfect sundown tipple (doncoqui.com).
DRINK
As soon as you step out of almost every subway station in the borough, the Bronx's Latin flavours hit you like an exuberant J-Lo booty shake. Near Keltch Park, just off 170th St, El Patron is a stylish new nightspot that's perfect for partying to an Hispanic beat. Nicaraguan, Puerto Rican, and Honduran DJs and live acts grace the stage, they mix a mean margarita, and you can practise your Spanish on the locals until the sun comes up (elpatronny.com).
SPEND
The Bronx, a shopping destination? Even last year it would've sounded crazy, but the borough is becoming a real retail hub. A huge new mall opened in the North Bronx in August, offering everything from Victoria's Secret to H&M and American Eagle – in fact the Mall at Bay Plaza (mallatbayplaza.com) is the biggest shopping centre to open in the whole of New York City for the past four decades.
For quirkier shopping, check out Fordham Road (Fordhamroadbid.org), near the New York Botanical Garden, which bristles with trainer shops, thrift outlets, record stores, Arabic food markets, Honduran delis, and an amazing array of jewellery shops selling stuff at prices a fraction of what you'd encounter in Manhattan.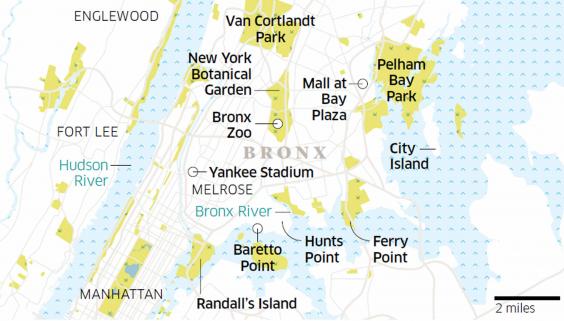 DON'T MISS
The Bronx's biggest landmark is the Yankee Stadium, home of the New York Yankees baseball team. It also houses the Yankees Museum, which you can tour before games, the atmosphere here is always welcoming, although the season is wrapping up now, and will start again on 6 April 2015.(newyork.yankees.mlb.com).
GETTING THERE
Christopher Beanland travelled with Virgin Atlantic (0344 209 7777; virginatlantic.com), which flies six times daily from Heathrow to New York.
STAYING THERE
The Loews Regency Hotel (001 212 759 4100; loewshotels.com) has double rooms from $430 (£270), The Conrad New York (001 212 945 0100; conradnewyork.com) has double rooms from $259 (£162).
The Opera House Hotel (001 718 407 2800; operahousehotel.com) has double rooms from $129 (£81).
MORE INFORMATION
Reuse content