Travel essentials
Why go now?
Canada's largest city becomes a non-stop festival zone in summer. The fairground rides and food sample-packed Canadian National Exhibition (theex.com; 15 August-1 September) acts as an hors d'ouevre for the Toronto International Film Festival (tiff.net). Screening more than 300 movies between 4-14 September, it's the world's largest public cinema showcase. Think Cannes, but open to all.
There's also a new way of getting there – Air Canada Rouge (0871 220 1111; aircanada.com/rouge) recently launched flights from Manchester to Toronto Pearson.
Touch down
Air Canada Rouge also offers flights from Edinburgh. Other options include Air Canada (0871 220 1111; aircanada.com) or British Airways (0844 493 0787; ba.com) from Heathrow, plus Air Transat (020 7616 9187; airtransat.co.uk) from Gatwick, Manchester or Glasgow airports.
From the airport, a taxi to Downtown will cost around C$55 (£31) and take 40 minutes. Alternatively, the Airport Express (00 1 905 564 3232; torontoairportexpress.com) bus drops at most major Downtown hotels, taking 45-60 minutes and departing every 40 minutes during the week. Singles cost C$27.95 (£16), returns C$42 (£24).
The faffiest, but cheapest way in is to take the 192 Airport Rocket bus (001 416 393 4000; ttc.ca; six to eight departures per hour) to Kipling Station (1), then use the same C$3 (£1.70) ticket on the subway network to get close to your hotel. Reckon on taking at least an hour for this.
Click here to see a bigger image of the map
Get your bearings
Toronto sprawls northwards from the shore of Lake Ontario on a largely featureless plain. Downtown has the key entertainment venues, financial district and main rail hub Union Station (2), plus the main Tourist Information Centre (3) at 20 Dundas Street West (001 416 392 9300; see- torontonow.com).
Uptown is immediately to the north, hosting the University of Toronto and key cultural attractions. But the most appealing neighbourhoods are to the east and west, along the Front, King, Queen, Dundas and College Street thoroughfares.
Check in
Le Germain Maple Leaf Square (4) at 75 Bremner Boulevard (00 1 416 649 7575; germainmapleleafsquare.com) is a happy marriage of flair and practicality. Expect nightclub-style lighting in the lobby and in-room showers where the shy can hide from view with a blind. For all the hip swagger, it's the location – next to Union station – that's the key point in its favour. Doubles from C$345 (£195), with breakfast.
The Gladstone (5) at 1214 Queen Street West (001 416 531 4635; gladstonehotel.com) is the most engaging conversion of a 19th-century hotel you're ever likely to see. Vintage features, such as the creaky old lift, have been kept but, elsewhere, local artists have been set loose to create 37 raucously different rooms. The bar is buzzy, as befitting the location in one of Toronto's most creative neighbourhoods. Doubles from C$214 (£121), room only.
Victoria's Mansion (6) offers great value guesthouse accommodation in the heart of the gay district at 68 Gloucester Street (001 416 921 4625; victoriasmansion.com). The charming Victorian redbrick house offers reasonably spacious, bright rooms that come with microwaves, crockery and coffee machines. Doubles from C$112 (£63), room only.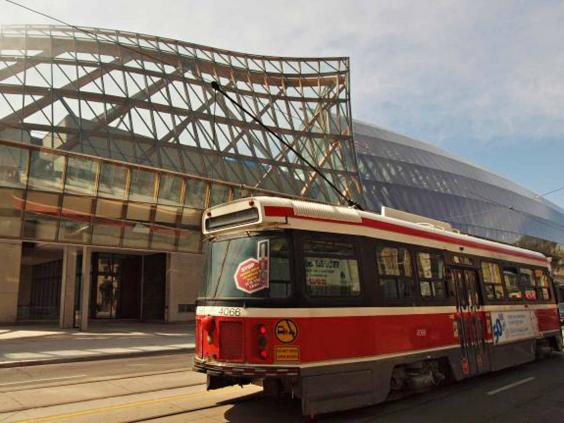 Day one
Take a hike
The bulging stonework of the Old City Hall (7) at 60 Queen Street West is worth inspection – close up, the archways are covered in a blizzard of engravings. Compare and contrast to the concrete modernist Nathan Phillips Square (8) opposite – it may be an acquired taste visually, but there's usually some sort of event going on there. Keep going along Queen Street, then turn right on McCaul Street where the spider-like legs supporting the Sharp Centre for Design (9) elicit a double take. To the west is Grange Park, where the Grange (10) – one of Toronto's oldest buildings – sits in the shadow of the Frank Gehry-designed Art Gallery of Ontario (11) at 317 Dundas Street West (001 416 979 6648; ago.ne; 10.30am-5pm Tuesday to Sunday, to 8.30pm on Wednesdays when it's also free from 6pm; admission C$19.50/£11 at other times).
Keep going north, but turn west along Baldwin Street, which has some of the most gorgeous Victorian homes in the city. It'll bring you to Kensington Market (12), the best snapshot of Toronto's character-defining diversity.
Lunch on the run
The cafés and restaurants of Kensington Market (12) cover most cuisines, but the Italian-Jamaican combo from Rasta Pasta at 61 Kensington Avenue (001 647 501 4505; open 11am-7pm) is most fun. Try jerk panino, with the chicken cooked in barbecue barrels outside, for C$7 (£4).
Window shopping
Kensington Avenue's brightly painted houses have been taken over by shops with Tibetan/Nepalese hippy jumble leanings. Serious shoppers, however, can stroll along Queen Street West from Bathurst to Dufferin Streets. Variety is the strength: art galleries rub shoulders with indie fashion outlets and specialist stores. Floorplay (13) at 762 (00 1 416 504 7325; floorplaysocks.com) is crammed with thousands of novelty socks. Meanwhile, Fashion Crimes (14) at 706 (001 416 592 9001; fashioncrimes.ca) sells bold, look-at-me dresses among tongue-in-cheek window displays of mannequins playing perfect, Stepford-esque housewives.
An aperitif
The café terrace of the Drake Hotel (15) at 1150 Queen Street West (001 416 531 5042; thedrakehotel.ca) is popular with locals due to the top drawer people-watching to be had, but the regular live music inside also helps. For an Ontario flavour, try a Toronto-brewed Mill Street Tankhouse pale ale for C$7 (£4) or a glass of Angel's Gate riesling from the Niagara Peninsula for C$9 (£5).
Dining with the locals
If making a night of it in the area, Porzia (16) at 1314 Queen Street West (001 647 342 5776; porzia.ca; closed Tuesday nights) is a neighbourhood joint offering flavoursome twists on Italian classics. The $16 (£9) spaghetti with duck ragu is particularly memorable.
Many of Toronto's restaurants have an Iberian influence. The bodega vibe of Bar Isabel (17) on 797 College Street (00 1 416 532 2222; barisabel.com) is backed by Spanish-style dishes, such as whole sea bream ceviche for $26 (£15).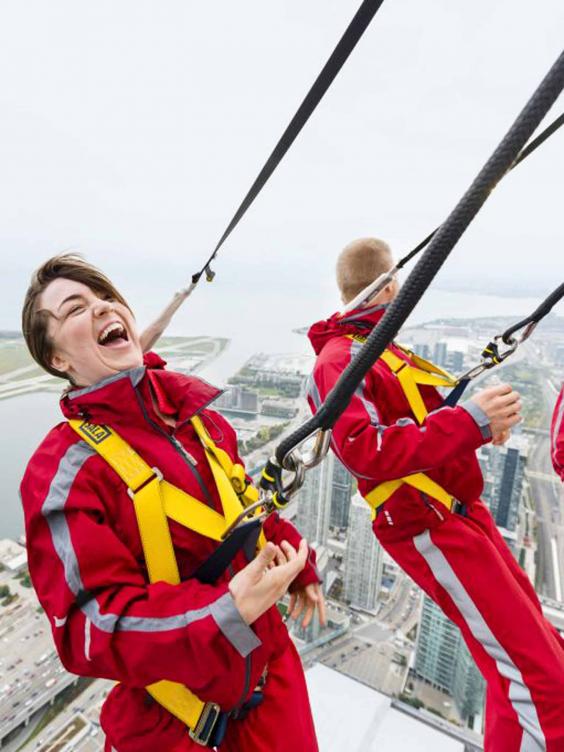 Day two
Sunday morning: go to church
The St James Anglican Cathedral Church (18) at 65 Church Street (001 416 364 7865; stjamescathedral.on.ca; 7.30am-5pm daily, except Saturday 9am-5pm; Sunday services at 8am, 9am and 11am) offers handsome Neo-Gothic stonework outside and stained-glass windows within.
Out to brunch
Le Papillon (19) at 69 Front Street East (00 1 416 367 0303; papillononfront) specialises in crêpes. The $15 (£8) St Laurent comes with bacon, apples and cheddar.
Take a ride
Union Station (2) is a 10-minute walk away. From here, take the subway four stations north to Queen's Park Station (20). Single fares cost C$3 (£1.70), but remember to get a free printed transfer pass for journeys of more than one leg. Day passes for the transport network cost C$11 (£6).
A walk in the park
Queen's Park (21) is hardly an oasis of calm but there's plenty to look at, including some handsome University of Toronto buildings and the Orlando Legislative Assembly.
Cultural afternoon
North of the park is Yorkville and its designer stores on Bloor Street West alongside the Royal Ontario Museum (22) (00 1 416 586 8000; rom.on.ca; 10am-5.30pm daily, Fridays until 6.30pm). Make a beeline for the gallery focusing on Canada's indigenous people on Level 1. Entry costs C$16 (£9), or C$10 (£6) on Friday after 4.30pm.
Icing on the cake
The CN Tower (23) at 301 Front Street (001 416 868 6937; cntower.ca; 9am-10.30pm) was surpassed as the world's tallest building by Dubai's Burj Khalifa. Entry, including a visit to the 447m-high Skypod, costs C$47 (£27) if booked online in advance.
For an A-grade thrill, harness up for a walk on top of the restaurant roof. The Edgewalk (001 416 601 3833; edgewalkcntower.ca; 8am-sunset daily) costs C$198 (£112). Advance booking is essential.
Reuse content