Let me give you a contender for the most overused phrase in the travel/lifestyle business in 2014: "the new luxury". It was on the lips of every hotelier, trend predictor, brand guardian and lifestyle guru. These people all love a fresh narrative from time to time. But the main reason "new luxury" came into being is because old luxury is in trouble.
The share prices of some luxury companies fell by up to a quarter last year. The most conspicuous consumers of recent times, Russians and Chinese, have been spending a lot less and rather less conspicuously (for different reasons: sanctions, oil prices and a currency meltdown in Russia; a new leader and a newly austere climate in China). The Japanese government choked extravagant spending with a new sales tax. In the west, a new Pope-of-the-people exchanged his palace for a guesthouse. Meanwhile, the new oligarchs of American technology prefer hoodies to silk suits and backpacks to monogrammed luggage.
This is how James Thompson, the man in charge of Diageo's priciest drinks brands, described trends in luxury in a recent interview: "Away from show for its own sake towards knowledge, appreciation, craft and heritage – something with a story."
All of which takes us to a small village set around a square of grass and sand in north-east Brazil – a place with quite a story. I'm speaking to Wilbert Das. We are in his favourite place: his open-air workshop down a side street where a team of local and foreign craftsmen are working on furniture and art works. In his ragged, faded T-shirt, Das does not look like the owner of the most chic hotel in town, though he is. He certainly does not look like the former creative director of a giant European fashion brand – he is that too.
"The rich person who needs reminding of their status has gone," says Das. "They don't need liveried staff. They might have a hundred million in the bank. They don't need reminding. They want stuff they don't see every day."
So, welcome to new luxury central: the Uxua Casa hotel, Trancoso.
In pictures: Trancoso and 'new luxury'
In pictures: Trancoso and 'new luxury'
1/4 Trancoso and 'new luxury'

Trancoso

2/4 Trancoso and 'new luxury'

Wilbert Das, the Diesel fashion brand's former creative director, has turned his attention to the Uxua Casa Hotel

3/4 Trancoso and 'new luxury'

Brazil map

4/4 Trancoso and 'new luxury'

Wilbert Das, the Diesel fashion brand's former creative director, has turned his attention to the Uxua Casa Hotel
Das was a step or two away from burn-out when he took a break here from his job as creative director of Diesel. He came back again and again. Then he decided to jack in the job and move here permanently. He took over an old hippie hotel and set to work, room by room, stone by stone, building the kind of hotel that people don't see every day.
What is it about Trancoso? Before meeting Wilbert, I set out to explore. A white mule picked at the close-cropped grass in front of the whitewashed 16th-century Jesuit chapel on a long rectangle of common land. Its flanks are lined with multi-coloured houses. A grandmother in a pink vest sang to a baby while song thrushes trilled away in the cacao trees. Someone was touching up the tangerine-coloured walls of a shop, while the owner of the pistachio one next door wondered if she should do the same.
Trancoso is more than 1,000km north of – and, on the face of it, about 40 years behind – Rio de Janeiro. Not much for the international luxe set, you'd think, unless they happen to have a passion for early South American colonial architecture and traditional Bahian cuisine.
But look a little closer. That pistachio-coloured building houses a boutique whose only other outlet is in the smartest quarter of Sao Paulo. The tangerine shack sells – and shifts – hardwood coffee tables at the equivalent of £500 a pop. A celebrated TV chef has a pousada here, and the owner of the L'Occitane toiletries empire, Olivier Baussan, owns a villa in the hills (he's also building an amphitheatre to host classical concerts).
There are plenty of other wealthy individuals wandering around inside and outside the hotel. But unlike other luxury resorts, here the celebrities and tycoons get to mix with ordinary people. Everyone wears the same Havaianas.
We had best explain how this came about. Trancoso, formerly known as Sao Joao Baptista dos Indios, was hacked out of the bush by Jesuits soon after the Portuguese arrived further down the coast in Porto Seguro. The town did exactly what it said on the map: it converted (baptisa) Indians. But in the 18th century, the Jesuits fell out with their bosses, decamped, and for a couple of hundred years the mate trees, unattended, grew thick and luxuriant over the neat little Quadrado they had constructed.
In the 1970s a new bunch of settlers arrived: hippies, or bibilanderos, as they came to be known. Some were fleeing traumatic experiences at the hands of the military dictatorship – one bibilandera I met had occupied a neighbouring cell to a certain Dilma Rousseff, now President of Brazil – others were just looking for what hippies always looked for: empty beaches, cheap houses and a place of agrarian innocence where they could grow beards, wear beads and forget the material world.
But that's the funny thing about hippie hangouts. From Goa to Marrakech and Bali, the mercantile spirit will always out, and the material world will in.
In Trancoso, the guesthouses and bars started to appear, then the craft shops and boutiques. The word got out too. By the late 1980s, Brazil's mini-economic miracle unfolded, and the new rich of Sao Paulo began to make its way up here.
Despite seeing Beyoncé kicking a football on the Quadrado and Mario Testino doing a Vogue shoot there, a hotel of Uxua's quality was not inevitable. It needed the authorities to build a proper road from Porto Seguro, 50km away. And most of all, it required the original inhabitants and the hippie incomers to band together in a conservation effort that put off the developers and town planners who saw gold in those humble Jesuit shacks. They banned traffic from the Quadrado and they banned new building projects.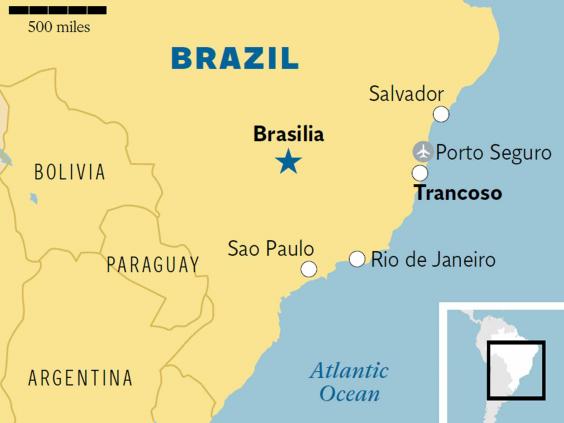 They're also proud they've kept the major hotel groups from getting a foothold here, though there is a Club Med a couple of kilometres out of town, by the golf course. With its Europop, huge pool and neat lawns, it feels like a different world.
Trancoso is the best of Brazil in a nutshell. The beach – a steep 15-minute walk from the village on a muddy track through steaming mangroves – is a proper Atlantic affair: steeply banked rough sand, crashing waves and silky inlets punctuated by teeming beach bars which function as a second home for the locals.
The Jesuit heritage co-exists with the scrub, the bars and the native stalls. The tanned faces of Sao Paulo, Amsterdam and London mingle with the thousand variations on pardo (mixed-race), black and Amerindian. And maybe this is what the new luxury means: a place where everyone who lives there and everyone who visits feels comfortable in their own skin. That's not something you can easily put a price on.
Getting there
Mark Jones flew with British Airways from Heathrow to Sao Paulo and onwards with its Oneworld partner TAM to Porto Seguro.
Journey Latin America (020 8622 8444; journeylatinamerica.co.uk ) offers a seven-night trip to Trancoso, staying at UXUA Casa Hotel & Spa, from £3,160pp based on two sharing. Includes flights from Heathrow with BA, domestic flights with TAM, transfers and B&B accommodation.
Staying there
Uxua Casa Hotel, Trancoso, Bahia, Brazil (00 55 73 3668 2277; uxua.com).
More information
Reuse content