Valparaíso is like a paint box whose colours have been tipped out and splashed down its steep hills. In the 19th century the population of the Chilean port grew so fast that there were no street names, let alone house numbers, so the new homes were painted in shades of red, green, yellow and blue for identification. 
The houses, many built from the corrugated iron that ships would use as ballast, the steep steps, the cobbled streets and creaking funiculars would be enough to justify the historic quarter's status as a Unesco World Heritage Site, but this ampitheatre of colour is made all the more vivid by that most problematic of art forms - graffiti.
These are not the ugly scrawls on the sides of trains but cleverly executed works that decorate otherwise ragged walls, doorways, shutters, the entire sides of high rise blocks, with a bravura that can be satirical, funny, angry, sexy and pop-art quirky.
To get to know the city and its distinctive graffiti I took a Valpo Street Art Tour (valpostreetart.com; free two-hour group tours; three-hour private tours US$30pp/£21) from the Plaza Aníbal Pinto, where the guide explained that most of the artists enjoy celebrity status here. There is a hierarchy, from tags – labels for artists whose scribbles are little more than "vandalism" – to the crews such as Vomito, which can involve as many as 25 people working together to create fantastical scenes.    
I was taken to the Museo de Cielo Abierto (The Museum of Open Sky), a concentration of streets on the Cerro (hill) Bellavista, where street art began between 1969 to 1973 when students, arguing that art should be available to all, painted 20 huge murals. Many were removed under the dictatorship of Auguste Pinochet (1973- 1998).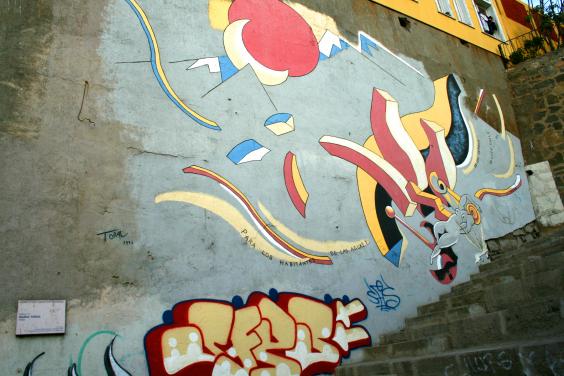 Every wall tells a story. The steps too; I climbed several lined with mosaics and "peopled" by surreal characters at every corner on the way to the hilltop cemeteries. From there I could see the austere lines of La Ex Cárcel, in the Parque Cultural. Once a prison for Pinochet's opponents, the building is now a cultural centre, used for art, dance and music.
I then moved on to St Paul's Anglican Church on Almirante Montt to listen to an organ recital (Sundays only) before taking the dizzyingly embellished - and dizzyingly steep - steps down and up again to the elegantly restored Baburizza Palace, once the home of a wealthy Croatian saltpetre trader and now the Museum of Fine Arts. Paintings in frames? Whatever next. 
UNPACK
Casa Higueras (00 56 32 249 7900; casahigueras.cl) in Cerro Alegre, one of Valparaíso's smartest areas, is all atmospheric dark wood floors and panelling. It has a stylish restaurant, The Monte Alegre, a spa and a pool. Doubles from US$271 (£194), including breakfast.
Opened in January, the Hotel Boutique Cabernet (00 56 32 335 8514; hotelboutiquecabernet.cl), down the hill from Pablo Neruda's home (see "Don't Miss", below), is a light, bright B&B with 12 bedrooms. As the name, and grape-inspired logo, suggests, it's big on wine, with a wall of barrels at reception and a selection of wines served by the glass. Room-only doubles from 69,000 pesos (£73).
THINK LOCAL
On Sundays in the Plaza O'Higgins, a five-minute taxi ride north from the Cerro Alegre, in the heart of the Unesco district, a flea market sells everything from 1930s magazines to hats, lamps and chinaware. There's an edginess about the streets here in this part of the city, but be brave and visit Worm (00 56 98 604 3423; wormgallery.tumblr.com), a ramshackle gallery that encourages unknown artists to be as radical as they dare – this month, see works by US illustrator Nicholas Jenkin and video artist Léna Hiriartborde from France.
EAT
The Cinzano (00 56 32 221 3043; barcinzano.cl) in Plaza Anibal Pinto is a century-old institution whose walls are covered with sepia prints of old Valparaíso. It offers daunting mountains of meat - the parillada - and digestion is eased - or not - by a succession of venerable crooners who wow their delighted audience with a selection of Valpo's greatest (oldest) hits.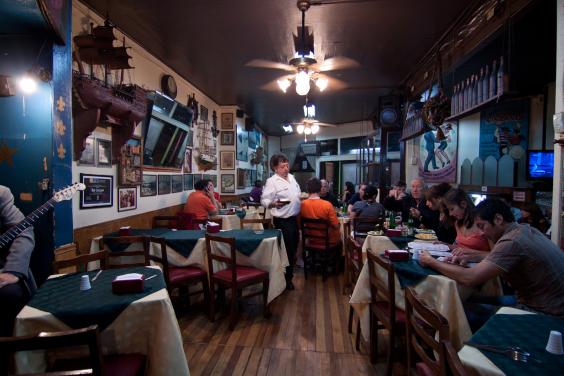 By contrast, Apice (00 56 95 708 9737; restaurantapice.cl) on Almirante Montt is coolly minimalist, with a chef who trained with Michelin-starred Frenchman Olivier Roellinger, producing dishes such as octopus with candied sweet pepper and rockfish with mustard emulsion. 
DRINK
The Terremoto is a deceptive mix of pipeño - a sugary fermented wine - pineapple ice cream and a dash of Fernet Branca to blunt the sweetness. Try it with a shellfish empanada in the rambunctious Bar Liberty (Plaza Echuarren; 00 56 32 236 2249) where dockers and students gather. Beware: terremoto translates as earthquake.
SPEND
The British immigrants of the 19th century used mining technology to build ascensores (funiculars) to climb the city's hillsides, and seven of the original 26 or so are in use - little wooden boxes that lurch and squeal alarmingly. The cruise ship passengers use them to get to Cerro Concepción and the souvenir stalls on Paseo Gervasoni and Galvez, but for more soigné options clamber further uphill to Lauturo Rosas, a pretty street with handsome houses in Cerro Alegre, for clothes boutiques such as Rosal Tienda, a photo gallery and a silver workshop.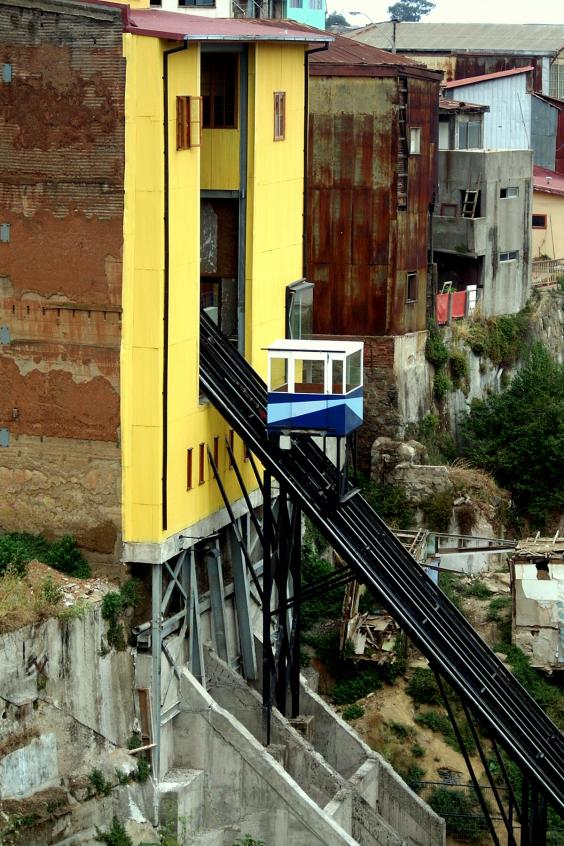 DON'T MISS
La Sebastiana (00 56 32 225 6606; bit.ly/NerudaHome), one of the three homes owned by Nobel Prize-winning poet Pablo Neruda, is as quirky as the poet himself, who wrote: "Valparaíso: how absurd you are ... you haven't combed your hair, you've never had time to get dressed, life has always surprised you." 
High above the city, the house is like a collection of shambolic, unfinished lighthouses, largely unchanged since his death in 1973; the bar where he would dress in a barman's uniform to serve drinks, odd objects such as a fairground horse from Paris, the leather chair in which he wrote and held court, and a wash basin which was never connected to the mains. Take the 612 bus from Plaza Echaurren which rattles its way there on a mini-tour via the city's hill top roads.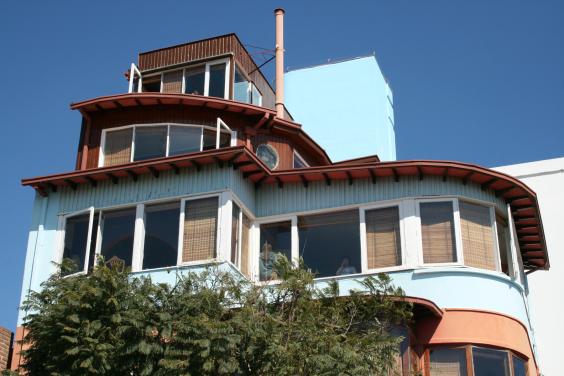 TRAVEL ESSENTIALS
Getting there
Richard Holledge flew from Heathrow to Sao Paulo in Brazil with British Airways (0844 493 0787; ba.com) and on to Santiago with TAM (tam.com.br). Taxis from here to Valapariso cost about £60. 
Journey Latin America (0208 747 8315; journeylatinamerica.co.uk) can tailor-make packages to Chile that feature Valparaíso.
Visiting there
Ecomapu Travel (00 56 32 228 0275; ecomapu.com) offers a range of walking tours, some free.
More information
Reuse content