A wrought-iron gate blocks the north entrance into one of Vancouver's newest restaurants. Behind it lives Maggie.
When Sean Heather decided to convert the derelict Gastown building into Rainier Provisions, the homeless community picketed the place on behalf of the lady that lived in one of its doorways. Instead of turfing her on to the street, Mr Heather gated the side entrance, giving its long-term occupant the only key to the enclosure, as well as access to the restaurant beyond.
It is a story typical of Vancouver, a city that has boomed over the past few years, yet still wears its compassionate, politically correct heart firmly on its sleeve.
With snow-capped mountains reflecting off glistening high-rises, it frequently tops polls as having the highest quality of life in North America. But the Winter Olympics in 2010, as well as an influx of newcomers – particularly from Hong Kong – has seen British Columbia's largest city morph into a more sophisticated metropolis. Less than 150 years' old, this urban adolescent has managed to escape the sullenness of youth with a friendly Downtown that's compact and easy to explore.
Start your walk at Canada Place (001 604 665 9000; canadaplace.ca), the exhibition centre built when Vancouver hosted Expo '86. The sweeping white sails of the ship-like building – created to commemorate the city's maritime heritage – provide an iconic backdrop to the peaks beyond. Pause for a moment to watch the sea planes as they glide in across the water.
Head across the road and up the stairs to Hornby Street. At No 639 you will find the Bill Reid Gallery (001 604 682 3455; billreidgallery.ca; Wednesday to Sunday). It delivers a delightful insight into the work of one of British Columbia's favourite sons – the late Haida indian artist, goldsmith and sculptor. Marvel at Reid's bronze masterpiece Mythic Messengers, a 30ft frieze of intertwined bears, whales, wolves and eagles.
Head left out of the gallery and take a stroll back down Hornby, past elegant Edwardian buildings and traffic lights that play the sound of chirping birds if it is safe to cross. Turning right down West Hastings brings you to the Vancouver Lookout (001 604 689 0421; vancouverlookout.com; C$15.75/£8.50), a 553ft observation deck that offers unparalleled views that stretch from Mount Baker in Washington State to the city's Lions Gate Bridge. Peer down at the Beaux-Arts architecture of the 1912 Sun Tower, once the tallest building in the British Empire at 270ft, but now dwarfed by skyscrapers.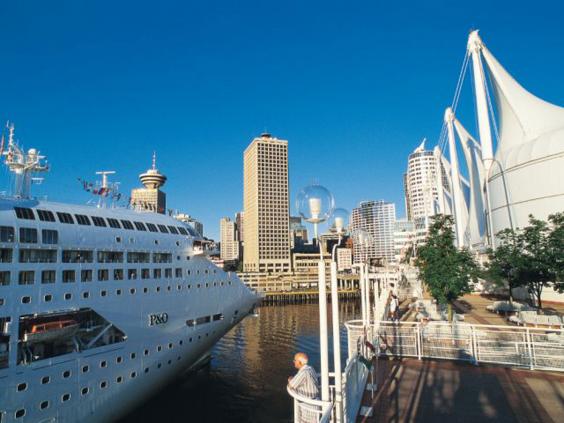 Go left, out of the building, down Richards Street, and right on to West Cordova Street brings you to Gastown, the site of the original Vancouver settlement in 1867. Once a tourist trap of kitsch saloons and old street lamps, its cobbled streets are now full of fashionable restaurants and eclectic shops. At the corner of Carrall, stop at the aforementioned Rainier Provisions (001 604 558 2473; rainierprovisions.com) for a kale Caesar salad.
Reinvigorated, turn right up Carrall for a look at old Gastown, where the derelict units and community gardens jostle for position with trendy outlets. The New Amsterdam Café (001 604 682 8955; newamsterdamcafe.com) is tolerated in true BC-style, despite the anti-cannabis laws.
A brief walk past fences covered in yarn bombing (a surreal crocheted version of graffiti) brings you to Dr Sun Yat-Sen Classical Chinese Garden, an urban oasis with pavilions, lily-covered ponds and giant carp (001 604 662 3207; vancouverchinesegarden.com; closed Mondays, November to May; C$12/£6.50).
Turn north, up Keefer Street, and go up the stairs at the International Village Mall, left on Beatty and right on to Robson. Stop to admire the grandeur of the colosseum-style public library before turning left on to Homer Street. This takes you into Yaletown, the hip "little Soho" area where smartly dressed executives stop for a spot of yoga or shiatsu at lunchtime. Refresh at O-Cha Tea Bar at No 1116 (001 604 633 3929), where tea is infused with anything from lemon to coconut or cayenne. Further down Homer, you reach the David Lam Park Dock where you can hop on the rainbow-striped tug-boat Aquabus (001 604 689 5858: theaquabus.com) for a swift sail across False Creek, past marinas that bear testament to the city's increasing wealth, to Granville Island.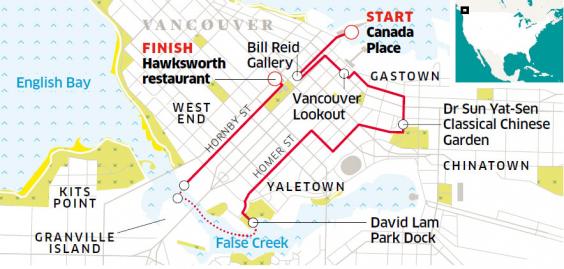 This former industrial wasteland (granvilleisland.com) is now home to a host of artists' workshops and a mouth-watering indoor market. Sip a fresh fruit smoothie as you admire performance artists before catching the Aquabus back to Yaletown.
A 10-minute walk up Hornby Street is the Vancouver Art Gallery (001 604 662 4719; vanartgallery.bc.ca; C$20/ £11). The Neoclassical former city courthouse now houses native art, great masters and contemporary exhibitions. Then head over the road to the Fairmont Vancouver Hotel (001 604 684 3131; fairmont.com). Opened at this site by George VI in 1939, it is the city's most majestic hotel and worth the inflated price for a cocktail taken in chandeliered splendour.
A few steps across Georgia Street will take you to the award-winning Hawksworth restaurant (001 604 673 7000; hawksworthrestaurant.com). Chef David Hawksworth's contemporary Canadian cuisine draws on the country's ethnic influences in dishes such as Dungeness crab with truffle custard, meyer lemon, edamame and artichoke. Vancouver's happy hippie image is now but a pleasant memory.
Fresh cuts
FlyOver Canada (001 604 620 8455; flyovercanada.com; C$19.95/£11), the city's new C$16m (£8.6m) attraction offers a spectacular, virtual roller-coaster ride over footage of the country's most breathtaking landscapes. During the hi-tech presentation you feel the temperature plummet as you soar over mountains and the refreshing spray as you speed down rivers.
Forage (001 604 684 8461; foragevancouver.com) is another delicious symptom of Vancouver's love affair with fine dining. Chef Chris Whittaker's dedication to promoting local farms, fisheries and wineries even includes a nightly raffle where the prize is produce from one of his suppliers. Delectable dishes (below) such as Haida Gwaii halibut with ginger squash purée, gnocchi, lamb bacon and brussels sprouts (C$22/£12) are washed down with rich Okanagan pinot gris (C$10/ £5.40). Dishes are served "family style" with everyone sharing.
Travel essentials
Getting there
Terri Judd travelled with Virgin Atlantic (0844 209 7777; virgin-atlantic.com) which flies from Heathrow to Vancouver between mid-May and mid-October; return fares from £850.
The rapid transit rail link known as Canada Line (thecanadaline.com) takes 26 minutes to reach Downtown from the airport; single fares C$9 (£5).
Staying there
The centrally located Listel Hotel, 1300 Robson Street (001 604 684 8461; thelistelhotel.com) has contemporary statues and paintings dotted throughout, complementing its elegant decor. Doubles start at C$149 (£80), room only.
Go guided
ToursByLocals' Hippie to Hipster Tour (001 604 777 4141; toursbylocals.com) offers an insight into how the city has grown. During a three-hour walk, a local resident guides you off the beaten track, to spots that Vancouverites treasure; from C$220 (£119) for two people.
More information