This was a new one on me. Queuing? To get into a shop? It wasn't the first day of a sale, and it wasn't the launch of a sleek new smartphone. It was just business as usual on Canton Road in Hong Kong. The neon and LED lights were blazing through the city's iconic bamboo scaffolding, next to the humungous billboards for Balenciaga and Burberry. Down at street level, orderly queues were forming outside Louis Vuitton, Hermès and  Chanel. It was celestially high-end retail on a scale I'd never encountered before.
It may have been handed back to the Chinese by the British in 1997, but instead of being subsumed into China, Hong Kong has been colonised by Italian and French designers. Since the Chinese acquired deep, fur-lined pockets, with an insatiable taste for luxury goods, the city has become one giant temple devoted to long-weekend worship of exclusive European labels. Gucci is a god. One of the tallest skyscrapers in the Tsim Sha Tsui skyline – One Peking Road – has been entirely wrapped and branded by Ermenegildo Zegna. It's all quite dazzling – a kind of architectural pop art.
Some of this is genuinely beautiful to behold: the only shop in the world devoted to the work of avant-garde British designer Gareth Pugh is here, on Ice House Street, and even if you buy nothing, it's worth a visit for its reflective black walls, floors and ceilings, and huge LED video wall. It's like walking into a hi-tech, immersive scrying mirror, or an art installation worthy of another recent British export to Hong Kong – the White Cube gallery.
Of course, you can have too much of a good thing; it's easy to overdose on the block after block of homogenous, banal, heavily branded luxury. And, as the goods themselves are priced higher than they are back in Europe, it's no wonder that there's such a roaring trade on the kilometre-long stretch of Tung Choi Street known as the Ladies' Market. Here, scrums of people elbow their way through the myriad stalls selling knock-offs. As an experience, it's more fun and authentically Asian than queuing patiently to spend a few grand on a hand-stitched ostrich-skin iPad case.
This is a great time to discover Hong Kong's visa-caressing charms: the winter sales are on, and the notorious humidity is at rock bottom. And there's more to the city than posh handbags, their cut-price snide counterparts and the Indian hawkers on every street corner, beckoning you to come and get fitted for a hastily assembled made-to-measure suit. (Although you could do worse than head to the legendary Sam's Tailor and get measured up for a batch of HK$760/£60 shirts).
One of the most appealing shopping districts in the world right now is the assortment of steep yards and alleyways off Star Street in Wan Chai. The whole area – which now goes by the compound name Starstreet – is hemmed in on each side by the noise and chaos of the big city, but 100 yards in, it becomes tranquil and relatively traffic free.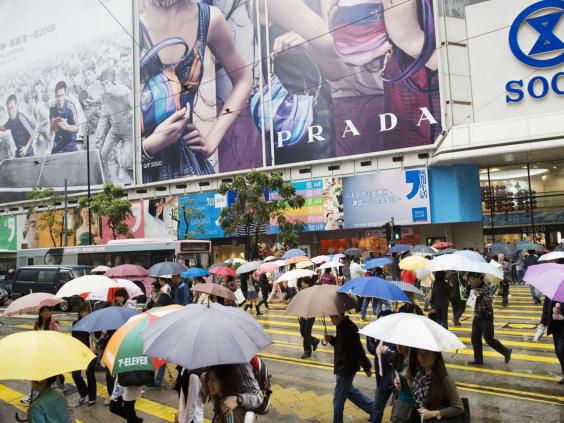 When I visited, there was a block party in full swing. It was the annual Starstreet Gourmet and Wine Walk, where – for HK$375 (£30) a ticket – I could bar hop for wine tastings and a sample of each local restaurant's signature dish, and pick up a goodie bag in each participating boutique. Just across the road from the Monocle store (its very existence pointing to the fact that this is A Cool Area), two girls in bikinis performed burlesque in a giant coupe de champagne, while around the corner, a jazz trio played on the pavement; good times were being had by all.
There are heavyweight designer fashion stores around Starstreet, but they're of the insider kind (including off-beat casual Japanese brand Visvim, which takes inspiration from sources as diverse as the Finnish Sami tribes and Fun Boy Three and has its own store called F.I.L.). There are also charming one-off shops such as Odd One Out, which sells affordable art in the form of prints, cards and "upcycled" ceramics. Then, around the corner, there's the Architectz' Factory, an artfully chaotic jumble of Japanese radios from the 1940s, ancient cash registers, beautiful stationery, tomato fruit wine, tote bags and tea sets.
I was particularly enamoured with the nearby Polab Instant Camera Workshop, which sells vintage Polaroid products as well as new camera bags by local label Zkin. I very nearly missed Polab, as it's midway up a set of steps that look like they're leading to an apartment block. Starstreet is an area that you need to wander, rather than rush around.
Elsewhere in Hong Kong, you have to look beyond the wet markets, with their billowing red marquees and the frenzied, futuristic Chinoiserie, to find off-beat shops that really pique the interest. At the otherwise unexceptional tower and mall that is The One, in Kowloon, there's a whole floor devoted to Japanese brands that you won't find in Europe, including United Arrows and Journal Standard. While European brands dominate Hong Kong, these Japanese high-street stores are among the best bets for unique fashion finds.
There are other hidden gems: several storeys above the fragrant Abercrombie & Fitch store in the landmark Pedder Building, you'll find The Armoury, a modern gent's outfitters with huge panache that stocks lesser-known labels from around the world, fully canvassed suits, handmade shoes that will set you back a month's salary, and small and lovely gifts, including gold plated binder clips bearing The Armoury logo (around £40), designed to keep your dollar bills together.
A one-minute walk away from The Armoury, you'll find the Shanghai Tang mothership – the now world-famous fashion house that David Tang established, which has now extended out into "re-oriented" contemporary home and tableware. The classic, mandarin-collared velvet Tang jacket (for HK$6,200 or around £490 – £50 less than at the store in London) is a luxurious, modern Chinese take on a Savile Row smoking jacket, while the wood and  metal Chinese zodiac chopsticks (HK$750/£60) would make for a very chic gift.
Upstairs is Duddell's, currently the hottest lunch spot in town. With its cool grey and white surfaces, video art, inventive cocktails, posh dim sum and tropical terrace, it's a world away from the char siu bao bunfight of the tourist favourite Tim Ho Wan, "the world's cheapest Michelin-starred restaurant", over in Kowloon. What you gain in flavour and savings at Tim How Wan, you will lose in time (expect to queue for a couple of hours).
On my second afternoon, I lunched at Lung King Heen, which is the only three-Michelin-starred Cantonese restaurant in town. It has a prime spot in the Four Seasons hotel, next to the IFC mall (home to Pierre Hermé's patisserie boutique, with its gem-coloured macarons). The view across the harbour from Lung King Heen is epic, and the refined steamed dumplings are, by far, the best I've had anywhere. The xiao long bao (soup dumplings) made with seasonal hairy crab cream are a juicy explosion of flavour. And the baked abalone puff with diced chicken is a two bite hit of moist pastry with poultry and seafood notes. It's one of the most delicious things I've ever eaten. At HK$60/£5 for three dumplings, it's a swanky restaurant that doesn't have to be a splurge.
Neither does dinner or a luxury hotel. I stayed at the all-pink, tigerlily-scented (they pump it through the aircon) Langham, where for an extra HK$525/£42 per person (based on double occupancy), you have access to the plush 11th-floor lounge, where you can have unlimited charcuterie, freshly baked mini baguettes and cakes, washed down with all the Veuve you can drink.
In search of big-label design bargains, I cabbed for 15 minutes to Horizon Plaza – home to 28 floors of outlets. There's a branch of GOD (Goods of Desire), which is basically a homegrown version of Muji, but with a cheeky sense of humour. There are branches across town, including one in the mega-mall at the end of The Peak Tramway (a must-visit for the best view of the city), but at Horizon Plaza all the stock is heavily reduced. Then there are the designer warehouses: Lane Crawford on floor 25 and Joyce on 21. The stock favours the smaller gent or lady, and if you're lucky you can find last season's  McQueen and Yohji Yamamoto for up to 75 per cent off.
The days of Hong Kong being a centre for extraordinary electronic bargains are long gone. And the exchange rate isn't what it was. But this is still a fantastic city in which to dispose of your income, or merely window shop. And from the lightshows to the animatronic carnivals that fill every façade and display of every department store and mall, there is no more dazzling place in the world in which to do it.
Travel essentials
Getting there
Mark C O'Flaherty travelled as a guest of British Airways (0844 493 0787; ba.com) on its A380 service from Heathrow. BA offers four nights at The Langham from £929pp, room only, including flights.
Staying there
The Langham Hotel, 8 Peking Road, Tsim Sha Tsui; (00 852 2375 1133; langhamhotels.com) has doubles from £181 per night.
Visiting there
Architectz' Factory, Sau Wa Court, 23-30 Sau Wa Fong  (00 852 9736 7802)
The Armoury, 3/F 307 Pedder Street,12 Pedder Street, Central (00 852 2804 6991; thearmoury.com)
Duddell's 3&4/F Shanghai Tang Mansion, 1 Duddell Street, Central (00 852 2525 9191; duddells.co)
F.I.L., 9 Sun Street, Wan Chai (00 852 2528 3880; visvim.tv)
Gareth Pugh, 10 Ice House Street, Central (00 852 2801 5332)
Horizon Plaza, 2 Lee Wing Street,  Ap Lei Chau (00 852 2554 9089)
Lung King Heen, Four Seasons Hotel, 8 Finance Street, Central (00 852 3196 8880; fourseasons.com)
Odd One Out, 34 Sau Wau Fong, Wan Chai (001 852 2529 3955; oddoneout.hk)
The One, 100 Nathan Road, Tsim Sha Tsui (001 852 3106 3640;  the-one.hk)
Polab Instant Camera Workshop, 1/F 75 Queens Road, Wan Chai (852 2885 8036)
More information
Reuse content