Almost one sixth of the world's population will celebrate the dawn of the year of the goat today, from China to London and San Francisco, via Malaysia and Singapore.
As well as 2015 babies, anyone born in 1919, 1931, 1943, 1967, 1979, 1991 or 2003 also come under the year of the goat, although the Chinese character, yang, can also be translated as sheep or ram.
It is the eighth year of the 12-year Chinese zodiac, and its lucky numbers are three, four and nine and lucky flowers are carnation, primrose and Alice flower. Anyone born in a goat year should avoid inauspicious coffee or gold.
Chinese New Year celebrations
Chinese New Year celebrations
1/6 Chinese New Year Parade London

Claims to be the biggest celebration outside Asia, with over 1,000 performers taking to the streets of Chinatown in central London on Sunday 22 February.

2/6 Singapore Chinese New Year

Celebrations began on 31 January with elaborate street lights in place until 19 March, nightly performances and a countdown with fireworks on 18 February.

Photo courtesy of Singapore Tourism Board. Photographer: Goh Koon Peng

3/6 Hong Kong parade

Celebrations continue in 'Hong Kong style' until 18 March, will special light shows nightly.

4/6 Malaysian lantern festival

As well as fireworks and decorations, lanterns adorn towns and cities, such as Penang, all over Malaysia.

5/6 San Francisco parade

This year's celebration takes place on Saturday 7 March.

6/6 Taipei lanterns festival, Taiwan

The main celebrations include fireworks at Wumiao Temple and a festival of sky lanterns in Pingxi District.
Celebrations in London, which many claim are the biggest outside Asia, will take place on Sunday, but big parades and processions are also taking place in San Francisco, Singapore, Malaysia, Taiwan and Hong Kong, as well as Shanghai, Beijing and Harbin.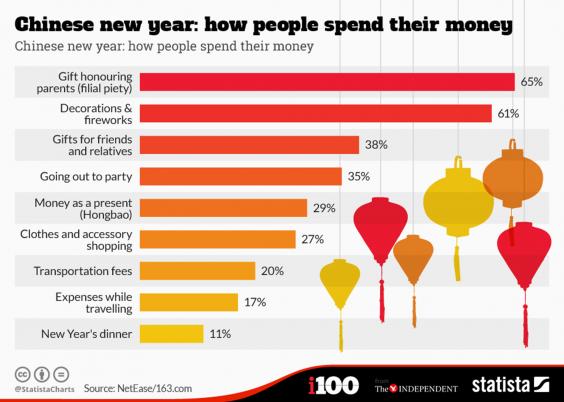 Common to all will be lion and dragon costumes, traditional dance, drums and fireworks.
Reuse content