As synonymous with Japan as golden pagoda-topped temples and artfully arranged squares of raw fish, the super-sleek Shinkansen (bullet train) was built for the Tokyo Olympics in 1964 and celebrated its 50th anniversary this week.
The original 320 miles of high-speed rail track from Tokyo to Osaka now extend to 1,500 miles nationwide. It's faster, too. Originally travelling at speeds of 130mph, the Shinkansen now zips around the country at 199mph.
Travelling on these much-loved trains is not only the quickest, but most comfortable and characterful way to explore Japan. But don't pay as you go. Shinkansen fares are pricey. If you're making more than a couple of journeys, a Japan Rail Pass is essential. Buy before you travel. Passes start at £164 for seven days (japanrailpass.net).
Trains comprise the speediest way to access even the remotest corners of the country. So step on board the Shinkansen this autumn to enjoy some unforgettable Japanese experiences.
Discover the trip of a lifetime: Japan - The Land of the Rising Sun
Bite the bullet
Take a two-week bullet train bonanza with Inside Japan Tours (0117 370 9730; insidejapantours.com), incorporating every Shinkansen line in Japan, using a number of trains including 2013's red-nosed "Super Komachi" to Akita in the north and 2011's "Sakura" (meaning cherry blossom) to Kagoshima in the south.
A "50 Years of the Shinkansen" tour costs from £1,800 per person, including 15 nights accommodation (B&B), some meals and all domestic travel. Flights extra.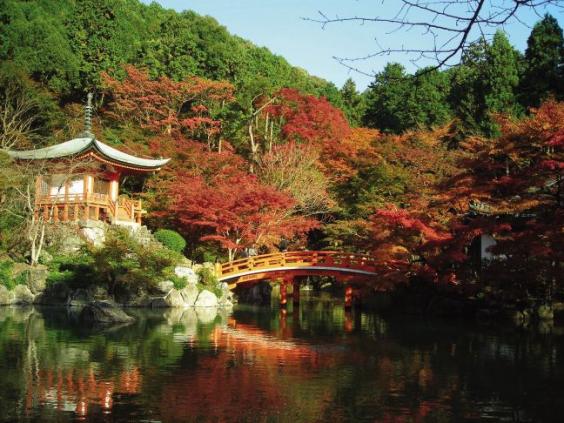 Soak up the view
Just an hour-and-a-half from Tokyo, the thickly forested Hakone region will soon be transformed with autumn's fiery "koyo" (colourful leaves) display. The region is home to Fuji-Hakone-Izu National Park, crowned with Japan's iconic snow-capped peak, and has a network of traditional ryokan inns and steamy onsen (hot spring baths). This a meditative spot to soak up the seasonal show. DialAFlight (0844 8111 444; dialaflight.com) offers a "Golden Japan" trip, to the Hakone region this autumn, from £1,899pp (two sharing). This price includes a Japan Rail Pass, all transport, transfers and flights. Valid for departures until 20 November.
Get cultural
Kyoto is just two hours and 20 minutes from Tokyo. Explore this glorious city with a learned local guide from WAK Japan (Women's Association of Kyoto; wakjapan.com). Tours and classes range from a couple of hours to a full day, covering everything from tea ceremonies to calligraphy and sake production to sushi rolling. The "Nishiki Market Food walk, Sake Tasting & Rolled Sushi Cooking" tour (3.5hrs) costs from Y11,200pp (£63).
Temple trek
Take the Kumano Kodo trail through the mountainous Kii Peninusla, south-east of Kyoto, to follow in the footsteps of Japan's ancient emperors, who once made pilgrimage here to worship deities in the trees and rocks. Stroll along waterfall- and shrine-lined paths through cypress and cedar forest, overnighting in mountain villages and small temples. Plan your route online with the excellent local Tanabe City tourism website (in English) with audio guides to download, plus maps and listings for lodges and transport (tb-kumano.jp).
Unesco dining
Japanese cuisine, or "washoku", recently made Unesco's Cultural Heritage List (only the second national cuisine to receive the designation, after French cooking), recognised for its centuries-old techniques and seasonal ingredients. Intrepid Travel (0808 274 5111; intrepidtravel.com) has a 12-day "Real Food Adventure" group tour, with market visits, cooking lessons and the chance to try everything from sizzling yakitori in Osaka to space-age sushi in Tokyo, plus a multi-course kaiseki banquet in Kyoto.
From £2,385pp with B&B accommodation, some meals, all activities, domestic travel and a guide. Flights extra.
Reuse content