The first few pictures are of our stunning family beach villa ("Ooh, look at the plunge pool… Wow, the size of the bath… Let's all get in the giant hammock…") Next is the first, ridiculously picturesque, sunset, followed at sunrise by an even more breathtaking, 50 shades of blue sun-and-sea combination.
Then something funny happens. Our smartphone albums start filling up with photographs of animals. We capture sealife in the morning, run back from the beach to see the troop of monkeys that passes the villa in the afternoon, and sit out on the verandah at dusk, the better to try to snap the swooping bats. Who have we turned into?
To backtrack: Malaysia is a long way to go for a week, but has so much of what we wanted: a luxurious resort/watersports/spa/beautiful, safe beach/interesting food. And after a couple of dud summers in Europe, the lure of emerald waters, lush rainforest and blazing sunshine was too much to resist.
As parents of teenagers, we don't expect to see too much of P and T during this holiday. Our son will be using the jet skis, or learning to wakeboard; our daughter will be rock-climbing or taking a cookery class, if she can be dragged out of the swimming pool.
We have a blissful first evening at the Four Seasons Resort Langkawi – the island off the west coast of Malaysia, just a hop, skip and jump south of Thailand – during which we eat fried red snapper with honey chilli sauce and lots of other local delicacies in the open-air restaurant Ikan-Ikan. And we go to bed with thoughts of lying in our swim-up cabana by the adults-only pool/trying to make it to the island at the edge of the bay by jet ski (delete as appropriate).
Langkawi's captivating wildlife
Langkawi's captivating wildlife
1/9 Colourful

A close-up of a feisty little fiddler crab

Aidi Abdullah

2/9 Pecking order

The huge, showy hornbills are astonishing to look at

Aidi Abdullah

3/9 Getting a soaking

Lisa Markwell with her husband and two children

Lisa Markwell

4/9 Back to nature

The northern coast of Langkawi is protected by Unesco

Lisa Markwell

5/9 Small wonder

A tiny frog sits in the palm of a hand

Lisa Markwell

6/9 Hidden danger

A venomous mangrove viper

Aidi Abdullah

7/9 Night life

A gecko silhouetted inside a lampshade

Lisa Markwell

8/9 Local knowledge

Aidi Abdullah was Lisa's tour guide during her visit

Lisa Markwell

9/9 Monkey business

A dusky leaf langur in the trees

Aidi Abdullah
But first, an activity we've signed up for with what it's fair to say are muted expectations: a "mangrove and eagle safari excursion with resident naturalist Aidi Abdullah". The children mooch along the beach after breakfast, one with headphones in, the other waving forlornly to a pal she has made the evening before, studying nature being deemed dangerously close to homework. As Aidi makes his way down to greet us at the boat, we consider how quickly we can rattle through this and get back to the glamorous goodies around the resort.
And then something magical happens. Certainly Aidi's job is made easier by the fact that the resort and neighbouring mangroves are part of a Unesco geopark, where nature is preserved in all its glory: a giant rock shaped like a brooding gorilla looms over the area, a labyrinth of waterways and forest 550 million years old.
But it is more than that: Aidi brings the experience alive, and soon P and T are either side of him, agog as he points out walking fish (mudskippers), feisty little fiddler crabs, and a huge monitor lizard swimming casually beside us.
There are gasps as we see a macaque – one of many gazing impassively as we pass – suddenly start to swim behind our boat in search of fruit. Amazed silence greets the spectacle of fish eagles soaring across the landscape.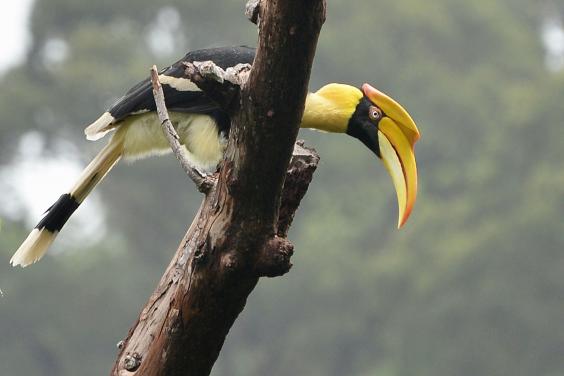 On the way back to the hotel, Aidi stops off at a fish farm to show us rays and a baby tiger shark being nurtured before returning to the open sea. It sits a little awkwardly with the bustling fish restaurant steps away, but this demonstrates what we come to discover as the Langkawi way – pragmatism and protection in one.
After warning us to keep our hotel doors closed against more cheeky monkeys in search of fruit, Aidi wonders whether, since we seem to have enjoyed the safari, we would like to do a "rainforest immersion". T answers yes for us all, without hesitation. And that's that.
We spend an afternoon on a long, looping cycle ride around the area, happily drenched by a tropical rainstorm until our Four Seasons rescuer Indran pulls rain capes from his backpack. There is precious little wildlife on show, but cattle happily meandering near the rice paddies are k a reminder of how important agriculture and farming are to this little island, which prides itself on self-sufficiency.
Our eyes are now "in" for Creature Watch: those bats skimming the surface of the pool as the sun goes down, a gecko silhouetted inside the lampshade at night and, as we breakfast on Malay roti and dhal (highly recommended and selected from a buffet of everything from pain au chocolat to sushi to eggs on toast), small, ground-feeding birds compete for every fallen crumb at our outdoor tables.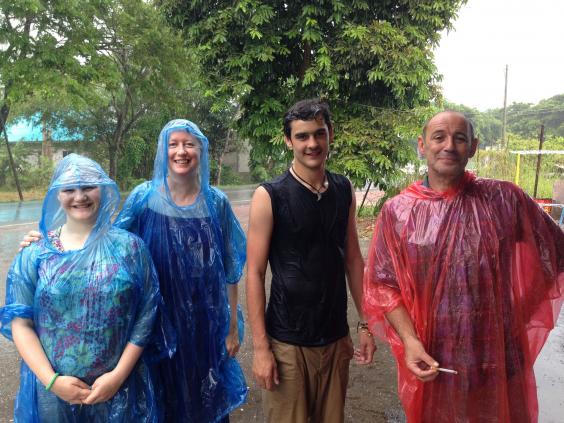 We leap into the minivan with Aidi for the "immersion", and take the winding road up to a desolate hilltop resort. Here the canopy of the rainforest stretches below us, and P, easily the best of us at identifying wildlife, immediately spots a pair of hornbills. These huge, showy birds are astonishing to look at, and we have a perfect view. But beneath them soon the trees are rustling, as shy langur monkeys appear.
The only other sound is the click-click of Aidi's camera, with its long lens (some of his pictures adorn this feature). Our phones may have been filling up with OK snaps of iridescent birds and tiddly frogs, but our pictures are no match for the pin-sharp precision of the expert's. There is wonder in the little things, such as a slug that looks exactly like a leaf. We have time to study myriad life – during a blissful beauty treatment in the Geo spa later at the hotel, as I lie in a petal-filled bath by open doors, I watch butterflies and birds dance around the flower-filled garden.
One day we stop off for lunch at the Bon Ton resort on the other side of the island, where we have a very different, but equally noteworthy, animal adventure. The hotel – and its Temple Tree sister next door – is run by intrepid Australian Narelle McMurtrie expressly to fund an animal shelter. The setting is blissful, the buildings (rescued traditional Malay wooden houses) superb, but most memorable are the chorus of dogs barking and the parade of cats slinking about the place. It is very hard not to fall in love with one of these adorable foundlings, whether it's Moccha the dog with distorted feet, or the nameless brown cat with a unique, frizzy tail. It's only a shame that the shelter needs to exist at all.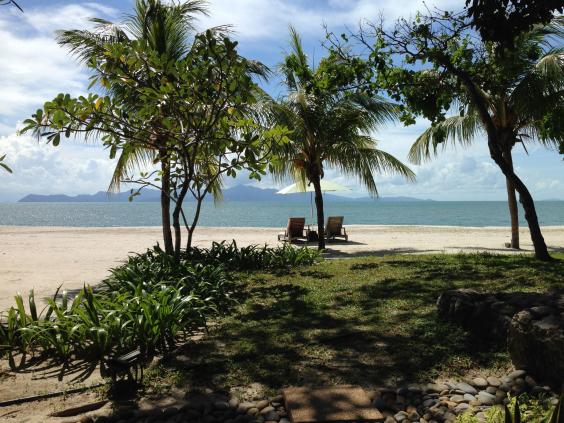 Back on the road, a pit stop at one of the island's luscious waterfalls. On the path to the largest pool, Creature Watch is back: there are monkey-paw prints in the cement. Aidi has taught us to look everywhere, to be prepared to capture the moment, and to tread lightly in this wildlife paradise.
Not all of Langkawi is as nature-friendly as the northern coast, where Unesco protects the environment. On the main tourist strip, south of the airport, huge development is under way. But it's still possible to get up close and personal with a breathtaking array of animals.
Don't get me wrong, we still find time to give the watersports a good going over, and eat ourselves into a stupor both in the resort restaurants and, on one very memorable night, at a barbecue set up on the beach outside our villa – and T learns to cook her own chicken satay and a prawn curry. Managed by a Brit but with almost all local staff, the Four Seasons has invested in making guests feel at home on the island.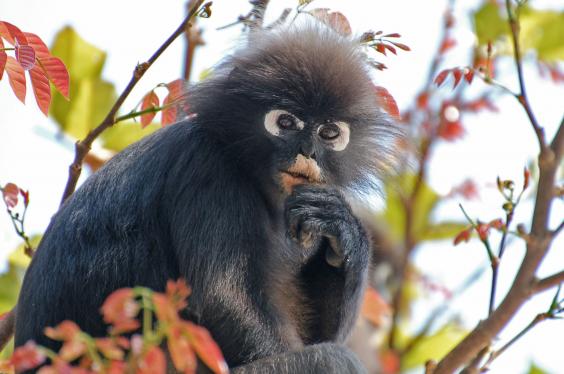 We spend a couple of days in Kuala Lumpur before flying home, but our closest encounters with wildlife here are gargantuan cows' heads in the market, and wild chickens improbably guarding a vast Hindu temple. We prefer, on reflection, the birds, bugs and beasts – and have the photos to prove it. And now my daughter is reading Gerald Durrell. Uh oh. I think we've started something.
Stay seven nights at Four Seasons Langkawi for the price of four, from £1,865pp, saving from £2,660 per couple. Price is based on 7 June 2015 departure for two people sharing a Lower Melaleuca Pavilion on a half-board basis, with economy flights from London Heathrow with Malaysia Airlines, including private car transfers. Offer valid from 12 May to 30 September 2015, must be booked 60 days in advance. More details: Elegant Resorts Reservations (01244 897 515, elegantresorts.co.uk)