The men and women of Chew Jetty seemed pleased to see me, but they haven't always been such a friendly bunch. Here, on the Malaysian island of Penang, rivalry runs deep. Or, at least, it did.
Fleeing the poverty of their homeland, Chinese immigrants started settling on the southern shores of the capital, George Town, in the late 18th century and, soon, seven large feuding clans had erected their own rickety piers here. Years of sabotage and competition over fishing and sailing routes followed, though thankfully, everyone seems to be friends now.
Penang's location in the Strait of Malacca, just off Malaysia's north-west coast, saw it become a strategic stopping point for traders travelling to Asia from Europe and the Middle East. Home to barely 10,000 people just three centuries ago, the state of Penang, encompassing the island and a sliver of the Malaysian mainland, has since grown to a population of 1.6 million. In 1985, the two counterparts received a much-needed link in the form of the 13.5km Penang Bridge, which crosses the Selatan Strait towards the industrial town of Perai.
To most, of course, the name Penang is enough to elicit images of a tropical idyll – all white beaches, cerulean seas, and rainforest-cloaked mountains. That's all certainly true – look no further than the island's wild and untamed north – but few consider its urban appeal.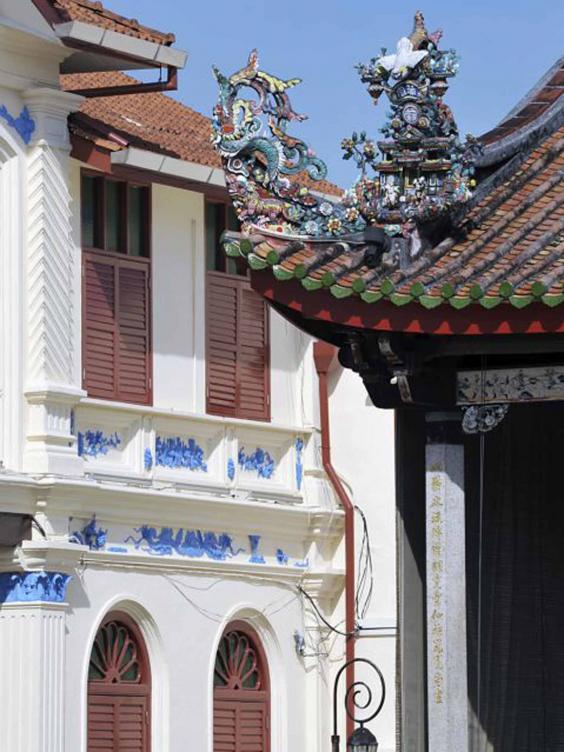 George Town, once nothing more than boggy swampland, is today a busy city where walls erected a century ago now display stop-in-your -tracks street art and fast food outlets reside in beautiful heritage-listed buildings. It occupies a spit of land on the west coast and, to the south of the central Colonial District, is Little India – an enclave where ramshackle masala chai stalls rule supreme over Starbucks.
Push on and you'll reach the Clan Jetties. One of the first to set up home here was the great grandfather of Cheung Siew, a frail 87-year-old lady with creased skin like soft leather who lives almost halfway down Chew Jetty, the busiest and most developed of the six remaining piers (one was lost to a fire in 2003). A far cry from its humble beginnings, Chew Jetty is now a commercial hub with shops, restaurants and even a basic but cosy homestay, all built on stilts over the cloudy water.
Cheung's great grandfather was one of the jetty's original Mr Chews (there are currently 20 of them). "The families and different clans didn't mix back then," tutted Cheung. "But things are very different now."
Like most days, she was sitting on a small plastic chair and kept a close eye on things: the tourists queuing for scoops of foul-smelling durian ice-cream, devotees burning sticks of incense at the Taoist shrine to the goddess of mercy, and fishermen pushing heavy carts with wobbly wheels along the wooden pier. Plastic flowers were arranged in small pots beside her bare feet. "It's busy today," she muttered. "But that makes me happy. It's only old people living here now. All the youngsters have gone."
But it's not the Clan Jetties that are changing. Penang, too is in transition. Among the ancient temples and colonial splendour of George Town are glimpses of this historic island – colonised by Britain in 1791 and briefly renamed Prince of Wales Island – embracing the future. Hotels are going from heritage to hip, while the culinary scene is evolving too, with quirky spots you'd expect to find in downtown Tokyo – you'll get 10 minutes with a feline when you order a frappuccino at the Cat Café and Gallery.
Guests at the new G Hotel – the exterior of which is resplendent with a multicoloured light installation – are greeted with ice-creams on arrival before being whisked to the rooftop bar for pomegranate mojitos. Such new and novel additions may be what Penang needs to compete with the likes of Phuket, Langkawi and Bali for holidaymakers' custom, but its real strength lies elsewhere in the intoxicating mish-mash of cultures – Chinese, Indian, Malay, Portuguese, British, Dutch – that was centuries in the making.
It was business as usual down at Chowrasta Bazaar. The street was choked with early morning shoppers inspecting exotic vegetables spread out on the ground, while chickens clucked in cages and young men in baggy vests prepared paper-thin spring rolls on steaming stoves. The nameless streetside restaurants were doing a roaring trade. The scent of soy sauce and fiery chillis lured me into one where the waiter swiftly delivered a bowl of blow-your-socks-off curry mee, a spicy broth with prawns and cockles. But breakfast wouldn't be breakfast without eggs. Poached? Scrambled? Fried? No. Here, eggs are boiled for just a few short seconds and served, essentially, still raw, in a glass cup. Tasty.
Another culinary experience awaited at Perut Rumah (Stomach of the House), a restaurant in an old bungalow in the north-west corner of the city. Ornate Chinese antiques fill the varnished shelves and red lanterns hang overhead. The food is strictly Peranakan, a fusion of Chinese and Malay flavours, and a real mix of the weird and wonderful. The shredded cuttlefish was crispy and rather tasty, the sweet potato leaf curry a revelation, but bee koh moy – an unsettling dessert of black glutinous rice – was more of an acquired taste.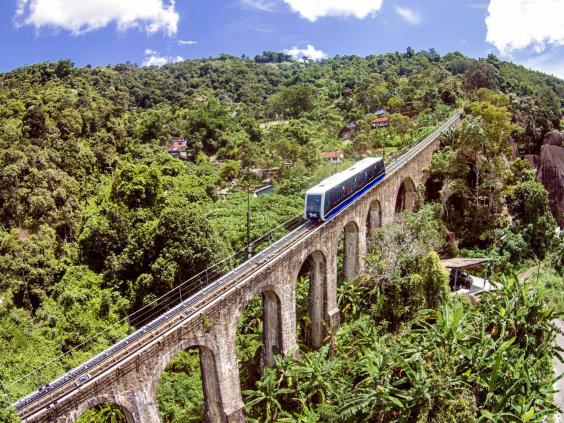 Just outside George Town, to the west, is Penang Hill. The steep tracks of a funicular railway laid in 1923 whisk you to the top of the 821m summit, where the air is cool and the sea views even cooler. This hilltop retreat was first explored in 1788 by Francis Light, the captain credited with claiming Penang as a colony for Britain. He ventured up here on horseback, no doubt won over by the breeze and panoramas, and set about clearing land. Others soon followed and a number of beautiful, colonial houses were constructed for wealthy Europeans.
Some are still standing today, secreted down narrow paths and shielded from view by tropical foliage. In fact, some are so perfectly preserved, that they stood in for the homesteads of Shimla in the recent Channel 4 drama Indian Summers.
Film crews were busy shooting scenes for the forthcoming second series when I visited (sadly, Julie Walters was nowhere to be seen) but most of the other visitors to Penang Hill remained oblivious. While a few milled around the samosa stands and the new, but slightly odd, Owl Museum, housing 2,500 pieces relating to the nocturnal birds of prey, most were held captive by the sight of George Town below, its small white buildings spreading out towards the sea.
Standing among them, at a slight but noticeable angle, was the Moorish-style Queen Victoria Memorial Clocktower. Built in 1897 to commemorate the monarch's diamond jubilee, it acquired its tilted imperfection during the Second World War when it was damaged by a bomb somersaulting from the sky.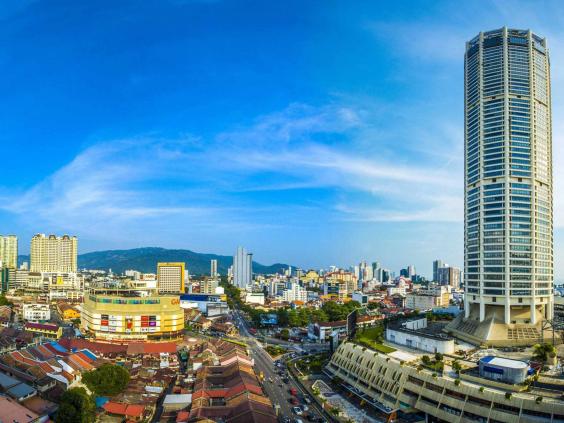 Back at sea level and keen to find the postcard-worthy beaches I had heard so much about, it was time to venture further afield. Heading along the rugged northern coast, a small rocky outcrop rose from the teal water. Small waves kissed the pale boulders of what's known locally as Lovers' Island. A heart-wrenching tale surrounds this lonely isle. Legend has it that two lovers of different races committed suicide here after being forbidden from seeing each other by their families. Today, smitten couples continue to visit it, walking to the island during low tide to scrawl their names on the rocks as a testament to eternal love.
It is undoubtedly a beautiful spot but it doesn't quite compare to Teluk Duyung (Mermaid Bay), further along the coast. Backed by the peaks and mangroves of Penang National Park and also known as Monkey Beach, it's home to a species of crab-eating macaque and remains a slice of tropical wonder, with windswept palm trees bent at abstract angles, the leaves rustling in a breeze perfumed with the aroma of wild herbs.
It was the Penang I had hoped to find. Standing on the soft sand, not a man, monkey or mermaid in sight, I realised it was merely one snapshot in an album overflowing with so many delightful discoveries and just why those feuding clans had fought so hard to protect their own parcel of paradise.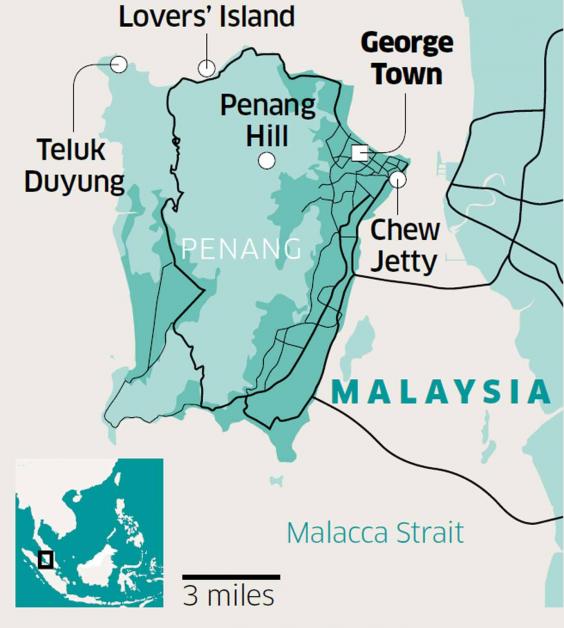 Getting there
Malaysia Airlines (0871 423 9090; malaysiaairlines.com) flies twice daily from Heathrow to Penang via Kuala Lumpur from £839 return.
Staying there
Eastern & Oriental Hotel, George Town (00 60 4 222 2000; e-o-hotel.com). Double rooms start at MYR1,115 (£179), including breakfast.
The G Hotel, George Town (00 60 4 238 0000; ghotel.com.my). Doubles from MYR580 (£98), including breakfast.
Lone Pine Hotel (00 60 4 886 8686; lonepinehotel.com). Double rooms from MYR1,115 (£179), including breakfast.
More information
Reuse content