I am sitting in a long pink T-shirt with a giant ice bag on my head looking out across a pea-green swimming pool at The Farm at San Benito. This holistic health retreat is set inside a lush coconut plantation in the Batangas hinterland of The Philippines. My patterned turquoise ice bag looks a lot like a shower cap that might have been fetching to someone a century ago, but I've been urged to keep it there to ease a headache (together with "breathing in, breathing out", of course).
As I sit, the ice bag precariously balanced, I listen to the calming voice of The Farm's medical director, Dr Marian Alonzo (aka Dr Marie), who is analysing my results from something called Brain Biofeedback. Used by Nasa to treat astronauts who cannot have the attentions of a doctor, Brain Biofeedback is a computer programme that assesses which organs inside your body are struggling to cope – the "grey area" between health and disease.
In the resulting analysis, numbers two and three are optimum, while five and six signify that an organ is using a lot of energy to keep a particular area balanced. Dr Marie points to several number sixes congregating around my throat area – I've got an upper respiratory tract infection and am on antibiotics, but in keeping with the holistic ethos of The Farm there is also a second explanation.
"Your work as a journalist is straining your throat energetically; the throat area relates to expression and when it is out of balance we suffer," says Dr Marie, smiling widely and fixing me with her big brown eyes. "You need to portion out your work and spend less time on it, so you can create a feeling of spaciousness around it and not give so much of yourself away." I put my hand to my ice bag to rebalance it and smile back.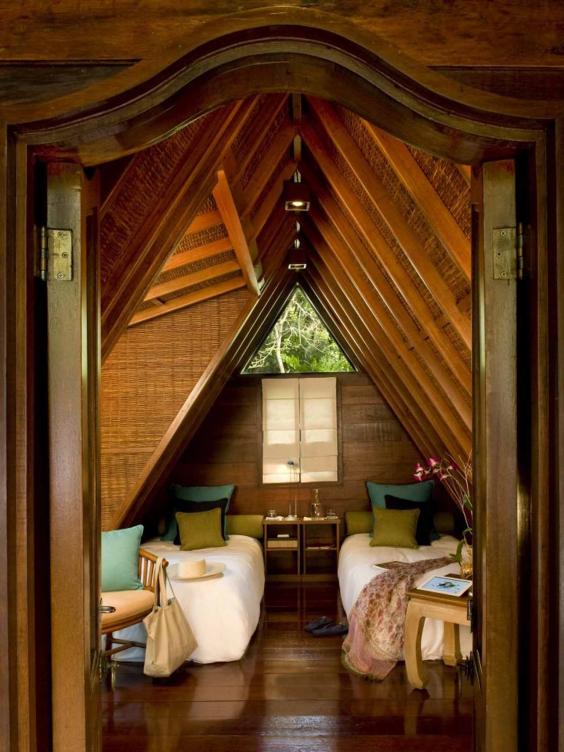 I hear words like "energy", "balance" and "spaciousness" a lot throughout my 10 days at The Farm, where people come to de-stress, detox, lose weight, get fit, sort out their skin, help treat a heart condition and even recuperate after cancer treatment. Unusually you can bring your children here and even your dog, though it's a long way from home if you happen to live in Britain. All programmes are underpinned with the belief that health is first influenced by our spiritual selves, then our emotional/mental, and lastly our physical selves. However, the five resident doctors are also medically trained.
It's a long journey from the UK, but since Philippine Airlines resurrected direct flights from London to Manila (from where The Farm is a 90-minute drive) last year, the flight is worth it if you're keen to try something a little different to the Thai/Bali spa circuit. The Farm is inland and as such I thought I'd miss a beach, but in fact the setting was conducive to "going inside" and properly retreating.
Everywhere you look there are the twists and turns of lush green palms, papaya and coconut trees, and in one particular place, an enormous, 200-year-old mango tree with thick, extended branches. Stone pathways flanked by bowls filled with mandalas (Sanskrit symbols) of floating flower petals criss-cross the resort, and astonishing peacocks roam lawns beside a central lake overlooking distant, tree-clad mountains. One morning, I take an Anasura yoga class with Francesca (there are three yoga classes a day to choose from) and we're graced by the presence of three female peacocks traipsing across the stone floor of the amphitheatre, while a male shows them his eloquently extended emerald green and electric blue feathers a few metres away.
There are just 33 rooms and villas spread across the plantation – I am in a Narra Villa, a spacious, wooden floored and graceful space with lots of natural light and an inspiring scarlet oil painting of a yogi touching his toes. Outside, I have my own mini pool and an enormous balcony facing a jungle that's studded with sunlight, where I spend a lot of time on a chocolate brown day bed watching the trees rustle, as I cough and contemplate my navel. Dr Marie comes to find me here for our daily consultations.
Happily, I manage to avoid the colonic treatments because I'm ill, but otherwise the doctors leave few stones unturned. I'm treated to live blood analysis, art therapy, liver compresses, meditation and an awful lot of acupuncture – at one point, the friendly Dr Sig decides to leave a needle taped securely between my breasts for the duration of the day. ("I have a needle in my chest, can someone come and take it out?" I call meekly, but tranquilly, from my room phone later). There are various daily walks and fitness sessions on offer too, and excursions to Taal volcano crater lake or Mount Malarayat if you get restless (being ill, I don't).
Instead I indulge in rather wondrous pampering treatments at The Healing Sanctuary, a simple spa arranged around a pool flanked by plants and a frangipani tree. Highlights include the Filipino "Hilot" massage (which uses strokes, kneading and stretching to ease tension), the "Relaxology" (their own combination of reflexology and acupressure) and the peppermint foot scrub. Each treatment seems to go on for hours and unusually therapists all say "God Bless You" at the end.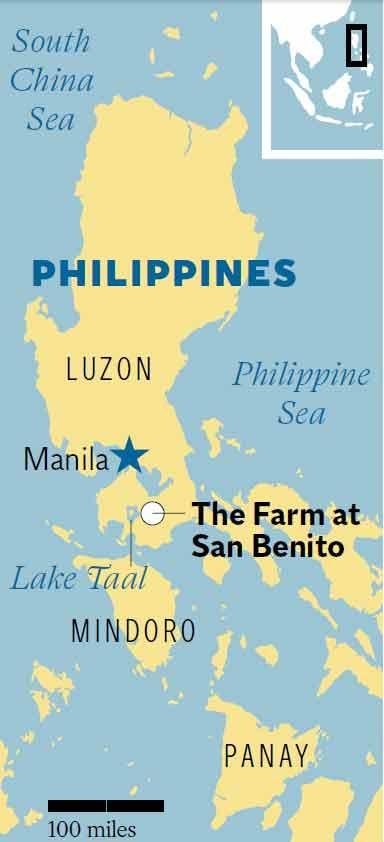 If this is hippy, it's five-star hippy. The red-shirted smiling Filippino waiters seek me out wherever I am to serve green detox juices (they taste more like plants) to me – in my room, lounging in a private pavilion, sitting on a stone bench. I am given a Moleskine notebook on arrival to jot down my thoughts, while products in the spa and my room are all hand made onsite from The Farm's organic virgin coconut oil, and staff don't appear to know the word "no". The all-vegan food (miso soup, stuffed shiitake mushrooms, raw chocolate cake) is impressively varied and highly effective – I lose six pounds during my stay without trying.
Holding the ice pack on my head and consciously breathing in and out seem to do the trick, and I leave my session with Dr Marie headache-free and armed with good advice. On my final day, she presses a pretty set of Post-it notes into my hands, on which I am to write the words of wisdom I've acquired. The main ones? That to protect my immune system I need to work less and relax more. As Dr Marie puts it: "Don't bash yourself". For anyone else who feels this may also be true for them, The Farm is an excellent place to start.
Getting there
Caroline Sylger Jones flew with Philippine Airlines (01293 596680; philippineairlines.com), which departs four times a week non-stop from Heathrow to Manila; return fares start at £558.
Staying there
The Farm at San Benito, Barangay Tipakan, Lipa City, Batangas (00 63 918 884 8078; thefarmat sanbenito.com). Doubles start at 8,400 pesos (£113), including breakfast. A four-night Wellness Holiday costs from 69,000 pesos (£930)pp, full board. Six-night healing retreats cost from 150,000 pesos (£2,022), full board.
More information