'What is it about Tiong Bahru," said the taxi driver as we made our way there. "That makes people like you pay so much to live there? Europeans pay four times more to live in Tiong Bahru than I do nearby."
He had a point. In this most multicultural of cities, Tiong Bahru, with its French boulangeries and Australian-style coffee shops, is edging towards becoming a western enclave. They come for its architecture: low-rise, sinuous Art Deco apartment blocks. West of Chinatown, Tiong Bahru is one of the few low-rise areas remaining in this land of skyscrapers; the only things inching towards the sky here are the palm trees shimmying their way around housing estates that could double as the set of Poirot.
Built in the 1930s as Singapore's first public housing project, then known as the place where businessmen would put up their mistresses, Tiong Bahru has always been a little different. Its popularity has come at a cost. Traditional shops are being replaced by trendy boutiques; kopitiams – corner coffee shops, filled with individual food and drink stalls – are being taken over by bars and bakeries.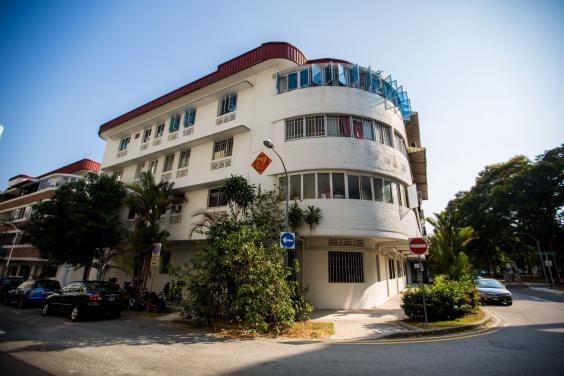 "I came here because I was a cheapskate," says Kenny Leck, who moved his independent bookshop, Books Actually (00 65 6222 9195; booksactually.com), from nightlife-heavy Club Street four years ago. "But our rent has doubled since 2011."
"I'm slightly worried about gentrification," says Chris Ng of  Ah Bong's Italian (00 65 9650 6194; facebook.com/abitalian), a Singaporean-Sicilian fusion hawker stand that opened last autumn. "But so far it's a good mix – even in my coffee shop you get the old and new, the office crowd and the people moving here."
There have been losses, of course. "That used to be a lovely roasted duck place, but now it's a teashop," laments Frog Michaels, who blogs as Changmoh, as we walk down central Seng Poh Road – but then again, the straddling of old and new is what Singapore does best. And there has never been a better time to visit. Singapore has been marking its 50th anniversary of independence – first from Britain and then from Malaysia – throughout 2015, but the celebrations come to a head this weekend, a four-day public holiday. Highlights include arts performances, a three-day carnival at the Botanic Gardens, and a special sound-and-light display at Gardens by the Bay.
UNPACK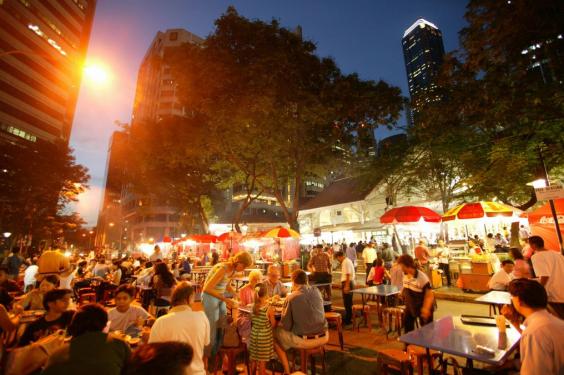 It may have been the first boutique hotel to land in Tiong Bahru, five years ago, but Wangz Hotel (00 65 6595 1388; wangzhotel.com) doesn't rest on its laurels – it renovated its popular rooftop last year, reopening as French-Singaporean restaurant The Rabbit Stash last December. Ignore the incongruous architecture; inside lies specially commissioned local art and views of its low-rise neighbourhood through the glass walls of all 41 rooms.
EAT
Singaporeans are obsessed with eating. "You wouldn't necessarily talk about the weather here, but everyone has an opinion on food," says accountant-turned-chef Chris Ng, part of the city-state's new generation of "hawktrepreneurs" – young Singaporeans who are reinventing the strict traditions of hawker culture. His stall, Ah Bong's Italian, is part of Day & Night, a new take on a traditional kopitiam – still a collection of stalls sharing space at different times of the day, but with burger and pizza stands alongside the kaya toast and thick Singaporean coffee. For something more traditional, Por Kee Eating House (00 65 6221 0582) reopened last year after a long closure. Don't let the humble car-park setting put you off – its zi char (homestyle Chinese) food is superb.
DRINK
Look beyond the louche name at Coq & Balls (00 65 6276 6609; coqandballs.com) and you'll find the bar version of a kopitiam: opening directly on to the street, with a real community feel. Tiong Bahru Club (00 65 6438 0168; facebook.com/thesingapuraclub), another new opening, is a cross between a Parisian brasserie and colonial club.
SPEND
For a city known for its malls, Singapore has no shortage of boutiques, but much of the stock tends to be sourced worldwide. A notable exception is Strangelets (00 65 6222 1456; strangelets.sg), which sells local ceramics, body creams and jewellery by one of Singapore's most exciting designers, Carrie K. One of the first shops to change the area four years ago, Books Actually has its own small press, publishing short stories and poetry by local writers. Sourcing a little further afield, Clothes Curator (00 65 6438 9622; clothescurator.com) stocks new designers from Korea and Hong Kong above The Dispensary, a coffee shop converted from a traditional Chinese pharmacy.
In among the malls of Orchard Road, Keepers (00 65 8299 7109, keepers.com.sg), which opened last year, is a pop-up store featuring over 50 local designers – of clothes, jewellery, homeware and even food. It's proved so popular that it opened a second location at Changi Airport last month.
THINK LOCAL
Life has historically been tough for people with disabilities in Singapore, but one thing that's staying put in Tiong Bahru despite the gentrification is the Society for the Physically Disabled (00 65 6579 0700; spd.org.sg – call ahead), which trains people in the art of bookbinding. Hand-crafted notebooks, picture frames and albums are all available to buy; bespoke pieces take up to two weeks, though are often available in as little as two days.
Reuse content