"Have you seen a dog?" I'd pulled off the highway into a rest area and was brewing up some coffee in the shade of a gum tree when Al ambled over. Pushing 60, leathery suntan, thongs, singlet and stubbies, Al was the archetypal Aussie bloke. "Bastard," he spat, "He'll be lying low. He's just done too much travelling." I poured us both a cuppa.
For a while we discussed solitary life on the road, his 18 months (roaming free after quitting a life in corporate IT) and my two weeks, the price of a shower and the cost of diesel, and then circled back to the habits of dogs. Cups drained, we shook hands and Al wandered off again into the bush, issuing a steady stream of expletive endearments in the hope of coaxing out the homesick hound.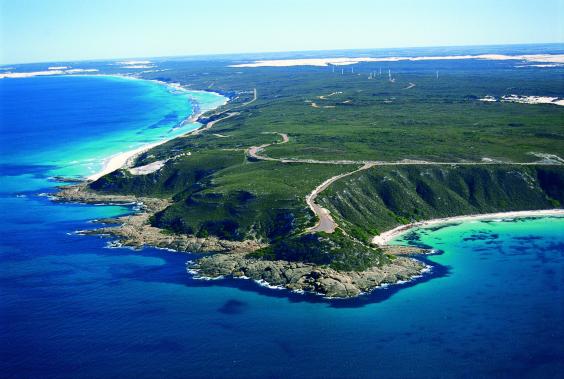 My encounter with Al was during a steady eight-hour drive south from Western Australia's (WA) Goldfields, part of a longer road trip between Perth and Esperance. It would prove to be a rare instance of human contact along my 1,000-mile journey, via the Stirling Range National Park and the Holland Track four-wheel-drive route. Only 18 per cent of international visitors to Australia make it to WA, and the majority of those stay in the state capital, Perth. But while WA is famed for its arid isolation, the southern highways reveal some of the country's most beautiful coast.
Traffic-free roads had seen my V8 Land Cruiser burble along lazily, eating up the miles and drinking down fuel, though at 63 pence a litre its dipsomaniac tendencies were forgivable. Filling up at Norseman – population 778 – it seemed sensible to top up the truck's drinking water tank too. (Mobile phones often don't work outside towns, so I travelled with a satellite phone and an emergency GPS radio location beacon, and made sure to carry plenty of water.) "Five litres from the tap, that'll be five bucks," said the roadhouse's unsmiling female attendant. "Blimey, not much cheaper than diesel. Do I really need it?" I pondered out loud. "You crossing the Nullarbor?" she snapped. I wasn't. "Then probably not." And I was dismissed. 
I planned on pitching my tent close to the sand at Lucky Bay, voted "Australia's Whitest Beach", about 30 miles east of Esperance in the heart of Cape Le Grand National Park. Driving straight through town, past grain silos struggling to cope with the year's bumper harvest, a reassuring sign declared the park's gravel access roads open to traffic.
At Wylie Bay a sign pointed down onto the sand – "Le Grand Beach 22km – Maximum Speed 60km". I let some air out of the tyres and clunked the Land Cruiser into four-wheel-drive. I hadn't checked the tides but keeping to wet sand just above the waterline the going was easy, and there was a sort of illicit pleasure in driving on the beach. Grinning like a delighted small boy at the start of the summer holidays, I, er… sang to myself.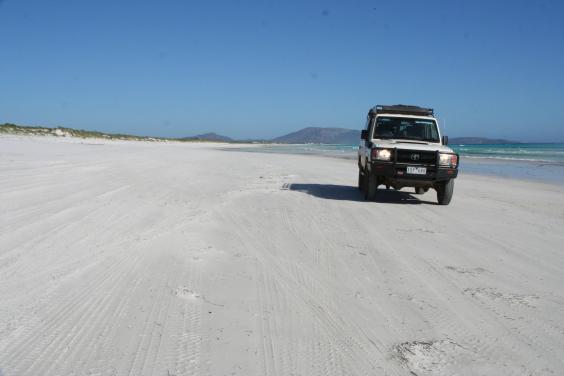 Off to the right, beyond the gently breaking waves the bluest of seas twinkled under bright sunshine, the islands of the Recherche Archipelago like stepping-stones towards the horizon. This was definitely a "great ocean road". I passed only two vehicles, both parked almost in the dunes, their occupants whiling away the afternoon around barbecues. Finally needing to stretch my legs, I hauled off the sand onto gravel at Le Grand Beach. Frenchman Peak beckoned.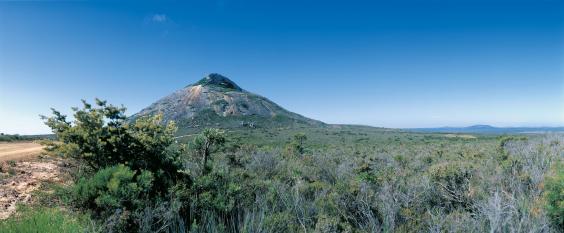 Seafaring heritage suffuses WA's south coast. Specifically, in 1792 French oceanographic vessels, L'Esperance and La Recherche, were driven in shore by stormy seas. Cape Le Grand is named after the officer who climbed a mainmast to navigate a course to safe harbour. Frenchman Peak's origin is more prosaic, being later noted to resemble a cocked hat, its 860ft-high granite cone commanding 360-degree views.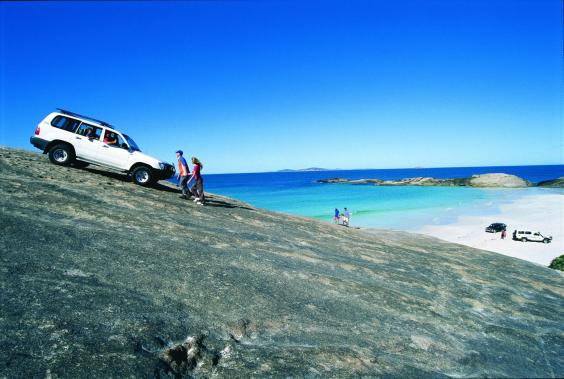 Climbing over bare rock, the ascent was steep, buffeting wind demanding extra concentration. Looking south from the highest point, the rocky coastline was broken by silvery-white arcs, sand fringed by surf. The view from Rossiter Bay and Lucky Bay to Thistle Cove and Hellfire Bay, anchored in the history of deliverance or despair. I headed down to make camp.
At Lucky Bay the national park excelled itself. Just AU$10 bought a tent pitch, tank rainwater, solar showers and a camp kitchen complete with gas hob and sink. I banged in pegs, put my noodles on to boil and squeezed out a large glass of chateau Yalumba "goon juice", all under the indolent gaze of apparently narcotised kangaroos – it had been a long day.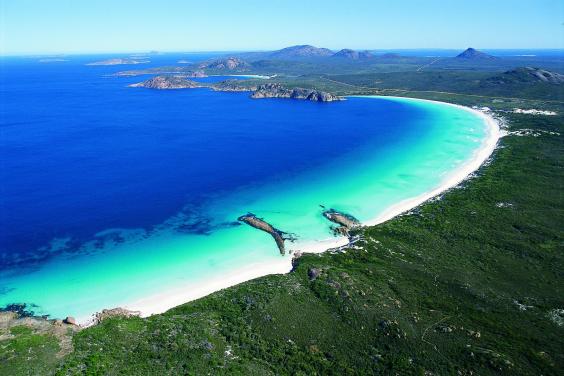 In the morning I set out walking along Lucky Bay, part of a 10-mile coastal trail, aiming to cross the peninsula to Rossiter Bay. I'd been told that among the rocks, near the turn inland, was a plaque commemorating 19th-century explorer Matthew Flinders, the first to circumnavigate Australia and discover it was a continent. Part way I was passed by a fisherman in a four-wheel-drive and watched as he parked high on the far beach, hiking with his rod and a cool box over the rocks – surely the Australian dream?
Scrambling between tall boulders, among trickles of fresh water I found the plaque. Flinders had made landfall in January 1802. As night approached he had been at a loss to find a safe, sheltered anchorage among a "labyrinth of islands and rocks" before finally happening upon Lucky Bay. Casting a glance along the near perfect curve of sand, I could only agree that Flinders possessed a knack for names.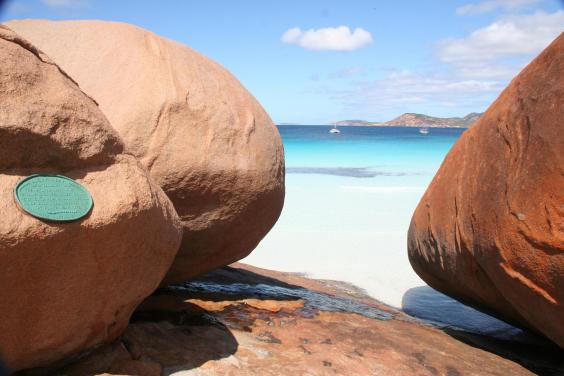 Striking inland I walked through scrub, then up onto the rocky peninsula whose farthest tip was Mississippi Point. At the highest aspect I surveyed the view in the company of a high-tailed mob of scampering dragon lizards. Rossiter Bay lay unfurled below. Surely two hours of hiking its deserted shores invited a quick dip in the ocean?
Down on the beach, no footprints, no tyre tracks, not even common flotsam betrayed the existence of humanity. In Reginald Perrin-style, I piled up my clothes and entered the water. Refreshing, though a tad chilly, I didn't swim too far or too long. I wanted the best chance of hitching a lift from the access road to Lucky Bay. Twenty minutes at the roadside trying to remain positive paid off with a lift back to camp.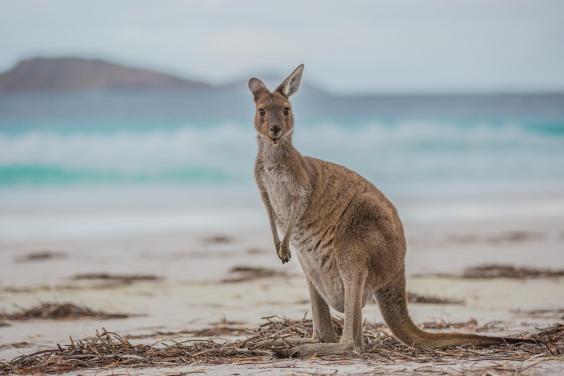 On the beach there I chatted with "Doc" Reynolds, an indigenous Noongar elder, and a businessman. Doc's latest enterprise, the Lucky Bean Café, was a trailer below the dunes selling gourmet coffee. "I've been coming here since I was a kid," Doc told me over a cappuccino. "There are plenty of freshwater springs across the beach. That's why the kangaroos are here. It was good fishing back in those days. We took salmon, herring, skippy, abalone too. All just for our daily needs, there was no refrigeration. It was a healthy lifestyle."
Doc paused for a moment. "We've adapted and changed, but when you see that land coming in," he nodded westwards, "it hasn't changed much."
Back at the campground I met Christopher Grace, the newly appointed camp host. "I worked in IT, and then the contract ended. I came here for a break, to take pictures, landscapes – I didn't want the stress of photographing people," he recalled.  
However, it seemed serendipity had reached out to him too: "The park ranger came by and said he needed a host. 'What about me?' I said. I called the wife and told her I'd be a bit late home. I'm staying for the season."  Lucky for some, I thought.
Travel essentials
Getting there
Return fares to Perth with Emirates (0344 800 2777; emirates.com) start from £609, based on departure from Gatwick. 
Staying there
Nick Redmayne hired a Britz (0800 2008 0801; britz.com) 'Safari' Toyota Land Cruiser which comes with underslung water tank, fridge, gas stove, kitchen equipment, a five-man tent with inflatable mattresses and sleeping bags as well as in-vehicle TomTom GPS tablet with campgrounds, petrol stations, etc. pre-programmed. Outback Safety Kits including Emergency Position Indicating Radio Beacon (EPIRB), Snatch Strap and a folding spade are also available for hire together with Iridium satellite phones and GPS navigation aids. Prices range from AU$1,400 to $1,600 (about £862 to £985) for seven days with all insurance and extras included.
Travelbag (0207 001 4112; travelbag.co.uk) offers seven-day Britz "Safari" hire including Emirates flights from Gatwick to Perth from £769.
More information
Reuse content