The awe-inspiring beauty of the Great Barrier Reef, the endless golden beaches of the Gold Coast, the lush, green splendour of the oldest rainforest in the world – Queensland is a land of great contrast and wonderful natural grandeur.
It isn't famed just for its natural wealth: everything about the Queensland lifestyle goes that little bit further to enrich your life, from the year-round sunshine to the world-class food, wine and shopping, via a grand tradition of art and culture that stretches back tens of thousands of years to the art of the first Aboriginal settlers.
Whether you want to swim with shoals of colourful fish on the Great Barrier Reef or just lie back and soak up the fine white sand of and cerulean-blue waters of the Pacific Ocean, there's so much to see and experience, it's hard to imagine how you'll ever fit it into one trip.
Cairns and the Great Barrier Reef
Discover a place of vast beauty and natural wonders - an Australian tropical holiday brought to you by nature. This is the only place on earth where two World Heritage sites meet, meaning your adventures will see you trekking through an ancient rainforest one day and diving on the world's largest coral reef system the next.
The only living structure on earth that can be seen from outer space, the Great Barrier Reef itself is famed as the world's largest and healthiest coral reef - a riot of colour and life. With an incredible 1,500 fish species calling the Reef home, nowhere on earth is better for scuba-diving, snorkelling or bare-boating.
Back on land, you'll find the Daintree Rainforest, which at 135 million years old is the world's oldest tropical rainforest. In equal parts lush, tranquil and exhilarating, it is at Cape Tribulation where the forest actually comes right up to the perfect sandy beaches that border so much of Queensland's coastline.
Cairns is the heart of the region, and one of Queensland's main gateways to the Great Barrier Reef. A vibrant, tropical city framed by the spectacular twin backdrops of rainforest mountain ranges and the sparkling Coral Sea, Cairns is a must-visit for any traveller.
Stroll along the Cairns Esplanade, a lovely oceanfront promenade and saltwater swimming lagoon. You'll find numerous restaurants, bars and hotels lining the Esplanade, all offering beautiful waterfront views. Visitors flock to the Esplanade to enjoy the alfresco dining and relax in the beautiful surroundings of this modern city.
Further north, Port Douglas is one of Queensland's premier holiday destinations, offering a sophisticated tropical village feel. Port Douglas has a relaxed ambiance: you'll only find buildings up to three stories high, not much taller than the nearby palm trees, boutique clothing shops and exquisite restaurants.
The relaxed capital city of Queensland, Brisbane is, simply, one of the nicest places on earth in which to live. Home to a cosmopolitan population of approx 2 million people, with a sunny sub-tropical climate and culture of relaxed outdoor living, Brisbane is a city in which to feel alive.
Brisbane boasts a vibrant calendar of art and cultural events. Enjoy exclusive shows, international art exhibitions and sporting events alongside outstanding local offerings in world class venues and inviting outdoor settings.
New Farm and 'The Valley' both feature boutique galleries and the famous Brisbane Powerhouse regularly stages captivating shows. South Bank is home to the city's Cultural Precinct with the Queensland Museum, Queensland Art Gallery, Gallery of Modern Art, Queensland Performing Arts Centre and ScienCentre. View award-winning installations by day and enjoy a meal and drink by the riverside by night.
The Gold, Sunshine and Fraser Coasts
Queensland is rightly celebrated for its coastline. A surfers' paradise for decades, the beaches of the Gold, Sunshine and Fraser Coasts are second to none. However, there's so much more to these regions than sun, sea and sand; each has its own character, and much more to see inland.
The Gold Coast has 100,000 hectares of World Heritage listed rainforest, and is renowned for having more things to see and do than any other destination in the Southern Hemisphere. Golf courses, award-winning restaurants, night clubs, theme parks, cascading waterfalls, boutique wineries - you name it.
The Sunshine Coast is known for its scenery: secluded coves, rainforests, waterfalls and quaint mountain villages, all set within a dramatic landscape of beaches, sugar and pineapple farms and bold volcanic peaks.
The Fraser Coast is home to World Heritage listed Fraser Island - the largest sand island in the world, and the Great Sandy Strait, with its calm, protected waters and abundant marine life. Fraser Island is perfect for 4WD and adventure holidays. Visitors will see rainforest growing from the sand, freshwater lakes and a stretch of sand that is aptly named '75-mile beach'.
For more information and to plan your Queensland adventure, visit experiencequeensland.com
Experience Queensland the Cathay Pacific way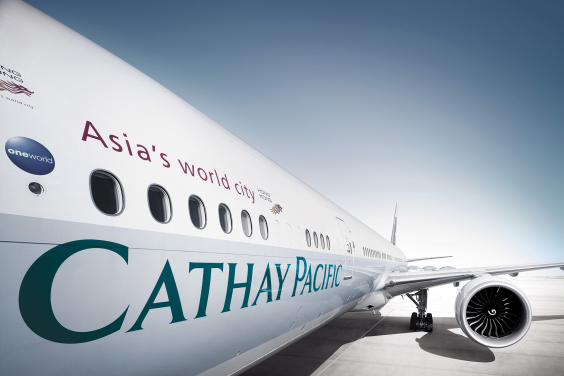 Whatever your reason for flying, you'll always enjoy the best possible experience with Cathay Pacific. Their aim is to be the world's best airline, putting you first with service 'straight from the heart', delicious catering, first class in-flight entertainment and much more.
Cathay Pacific brings you closer to Queensland with daily flights to Cairns and Brisbane from London Heathrow airport via Hong Kong.  Start your exploration now and discover Queensland from £769 in Economy and from £1899 in Premium Economy.
Cathay Pacific's Premium Economy is a total enhancement from the Economy Class Experience, offering more comfort, space and personal attention throughout your entire journey. On the ground, you'll appreciate the dedicated check-in counters, additional baggage allowance, and priority boarding. In the air, you'll enjoy a comfortable seat, enhanced food, better entertainment, and even more of our renowned personal service - all in a spacious and cosy cabin that features from 26 to 34 seats. It's the perfect choice for travellers looking for added value and comfort.
Discover our Premium Economy cabin at www.cathaypacific.co.uk
Cathay Pacific's Premium Economy Class is being progressively introduced on our Boeing 777-300ER, Boeing 747-400, selected Airbus A330-300, and Airbus A340-300 aircraft.  Aircraft deployment varies and availability is subject to operational requirements.
Reuse content