I'd been on the Great Ocean Walk for less than a kilometre when I was severely reprimanded. "Please don't do that!" cried Dana, my walking guide. She was staring at the apple core I was holding aloft, about to discard in the bushes. She shook her head. Even though fruit is biodegradable, she explained, a non-indigenous item could contaminate the soil. Suitably chastened, I put the browning core into my pocket.
After having experienced the Great Ocean Walk for myself, I can see why Victorians such as Dana protect their coastal landscape so fiercely. This 100km stretch of coast takes in wild cliffscapes, pristine beaches, rainforest and wetlands. The long-distance route extends east to west. It is made up of trails that start at the pretty seaside town Apollo Bay and end just past Princetown at the iconic Twelve Apostles limestone stacks.
The first sections of the Walk were unveiled in 2005 and the final extension was completed last October, crowned with a new viewing platform with a cliff-top view of the Apostles. The project cost A$10m (£5.6m).
Earlier that morning, I had driven down from Melbourne, tracing Port Phillip south to Geelong, the start of the Great Ocean Road. Conceived as a counterpart to coastal roads such as California's Pacific Coast Highway, Victoria's version was built in stages between 1919 and 1932 by retired servicemen as a memorial to those lost in the First World War. It hugs the coastline, with hairpin bends that recall Italy's Amalfi coast, and dramatic views of the Southern Ocean below.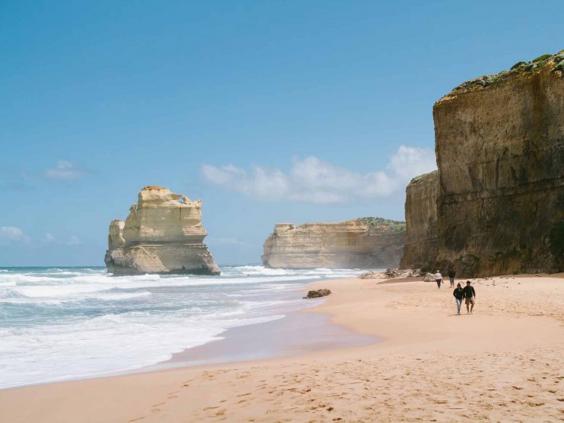 The Great Ocean Walk roughly takes up the middle section of the Road route. Completing the entire Walk takes about a week, but I was sampling a bite-sized day, so I drove on from Apollo Bay to Johanna Beach, which is roughly halfway into the route. My base for the night was Bothfeet Lodge; it was opened a few years ago by Dana and her husband, Gavin, who offer guided walks along the route from their luxurious base.
They chop the Walk into seven sections, including a challenging 20km trek from Johanna Beach to Moonlight Head that includes some of the highest coastal cliffs in mainland Australia; and the final segment, a moderate 8.5km ramble from Princetown to the Twelve Apostles.
With a day at my disposal, I opted for a 17km stretch westwards from Wreck Beach to the Apostles. Walking across the perilously-titled beach is advisable only during low tides and calm seas, but we were in luck. Parking above the beach, we warmed up via the 366 steps down to the shore.
We soon came across the rusting anchors from the ships Marie Gabrielle, a French barque wrecked in 1880, and the Fiji, which sank in 1891. Australia's oldest operating light-station, Cape Otway Lighthouse, has been alerting mariners since 1848 but couldn't save them.
After about 2km of beach hiking, including scrambling over rocks, we headed back up on to the trail. Not far from the lighthouse, we visited the Great Ocean Ecolodge. It is a reserve for koalas and the endangered tiger quoll; resembling a cat with a dormouse's head, it has to be the most endearing marsupial after the koala. We had seen koalas in the wild, too, high up hugging trees in Otway Forest Park, doped up on eucalyptus leaves.
I was hopeful for the parrots, eagles, owls, cockatoos and the sea birds I'd been told to look out for. I didn't see a single one, though, nor dolphins, which allegedly surface in the bays below. I felt even less likely to see a kangaroo in the nearby meadows; maybe ominous-looking dark clouds on the horizon were keeping them away.
Passing golden beach to our left and grassland and heathland to our right, we climbed up onto dunes behind Point Ronald, along the cliff tops and over sandy ridges towards Clifton Beach. The terrain reminded me of far-west Cornwall: rugged and desolate in parts, with only the occasional walker or rabbit for company. The air was so fresh it almost made me giddy.
For more intrepid hikers the Walk has campsites, spaced at 10-15km intervals along the route. You have to apply for a permit to camp, and be prepared to bring your own food, water and equipment. There are also boot-cleaning stations en route, to help stop the spread of cinnamon fungus, which can kill the roots of native plants.
After about five hours' walking and just past Princetown – a hamlet where the Gellibrand River opens out into a wide sheltered estuary flanked by reed beds – I was rewarded with my first sight of the Walk's iconic limestone finale, the Twelve Apostles. They thrust up from the sea bed like sleeping, ancient rock-giants.
The rock formations used to be known as the Sow and her Piglets until the 1920s or the 1950s (the story varies), when a marketing-savvy local decided that a name more fitting of their iconic stature was the Twelve Apostles – even though there were only nine. Now there are just eight: in 2005, "Judas" cracked and disintegrated into a rocky crumble.
The Apostles loomed larger, as the trail bent back and forth on the cliff, and eventually led us to the new viewing platform. It is set further back from the stacks than the official Apostles Visitors Centre walkways; but it's also removed from the clamour of coach-loads of tourists, since it can be reached only on foot.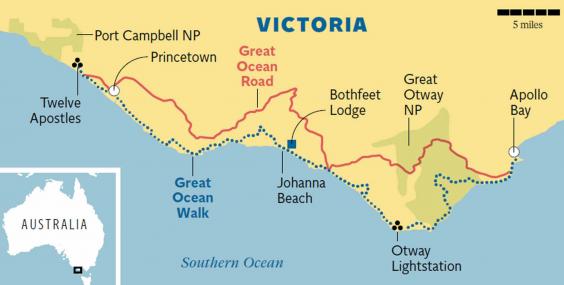 Heading back along the trail, flanked by heath, I gazed out towards Gibson Steps. This staircase leads down to a long stretch of beach. The steps are believed to have been carved into the cliffs by the original Kirrae Whurrong inhabitants, and later maintained by a local settler, Hugh Gibson. It marks the tail end of the Great Ocean Walk. From here you can gain access to Twelve Apostles Beach, where, at sunset, if you're patient, you can spot Little Penguins emerging from the caves to dive into the Southern Ocean.
There wasn't a sliver of sun in sight, however, and it had begun to rain, then to hail. The temperature dropped to around 10C. Dana explained that Victoria had been suffering an unusually cold, wet early summer. And in any case, she added, the weather was renowned for being unpredictable, for having "four seasons in a day".
All I could think of was the helicopter ride I was due to take at the end of my walk. Being tossed around in a chopper by gale-force winds and buffeted by driving rain wasn't my idea of fun. Happily, my pilot, Amy, reassured me we would fly only if the air-traffic controllers cleared us for safety. And within a few minutes the rain had stopped, the sun shone, weakly, and we got ready for take off.
As we gained height, Amy talked me through the sights below. We got a breathtaking aerial view of the first Apostle, the collapsed rock, then all the others including Baker's Oven, and the Salt and Pepper stacks. It was majestic to see it all laid out below us, but having had a taste of the Walk down at ground level, I was keen to get back down and see more of it on foot.
Getting there
Beverley D'Silva flew from Heathrow to Melbourne with Emirates (0844 800 2777; emirates.com), which offers returns via Dubai from £800. Emirates also flies from Gatwick, Manchester, Birmingham, Glasgow and Newcastle.
Walking there
Bothfeet (00 61 1300 767 416; bothfeet.com.au) offers four-day and seven-day guided and self-guided walking packages along the Great Ocean Walk from A$1,995 (£1,155).
More information
Parks Victoria: parkweb.vic.gov.au
Visit Victoria: visitvictoria.com
For camping registration: greatoceanwalk.com.au
Reuse content