"Saturday, it's a Saturday!" rouses rapper David Jude Jolicoeur, as he leads the crowd in a hands-in-the-air sway. "Put your hands up if you've heard of us; put your hands up if you haven't heard of us. We're just glad that you're here, having a great time."
It seems that everybody on the packed, sun-drenched lawn does know the trio onstage, even in the quiet Californian wine city of Napa. As De La Soul work their way through a set list of hits including "Me, Myself and I", so do the 80,000 revellers, many of whom are sitting on lawn seats or picnic blankets, nursing plastic tumblers of wine from one of 25 nearby vineyard stalls.
"Any region that has an appreciation of wine and food is surely going to also have an appreciation of music," David Graham, one of BottleRock Festival's organisers, later tells me. "When you add amazing weather, you're cooking with fire."
He's certainly on to something. Located 48 miles north of San Francisco, Napa and its surrounding valley are best known for their award-winning vintners, outstanding eateries and intimate boutique lodgings. But in the past few years, the region has started to offer more than just wine tourism. BottleRock Festival, now in its second year – with a genre-spanning line-up that included Outkast, The Cure and LL Cool J – is just one of many new events aiming to lure a wider audience to wine country.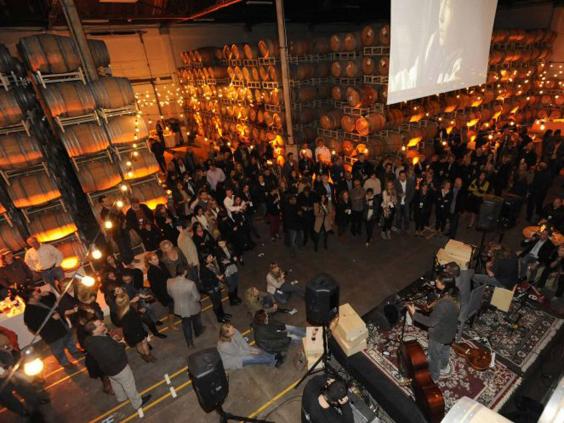 It's a tactic that seems to be catching on. This year will be the first time that BR Cohn Winery hosts a summer series – an intimate affair for 200 will be held in its 160-year-old Pichelin olive grove once a month until October – and CEO Dan Cohn says he's hoping to attract a younger crowd. After all, Silicon Valley's flush, twenty- and thirtysomethings are only an hour away.
"After a wine tasting, you're not necessarily ready to go out to dinner – there's a void and I thought a concert would be a great way to fill it," Cohn explains as we stroll through the olive trees that slope away from the property's charming white wooden tasting room – formerly the Cohn family home.
"For this inaugural year, I identified different genres of music that had a pretty good local following; in the future I'd like to get Pink, Katy Perry and Green Day to play." BR Cohn's summer series might be new, but the property is no stranger to hosting musicians. Dan's father and winery founder, Bruce Cohn, managed the Doobie Brothers in the late 1960s and 1970s.
Chris Hall, vice president of Long Meadow Ranch winery, is also leveraging a strong family music background and the property's gorgeous setting. "My father – who started the business – and I are both music fans. I play the sax and he plays trombone. I don't think I've ever done an event without music ," he tells me.
Now in their third year, the Sunday afternoon concerts here attract up to 400 people, many of whom come for lunch or dinner at the impressive farm-to-table restaurant; others bring picnics to enjoy with a bottle of Long Meadow Ranch Cabernet Sauvignon or Sauvignon Blanc on the lawn. "I've had a lot of inspiration growing up here, with the long-running Mondavi concert series and the Preservation Hall Jazz Band on 4 July," Hall noted.
Mondavi's summer gig roster is one of the region's longest-running. It debuted with the Napa Symphony orchestra in 1969 and artists such as Ella Fitzgerald, Blondie and Tony Bennett have performed amid the To Kalon vineyard in subsequent years.
One of Napa's best-known brands, Mondavi made its name in the 1960s: Robert Mondavi's signature 1968 Fumé Blanc remains one of the company's best sellers and the Cabernet Sauvignon Reserve is one of its most celebrated labels. In addition to walk-in tastings, visitors can sign up for signature tours, the highlight of which is at twilight. As the sun sets over the Napa Valley, I join a small group on a stroll through the cool cellar and barrel-ageing rooms before retiring to the Fireplace Room for a tasting of reserve and spotlight wines, with a lavish platter of locally produced artisan cheeses.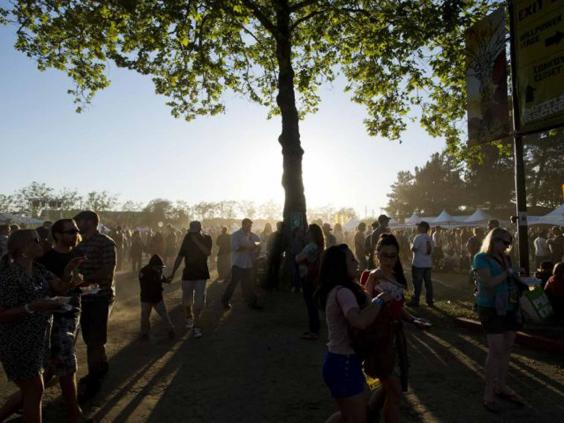 The next big event is the mid-July Festival del Sole – a gathering of 100 wineries as well as food producers, musicians and dancers, all celebrating the best that wine country has to offer. Vintners' lunches are offered alongside yoga in the vineyards, opera and classical music.
Another key date is the opening concert of the Music in the Vineyards 20th anniversary season, featuring the music of Mendelssohn and Mozart at Clos Pegase on 1 August, followed by four weeks of chamber music at 18 intimate Napa wineries. Some of the concerts take place in wine caves, others in barrel rooms and on terraces – they're not just atmospheric venues; they're also chosen for acoustic quality. And the fun doesn't stop with summer, either – the three-day Live in the Vineyard series offers the chance to win access to private and exclusive acoustic concerts that bring together recording artists, top-tier winemakers and world-renowned chefs in November. I'll drink to that.
Travel Essentials
Getting there
The gateway to the Napa Valley is San Francisco, served from Heathrow by British Airways (0844 493 0787; ba.com), Virgin Atlantic (0844 209 7777; virgin-atlantic.com) and United Airlines (0845 607 6760; unitedairlines.co.uk).
Staying there
Auberge du Soleil, Rutherford (001 707 963 1211; aubergedusoleil.com). Doubles start at $675 (£421), including breakfast.
Visiting there
BottleRock Festival; 29-31 May, 2015 (bottlerocknapavalley.com).
Summer Music Series at BR Cohn Winery; until October (brcohn.com).
Sunday afternoon concerts at Long Meadow Ranch; until October (longmeadowranch.com).
Mondavi concerts at Robert Mondavi Winery; until 19 July (robertmondaviwinery.com)
Festival del Sole; 11-20 July (festivaldelsole.org).
Music in the Vineyards at Clos Pegase; 1-24 August (musicinthevineyards.org).
Live in the Vineyard; 6-9 November (liveinthevineyard.com).
More information
Reuse content