Now that the wallaby had gone I had the beach to myself, which was just as well. I took a look at my surroundings, changed into swimming shorts and trotted towards the waves of Bass Strait. I was a solitary speck among green hills and blond sands.
Metres into the sea, poised for an exultant dive, I found the water too shallow. On I jogged, yet it remained no higher than shin-level. After 30m of knees-up splashing I gave in, lay down inelegantly in the tide and looked back at the beach. In Wilsons Promontory National Park, little things like dignity don't seem very important.
The reserve is a little smaller than the Isle of Man and occupies a granite peninsula at the southernmost tip of the Australian mainland, pointing directly down to Tasmania. It's just three hours' drive from Melbourne, but foreign tourists tend to strike out west to Victoria's headline attraction, the Great Ocean Road, rather than east to the giant valleys and dense gum-tree gullies of "The Prom". The park draws plenty of visitors – around 400,000 each year – but less than 10 per cent are international. "Victorians like to see it as their little secret," one Melburnian told me.
After I'd made the journey, the appeal was obvious. The landscape is full of curving crescendos of coastal scenery and crawls with textbook Australian wildlife. Granite mountains, rainforest, mangroves, creeks, open heath and eucalypt forest all feature, and the fact that the whole headland is almost entirely covered in natural vegetation makes it a far wilder prospect than the area around the Great Ocean Road.
It's also perfectly suited to a two- or three-night camping trip away from the city. On the afternoon I arrived, I stood on heathland attempting to count kangaroos. I'd reached 10 when a flock of rose-breasted cockatoos wheeled in overhead and two emus meandered into view from stage-left, vivid blue markings streaking the sides of their heads.
In pictures: Wilsons Prom
In pictures: Wilsons Prom
1/6 Wilsons Prom

Shallow waters of the beach (Roberto Seba/Tourism Victoria)

Roberto Seba/Tourism Victoria

2/6 Wilsons Prom

Wildlife warning sign

Roberto Seba/Tourism Victoria

3/6 Wilsons Prom

Tail to tell: kangaroos at The Prom (Ina Becker/ Tourism Victoria)

Ina Becker/ Tourism Victoria

4/6 Wilsons Prom

Kookaburra (Roberto Seba/Tourism Victoria)

Roberto Seba/Tourism Victoria

5/6 Wilsons Prom

Road to recovery: fires and landslides have hit the park in recent years

Roberto Seba/Tourism Victoria

6/6 Wilsons Prom

Wilsons Prom map
For all its beauty, the park hasn't had it easy. Natural disasters have dealt it a horrendous clobbering in recent years. Summers can be fierce in Victoria, with January and February temperatures sometimes topping 40C. It was a lightning strike, however, which in 2009 started a wildfire that burned out half the park, closing it down for six months. Just two years later, one-third of the region's average annual rainfall dumped down in just 24 hours, resulting in a series of tumultuous, bedrock-baring landslides on the mountains.
I wasn't expecting to find a charred wasteland, but was still unsure of what I'd see. As I snaked along the 29km drive from the entrance to park base, however, braking to gawp at the beach-scalloped headlands, I was hard pushed to spot anything that didn't look like thriving bush.
"The land here recovers quickly; it has done for thousands of years. Periodic fires actually help it thrive," explained park ranger Dan Jones – wide-brim hat, big smile, gold hoop earring – as we headed out in his truck. He showed me a photo of a hillside just after the 2009 inferno, blackened and bleak. Today, the same slope was a picture of verdant health. "These are natural events, so you have to let nature take its course with regeneration too. As you can see, it does that pretty well."
To illustrate his point, he took me to an out-of-bounds section of the park that had been subject to a controlled burn just weeks earlier. Intentionally setting the park ablaze? In fact, designated parcels of land are prescribed controlled fires once or twice a year, to renew the soil and stimulate germination. As we approached, the gutted, skeletal forest looked ashen, but up close there were already fresh green shoots peeking out among the trunks – elderberry and violets, acacia seedlings and guinea flowers. Two grey kangaroos, foraging among the new growth, loped off as we approached.
"At the time of the 2009 fires the park had 40 known eastern spider-orchid plants," Dan continued. "A year later we found 400."
But while the park can bounce back robustly from fire, landslides deliver a far more grim prognosis. "It's heartbreaking," he said. "A storm like the one in 2011 comes along once every 300 years, and the landslides just tear the gullies inside-out. Trees, boulders, soil, everything. It's a much longer recovery process."
The next day I walked out to the crescent of Oberon Bay via the Telegraph Saddle ridge, along a tea-tree flanked path. Periodically I saw the huge, terrible scars down the hillsides. The sad, empty stripes left by landslides were 20m wide in places. But they were isolated, and usually hidden, so rather than detracting from the beauty of the park they acted more as memorials to the storm, long ravines of eucalypt apocalypse that would, over the coming years, slowly self-replenish.
At the sheltered Tidal River campsite, part of the park's main headquarters, the atmosphere was more upbeat. Meat sizzled, guitars twanged and laughter gusted out of campervans. Evening had arrived, and with the swirling scent of a dozen or more barbecues, so too had the wombats.
The poster-child of the Prom, a wombat is a wonderful thing to behold: a rotund keg of fur and cartilage with a teddy-bear nose and dumpy legs. It is not, however, to be underestimated. At full pelt – when chasing a particularly appealing sausage, perhaps – it can reach speeds of 40km/h. I was told that if a pepped-up wombat had lined up against Usain Bolt in the 100m final at the 2012 Olympics ("In lane six, from Australia!"), it would have won by half a metre or so. It's an entertaining image.
The notion of rushing, however, seemed to go against the mood of the park. One of the few benefits of the 2011 landslides has been the partial uncovering of previously unknown aboriginal sites, some of them holding middens and stone tools. The Gunai Kurnai, Bunurong and Boonerwrung groups are the traditional owners of the area, a reminder that there's been a human presence on the peninsula for at least 6,000 years. Even earlier, this was the starting point of the land bridge that once joined mainland Australia to Tasmania. The survivors of the Prom's incredible journey – the wombats, the beaches and the creaking gum thickets – certainly deserve respect.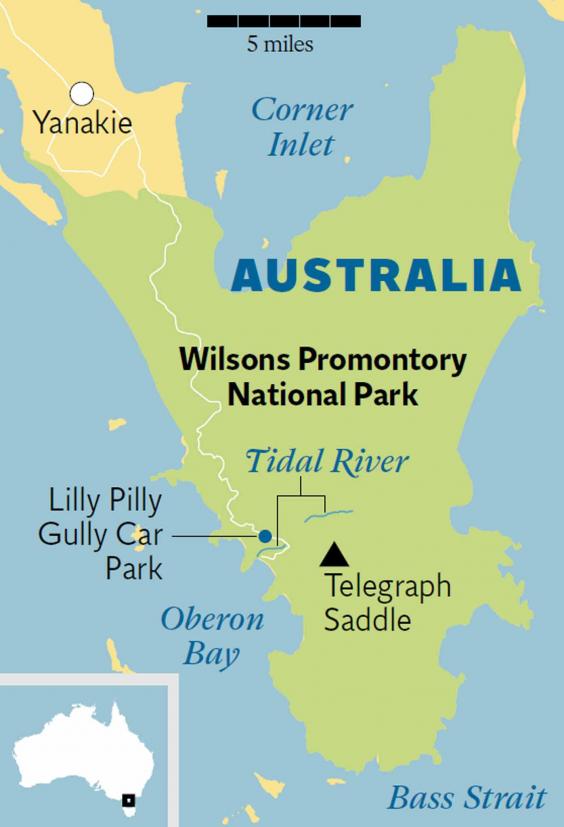 After staying at the Tidal River campsite in one of four pre-pitched "wilderness retreats" – upmarket tents with a queen-sized bed and timber decking – I moved on to the almost deserted Oberon Bay camp ground, where at sunset the sky above the high, green bluffs turned lilac and orange. There were low, silent islands offshore; Melbourne's trams and baristas felt very distant indeed.
Before returning to the city, I walked out to Lilly Pilly Gully rainforest glade. The route meandered along a previously wildfire-scorched hillside that was now reborn as sweet, butterfly-accented forest. Crimson rosellas arrowed through the treetops in flashes of red.
I stopped at a bench at the side of the path. Its plaque told me it had been donated by a campers' association six months after the 2009 fire. When it was placed here the bench would have offered an unobstructed lookout over the coast below, granting any resting hikers a deep, soul-filling panorama. Five years on, however, the vegetation had returned in force. The view now stretched for all of four metres, looking out on to nothing but thick, head-high shrubs.
Getting there
Ben Lerwill flew with Etihad (0845 608 1225; etihad.com), which flies from Heathrow and Manchester to Abu Dhabi with a daily onward connection to Melbourne.
Visiting there
Wilsons Promontory National Park (parkweb.vic.gov.au). Accommodation with Wilderness Retreats costs from $302.50 (£157) for two people. Camping on a non-powered site is from $53.30 (£28) for up to eight people.
More information
Reuse content