The text from Pascal read: "Hi Greg, are u close?" I was an hour late, and very close indeed. In fact, when I received Pascal's text I was standing on the doorstep of his Belleville apartment block with my girlfriend, Vicky, tapping haplessly at the intercom system.
This scenario – picking up keys at a stranger's apartment, staying there for a few nights and then reviewing it for other travellers – isn't exactly novel any more. Airbnb has been around for seven years and now lists one and a half million properties worldwide, from caves to castles. For many it has offered a first taste of the sharing economy.
But people have started sharing more than just their homes. Savvy travellers use currency-exchange platforms such as WeSwap to cut out the fees of the middleman. Lift-sharing websites such as Bla-BlaCar have made long-distance road trips affordable and, often, fun. Then there are the mammoth digital databases – from Wikipedia to TripAdvisor – which can offer valuable background information at the planning stages. Part of the beauty of open-source information is that absolutely any-body can participate. Depending on your mindset, the element of risk is either part of the appeal or a reason to choose the security of bonded travel companies.
For those who embrace the sharing spirit, it's now possible to book an experience when on holiday with a living, breathing local at the click of a button – whether it be a talented cook or an amateur tour guide. Having been sucked in by Paris's touristy swell one too many times, I hopped on a Eurostar train on a mission to eat, drink and sleep like a Parisian for the weekend. My sources? They'd come from the crowd.
I fell at the first hurdle. Pascal's Airbnb apartment isn't how most Parisians live; it's how the most sophisticated Parisians live. His one-bedroom penthouse was well lived-in, lined with groaning bookshelves and smart exposed wooden floorboards underfoot. But this was all secondary to what was outside. The balcony offered what must be one of the most complete panoramas of Paris, anywhere. As I turned my head, Notre Dame, the Eiffel Tower and the Sacré-Coeur all glowed gold in the evening half-light, with the orchestra of the city rumbling below.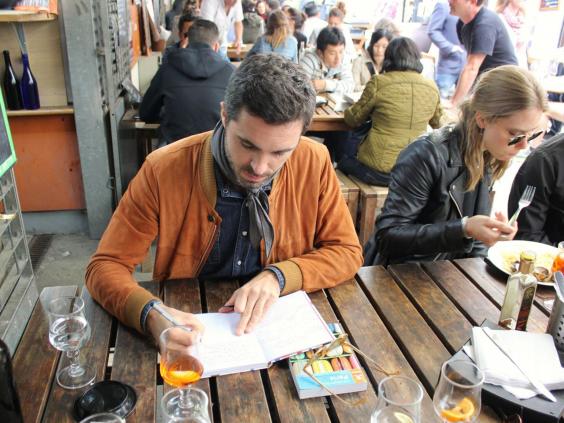 But there was little time to indulge in our new bourgeois pied-à-terre. I had booked on to a tour using Vayable.com, which lets travellers "discover and book unique experiences offered by local insiders". The tours range from The Louvre in an Hour to the strangely tempting Cheese Armageddon. I opted for a cycling tour, which was described as "unconventional" in the write-up. The problem was there were no reviews to explain how so. "Sorry, I don't have many other anecdotes about Paris," Jonathan shrugged, smiling with apologetic eyes, after telling us the one anecdote of the tour – about a police drugs raid he witnessed as a boy near Canal Saint-Martin. Expectations set, we pedalled on.
For the next three hours, we chased wild geese around the City of Light. My blood pressure rose as we cycled through red lights on busy boulevards, then lowered again as we regularly redocked our Vélib' bicycles and waited two minutes in order that they remained free to use. For the tour's slapstick finale I found myself gripping on to Jonathan's shoulders while he gave me a backie (my bike had broken and there were no replacements), Vicky cycling abreast, as we rushed back to the 10th arrondissement for our next meeting. If nothing else, Jonathan offered a unique experience, and that's what we paid for.
"So, what would you guys like to do today?" Mathieu's aura of calm and suave appearance – clad in a cravat and fitted orange jacket – was like a smooth glass of Merlot after the morning's glug of absinthe. I'd contacted him through MyPlusOne.net, a website that allows city-breakers to meet up with locals and hang out for a few hours. My request was simple: "Whatever you would normally do on a Saturday afternoon."
Within five minutes, we were in Le Comptoir Général, the kind of place that you'd struggle to know about even if you lived in Paris. The scrappy, nondescript entrance gave way to a rabbit-hole of a space – part museum of African relics, part flea market, part cocktail bar – which we explored alongside young parents and chai latte-sipping hipsters. In the evening, DJs and partygoers would descend, but for now it was an oasis of cool, antique-enhanced calm.
As we wandered into the Marais district, Mathieu felt more like a friend-of-a-friend than a botched tour guide. MyPlusOne interviews its locals, and it pays off. He led us into one of his favourite spots for street food, the Marché des Enfants Rouges. This is the oldest covered market in Paris but, again, easy to overlook with its small iron-gated entrance. We followed our noses around the smoky stalls but had to resist the temptation to eat here, for in a couple of hours' time we had a dinner party to attend.
I was first lured into booking Nicky's supper club by the glowing reviews she's received on VoulezVousDiner.com; the offer of a home-cooked boeuf bourguignon sealed the deal. On arrival we were greeted by a brilliantly diverse mix of international guests: a retired Lebanese professor; a Russian student; a witty French architect, with his Serbian wife and their child. Then there was Taiwanese Nicky, who kept us laughing and topped up with champagne, and her boyfriend-cum-chef-for-the-evening, Jean-Christophe, who sauntered in and out of the kitchen with his oven mitts on.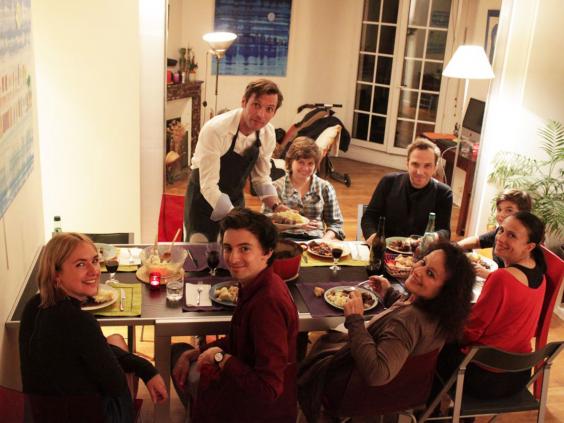 Over three hours and three courses, the conversation wandered from Lebanese human rights to French grammar, via national flags and – my short-lived contribution – football. After tiramisu and coffee, numbers dwindled until there were just a few of us sitting in the lounge drinking whisky. When we decided to call it a night, Vicky and I kissed the cheeks of our new French friends and stumbled out into the lamp-lit Montmartre street, lifeless and chilly at this unspoken hour. With Pascal's apartment keys in my pocket, I felt something like a Parisian.