Piranha fishing isn't like regular fishing. There's no sophisticated equipment (just a short rod made from bamboo) or any wriggly maggots to contend with (a chunk of filet mignon will do just fine). Then there's the technique to master. Pretty simple, really. 
"The trick is to keep the line perfectly still and pull it in as quick as a flash," said naturalist guide Daniel. With that in mind, I stood by the side of our small boat in the middle of the Peruvian Amazon and simply waited. The minutes ticked by but nothing. Then, in an instant, there was a heavy tug on my line that almost yanked it out of my hand. I hauled the rod backwards and a sharp-toothed, metallic bodied and red-bellied fish came flying out, landing on the floor of the boat with a slap and to squeals from my fellow fishermen and women. 
Julio stepped forward to retrieve it and gave us a closer look at the Amazon's most feared resident before returning the man-eating predator to the water.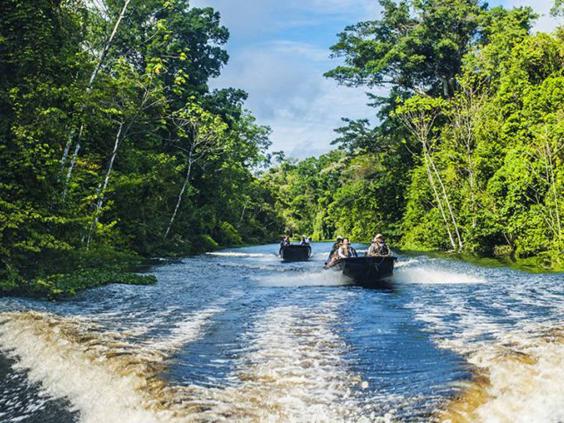 My companions and I weren't on a specialist anglers' getaway, but a unique journey through the world's most revered rainforest. Despite common perception, a trip to the Amazon needn't mean sleeping in hammocks, cooking beans on a campfire and endlessly swatting mosquitoes. Seeking an experience high in both adventure and luxury I boarded the Aria, a river expedition vessel belonging to Aqua Expeditions. It is more polished than most hotels: its 16 modern and spacious suites have recently been enhanced by Peruvian architect Jordi Puig. There's an onboard masseuse and a fine dining menu created by Pedro Schiaffino, one of Peru's rising culinary stars – all Amazonian snails and snakefruit pie. 
What else might you need in the depths of the Amazon? Perhaps an on-deck hot tub – the perfect place to sip a pisco sour as you watch pink river dolphins swim past. But while all these five-star frills are welcome, they're not what bring people all the way to the lungs of the world. It's the flora and fauna, the impenetrable wilderness and indigenous tribes that have made the Amazon so captivating to outsiders. 
The four-night cruise took us through the Pacaya Samira National Reserve, a protected patch of wilderness that's the size of Wales. It is home to 527 species of birds, 102 mammals and 94 riverside floodplain communities. 
We set off from a dock close to Iquitos, the world's largest isolated city (it is unconnected by road), a two-hour flight north-east of the capital, Lima. On our first morning we set off on a small motorised boat and thundered along the Ucayali, a waterway whose name means "canoe breaker" in the local tribal language. I kept close watch for floating logs and submerged rocks but was soon distracted by the show unfolding before us. The weird and wonderful wildlife soon presented itself: anteaters and anacondas; swooping macaws, once heavily hunted by tribes for their blue and yellow feathers and, down at ground level, caimans and giant jet-black dragonflies with pulsating tomato-red tails that hovered over huge waterlilies like helicopters.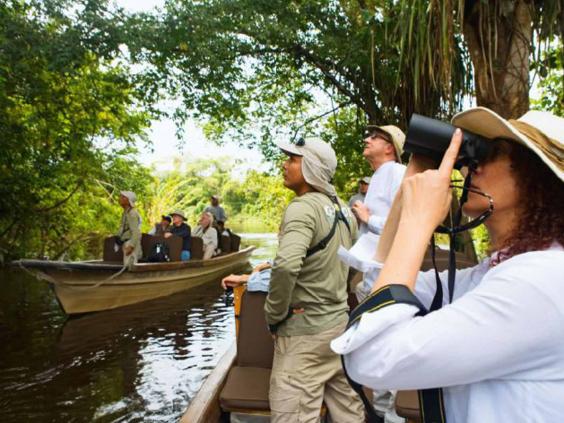 Venturing down channels that narrowed with every turn, a three-toed sloth – dangling from a branch with its long gangly arms – kept a close eye. "The Amazon is considered a young river, especially compared with the Nile or the Mississippi," said Daniel. "But it has a charm unlike any other. You can put your hands on a tree and feel its spirit. The Amazon cannot be explained."
Daniel grew up in this ecological playground but left aged seven when his father got a job in Iquitos. "We sailed there with eight in a raft, eating nothing but bananas. It was hard adjusting to life in a city. My dad would shout at me for catching the bus without wearing shoes."
Waiting for us on a muddy patch of the embankment was Señor Lauro, one of the reserve's guides, who gives up his time to lead tourists on jungle walks in exchange for a fishing permit. He led the way deep into the forest, hacking his way through long grass and twisted vines that dangled from canopies several hundred feet above. We trod carefully, mindful of the trees studded with sharp spikes and the armies of fire ants that scurried across the forest floor on urgent insect business. "Fire ants mean rain is coming," Señor Lauro explained. 
In a small clearing, he reached for a vine that grazed the ground, about as thick as a salami. He gave it a hard pull and paused for several moments before deeming it safe. We were beckoned forward, and one by one, we swung through the jungle like Tarzan.
On our journey back to Aria, we passed the seen-better-days Valentino commuter ferry which sails for seven days from Pucallpa to Iquitos for the princely sum of $20 (£14). Hundreds of hammocks hung from every available space.
The rest of the Ucayali, which together with the Maranon River flows into the Amazon River, was largely quiet, aside from the odd fishing boat skippered by smiling locals proudly showing off their buckets of catfish. Fishing is a way of life for the 40,000 people who continue to call the Peruvian Amazon home. Though the arrival of Europeans in the 16th century threatened the centuries-old traditions, dozens of tiny settlements remain along the banks of the river.
Life has changed somewhat but its simplicity remains. A game of football, played out with vigour on a dusty patch of grass, was in the final minutes when we arrived at the off-grid village of Huaysi (population 80). On the other side of the pitch was a convenience store: a green-painted shack raised on stilts and reached via a wobbly plank of wood over a deep ditch. The owner, Raphael, was hard at work stocking the two shelves with cans of evaporated milk and neon nail varnish. "It's a hard life here," he said, "we are washed out every year by floods and have to rebuild, but I'm proud that my home is somewhere people dream about visiting."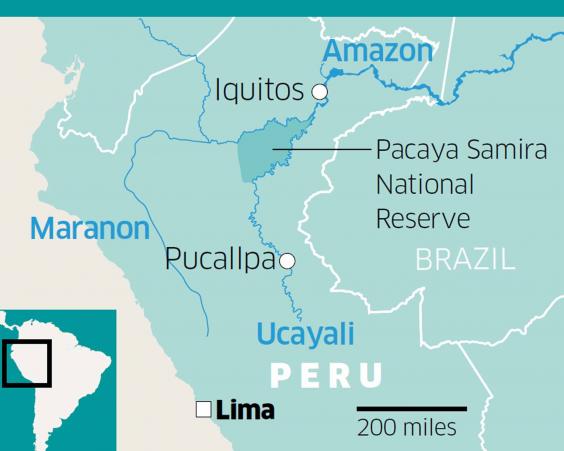 Getting there
There are no direct flights from the UK to Iquitos. KLM (020 7660 0293; klm.com) flies from Heathrow to Lima via Amsterdam from £479 return. Onward connections with Peruvian Airlines (00 511 716 6000; peruvian.pe) start at £102 return.
Cruising there
Journey Latin America (020 8600 188; journeylatinamerica.co.uk) offers a seven-night trip to Peru, including three nights' full-board on the Aria Amazon (aquaexpeditions.com) from £3,441pp. The price includes all flights, excursions, transfers, accommodation and some meals. 
More information