Sapelo Island loomed out of the early-morning mist like an impressionist painting coming to life. The foggy ephemera slowly crystalised until another of Georgia's barrier islands lay enticingly before us.
This was the Deep South, but not as most people see it. The world of Margaret Mitchell and Scarlett O'Hara was 250 miles away and my boutique bateau Independence (which carries 104 passengers) was providing an alternative view of Georgia and South Carolina, offering a maritime perspective on an extensive coast of islands, inlets, estuaries and marshes.
The Deep South's vast alluvial plain covers 800sq miles – the size of Leicestershire – and is home to colonial cities, Civil War history, and poignant echoes of the slave trade, as well as contemporary elements such as the resort-town Hilton Head Island and the tourist-laden waterfront of Savannah.
Yet, while Savannah and fellow colonial outpost Charleston were the headline attractions of my meandering, seven-day sojourn along this 220-mile stretch of the 3,000 mile Intracoastal Waterway (the invention of a certain George Washington, a vast navigable route constructed to protect ships from the hazards of the high seas), it was the small-scale harbours of Sapelo, Brunswick and Beaufort that provided unexpected charm and historical eye-openers.
Here on Sapelo Island, the echoes of slavery are given modern resonance in the Gullah community of Hog Hammock, a living remnant of the Port Royal Experiment, which gave thousands of freed slaves along this coastline the chance to own their own land in 1862.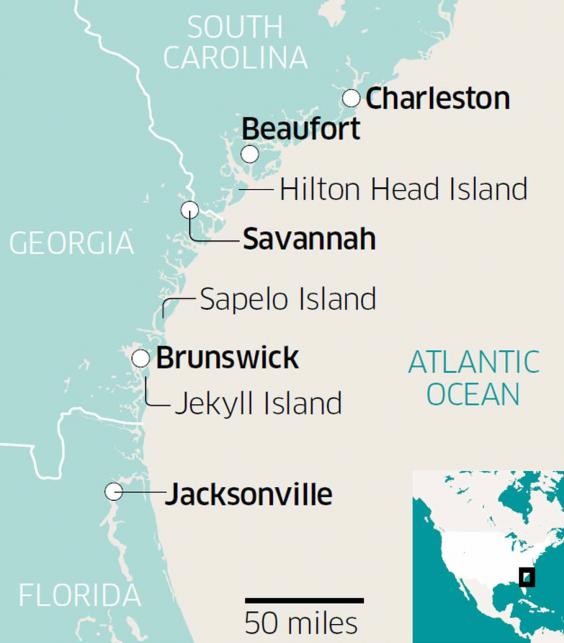 The barrier islands were among the first Union successes of the Civil War and some 16,000 African-descended families took the opportunity to buy and work their own farms, even after the "Experiment" was rescinded, since many of the original plantation owners to whom the land was officially returned never came back.
Today, the Gullah people – so called from the verbal corruption of their original homeland, Angola – still live in places such as Hog Hammock and maintain traditions which include a creole language, crafts such as basket-weaving, a heavily ritualised belief system (Low Country Voodoo) and a specific cuisine. We enjoyed fabulous steamed oysters straight off a makeshift outdoor grill.
The region's wealth of cultural detail was imparted by a series of knowledgeable local guides waiting at each stop for our sea-going group of 90 inquisitive travellers. In Beaufort, South Carolina – established in 1711 – Evelene steered us through the intricacies of Gullah life, including a stop at a local Praise House for a "shout", or religious ritual, involving much singing and, yes, praising.
Therein lay the intrigue of this cruise. While bigger cities impressed with their wealth of antebellum mansions, colonial orderliness, and preserved heritage, the likes of Sapelo captivated with their human appeal and sense of history.
Back on board the Independence, resident lecturer Sandy interpreted the landscape we were passing through – the islands, the great sweetgrass marshes, ancient southern live oaks, pine trees, Spanish moss, and all manner of birdlife. On Cumberland Island, wild horses wandered the shore; on Hilton Head we saw deer and alligators; and, almost everywhere we cruised, dolphins lolled in our wake.
In the dining salon, fresh seafood enhanced our surroundings, loaded daily from local boats. Just in case three meals weren't enough, snacks and drinks were permanently on hand in the Chesapeake Lounge, while the low-key evening entertainment was accompanied by ice cream sundaes, root beer floats and popcorn.
The daily complimentary Cocktail Hour offered a chance to chat with my fellow cruisers, a convivial and well-travelled bunch. They were mostly septuagenarians who were spry enough for the optional three-hour walking tour of Savannah one afternoon when we must have inspected all of the city's 22 squares, laid out by General James Oglethorpe in 1733 and still a monument to period style almost 300 years later.
Each day presented a new and enchanting reference point, notably the early 20th-century millionaires' haven of Jekyll Island, where the likes of the Vanderbilts and Rockefellers had "cottage" retreats the size of small hotels. Hilton Head is its modern equivalent, with marinas full of elegant yachts, plus immaculate golf courses and enough tennis courts to keep Andy Murray busy for a year; while Beaufort, the "Newport, Rhode Island, of the South", is replete with eye-catching mansions as well as the story of intrepid slave Robert Smalls, who commandeered a Confederate troopship, escaped to the North with his family, convinced President Abraham Lincoln of the value of African-American troops, and, incredibly, returned after the war to buy his former master's house.
The journey was full of twists and turns in the historical narrative that made every encounter one of unforeseen delights. It culminated in the 17th-century jewel of Charleston, site of the first battle of the Civil War. It is remarkably well preserved – General William T Sherman reputedly had a soft spot for the Confederate city and turned aside his devastating "March to the Sea" before reaching its gates. Even with an overnight stop, a day was not enough to sample this bastion of the Deep South and I left feeling I had barely scratched the surface of Charleston, still redolent with British, French, African, and Southern influences.
A city tour included a stop at the Georgian-style Heyward-Washington House, where President George Washington was a guest in 1791, and the 400m long City Market, another 1790s edifice that now offers a wide range of 21st-century accoutrements, plus Gullah arts and crafts.
Still, it was a fitting finale, a resounding exclamation mark on seven days of evocative discovery. Georgia's sprinkling of low-lying atolls are known as the Golden Isles and exploring them on the Independence, was an experience to treasure.
CRUISING THERE
American Cruise Lines (0808 101 2713; americancruiselines.com) offers the week-long Historic South and Golden Isles cruise between Jacksonville in Florida, and Charleston in South Carolina. Prices start at $3,985 (£2,657) full board with activities. Flights and transfers are extra, as are gratuities.