Travel essentials
Why go now?
Milan may be called the office of Italy thanks to its status as the country's financial hub, but it's also the style capital. Today, The Glamour of Italian Fashion 1945-2014 opens at the V&A in London (020 7420 9736; vam.ac.uk; £12), chronicling Italy's contribution to fashion since the end of the Second World War and how Milan's fashion press, advertising industry and clothing factories put it at the heart of the rag trade.
From Tuesday to 13 April, Milan will also host the Salone Internazionale del Mobile (cosmit.it) at the Milan Fairground (1), one of the world's top furniture design fairs (open to the public 12/13 April, entry for two is €44).
The Independent Travel Offers: Our favourite Milan holiday
Touch down
Most routes from Britain serve Milan's Malpensa airport, awkwardly located 30 miles north-west of the city centre. British Airways (0844 493 0787; ba.com), BMI Regional (0844 417 2600; bmiregional.com), easyJet (0843 104 5000; easyJet.com), Flybe (0871 700 2000; flybe.com) and Ryanair (0871 246 0000; ryanair.com) fly from a range of airports. The Malpensa Express (www.malpensaexpress.it) connects to Cadorna station (2) every half-hour, taking 52 minutes for a fare of €11. There's also a train serving Milano Centrale (3) every hour that costs €10 and takes about an hour. A taxi costs around €90.
Linate airport is just six miles east of the centre, but has flights only from London: Alitalia (0871 424 1424; alitalia.com) from Heathrow and London City, BA from Heathrow and easyJet from Gatwick.
Bus 73 (atm.it) runs every 10 minutes from 5.30am-12.30am to Piazza San Babila (4) for €1.50 one way. Taxis cost about €35.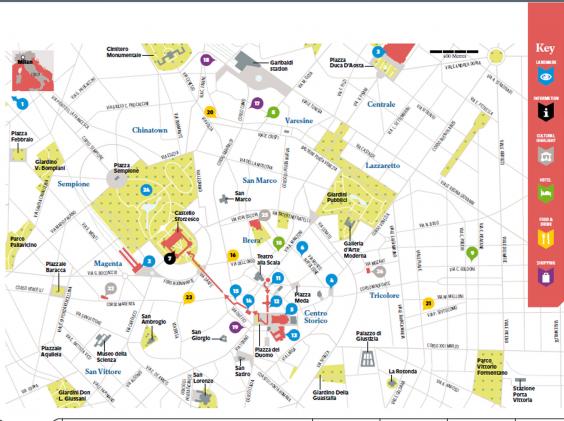 Get your bearings
Milan's focal point is its imposing Duomo (5), a marble, Neo-Gothic confection with 135 spires, more than 3,000 statues and capped by a gold-plated statue of La Madonnina. North-east is the city's famed shopping area, around the via Montenapoleone (6), then the picturesque Brera district with its cafés, boutiques and cobbled streets and, beyond that, the main Milano Centrale station (3) – an enormous structure in Assyrian-Milanese style finished in 1931.
To the west, is the monumental Castello Sforzesco, also the location for the main Tourist Office (7) at Piazza Castello 1 (00 39 02 774 04343; www.visitamilano.it). Open daily 9am-6pm, closing at 5pm on Sunday.
To the south, is the edgier Porta Ticinese and the up-and-coming Navigli district, a network of canals perfected by da Vinci.
Milan is well served by public transport, including a metro line (atm.it) for longer hops. An €8.25 card gives 48 hours' unlimited travel on the transport network.
Check in
In Milan, the hotels also come with designer labels. The Maison Moschino (8) at viale Monte Grappa 12 (00 39 02 29 00 98 58; maisonmoschino.com) has décor as whimsical as its ready-to-wear label. Doubles start at €166, room only.
The small but stylish TownHouse 31 (9) at via Carlo Goldoni 31 (00 39 02 70156; townhouse.it) has doubles from €89, room only.
The Grand Hotel et de Milan (10), via Mazoni 29 (00 39 02 723141; grandhoteletdemilan.it) is one of the smartest places to stay. It has been owned by the Bertazzoni family for three generations, and Milan's chicest shops are a mere Sergio Rossi-heeled totter away. Doubles from €400, room only.
Day one
Take a view
The Duomo (5) at Piazza del Duomo (00 39 02 720 22 656; duomomilano.it) still offers one of the best panoramas of the city. If the weather is exceptionally clear, you will even get glimpses of the snow-dusted Alps in the distance. You can climb the 166 steps for €7 or take the lift for €12.
Take a hike
Start at the Piazza della Scala (11), an elegant square surrounded by grand buildings such as the Gallerie d'Italia. Cross it and pass under the arches of one of Europe's most impressive shopping arcades, the Galleria Vittorio Emanuele II (12), designed by Mengnoni in 1877.
From here, you will emerge onto the Piazza del Duomo, anchored by the Duomo (5) and the majestic Palazzo Reale (13). Bear right along the Loggia dei Mercanti (14), then continue along the via dei Mercanti to Piazza Cordusio (15). Continue along the shop-lined via Dante, where the imposing Castello Sforzesco (7) (00 39 02 884 63700; www.milanocastello.it) looms straight ahead. Built in the 15th century, it is now a cultural complex with several noteworthy museums including the Museum of Decorative Arts.
Lunch on the run
Pescheria da Claudio (16) at via Cusani 1 (00 39 02 80 56 857; pescheriadaclaudio.it), is a fish shop-cum-café on the ground floor with a more formal restaurant above. Stay downstairs and order your food from the till, then wait for it to be assembled. Add a glass of prosecco and eat standing at one of the high tables for €15.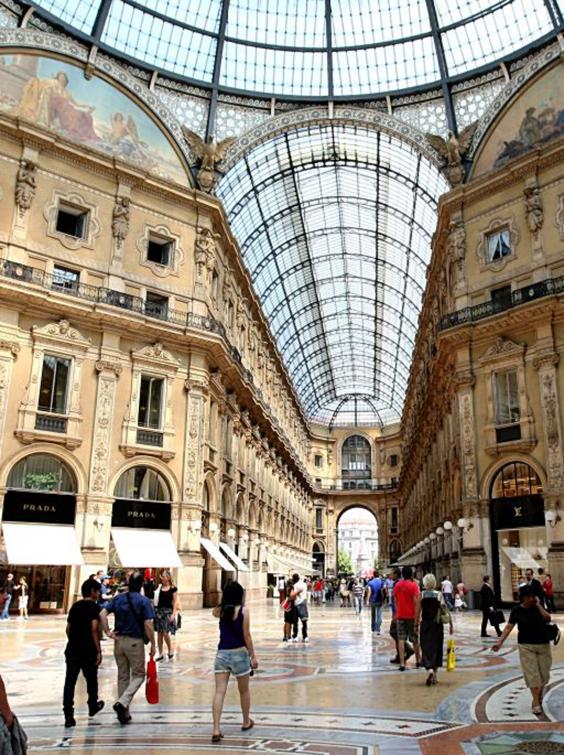 Window shopping
Gucci, Prada, Dolce & Gabbana et al are synonymous with la moda Italiana. You'll find them all jostling for attention in the Quadrilatero d'Oro – a rectangle of streets centred on the via Montenapoleone (6).
Carla Sozzani's fashion store-cum-café-cum gallery, 10 Corso Como (17) (00 39 02 654 831; 10corsocomo.com) has become a destination in its own right: fashion insiders make a beeline for its outlet store (18) nearby at via Tazzoli 3 (00 39 02 290 15130).
Don't miss Peck (19) at via Spadari 9 (00 39 02 80 23 161; www.peck.it), one of the best food shops in Italy.
An aperitif
The early evening tradition of aperitivo is sacred in Milan. Right in the middle of via Montenapoleone (6) at No 8 is Cova (00 39 02 760 005 78; pasticceriacova.it), a Milanese institution. Stand at the bar with an Aperol spritz while barmen ply you with tasty morsels to go with it (€7).
Dining with the locals
One of Milan's oldest restaurants, Antica Trattoria della Pesa (20) at viale Pasubio 10 (00 39 02 65 55 741; bit.ly/AnTratt), is a bastion of traditional Milanese fare (and a favourite of Giorgio Armani). It's pleasingly old school, with dangling enamel lights, terrazzo floors and wood-panelled walls. Classics include cotoletta alla Milanese (veal cutlet) and ossobuco with saffron risotto (around €40, without wine). Closed Sundays.
The unassuming Da Giacomo (21) at via Pasquale Sottocorno 6 (00 39 02 760 233 13; giacomomilano.com) is popular with the design crowd, who come for the atmosphere and fish-focused menu (about €40).
Day two
Sunday morning: go to church
Book tickets well in advance to spend 15 minutes marvelling at one of Italy's great treasures, The Last Supper by Leonardo da Vinci, at the monastery of Santa Maria delle Grazie (22) in the Piazza di Santa Maria delle Grazie (00 39 2 928 00 360; www.cenacolovinciano.net; 8.15am-7pm except Monday; €8).
Out to brunch
One of the city's most historic pastry shops is Pasticceria Marchesi (23) at via Santa Maria alla Porta 11a (00 39 02 876 730; pasticceriamarchesi.it; 8.30am-1pm on Sundays). Stand at the bar with the regulars and order one of the divine croissants or brioches they have made since 1824 (about €3).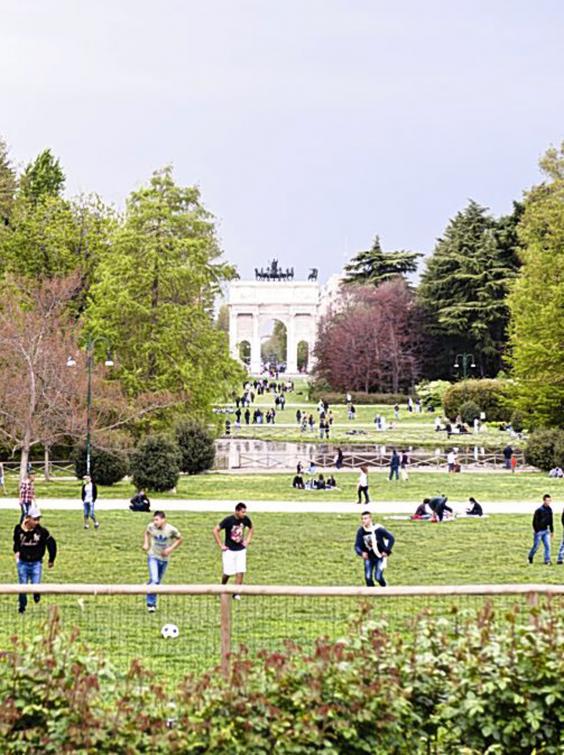 A walk in the park
Parco Sempione (24) is a verdant expanse dotted with landmarks such as the Arco della Pace and the Triennale (triennale.it) .
Take a ride
A network of trams criss-crosses the city and several traditional, rattling cars from the 1920s are still a common sight. Single tickets cost €1.50 for 90 minutes. Milan's bike sharing scheme bikeMi (www.bikemi.com) has stations all over the city; €2.50 to register for the day, first 30 minutes free.
Cultural afternoon
The Pinacoteca di Brera (25) at via Brera 28 (00 39 02 722 631; www.brera.benicult urali.it) houses an important collection of works by Bellini, Carpaccio, Veronese and Tintoretto in the Palazzo Brera (open 8.30am-7.15pm daily except Monday, €6).
The Case Museo di Milano (casemuseomilano.it) offers a glimpse of some of Milan's grandest private palazzi, such as the Villa Necchi Campiglio (26) at via Mozart 14 (00 39 02 763 40121), a fabulous 1930s villa that has survived intact. Guided tours Wednesday-Sunday, 10am to 6pm; €9.
Icing on the cake
To the south are the Navigli, a network of canals that's home to bohemian cafés, galleries and an antiques market on the last Sunday of every month.
Click here to view Italian tours and Holidays, with Independent Holidays.
Reuse content