Travel essentials
Why go now?
The Czech capital comes alive in summer, its 18th-century Baroque architecture looking especially grand on sunny days. There are also exhibitions galore in its many museums. The Galerie Rudolfinum (1) at Alsovo Nabrezi 12, is currently (until 6 July) focusing on German photographer Barbara Probst, who specialises in images of a single scene, shot from diverse angles. The gallery (00 420 227 059 205; galerierudolfinum.cz) is open daily, 10am-6pm, except Thursday (to 8pm) and Monday (closed), entry 130 koruna (£4).
The Independent Travel Offers: Our favourite Prague city break
Touch down
Vaclav Havel airport (00420 220 111 888; prg.aero) perches six miles to the west of the centre. Several airlines serve it from a range of UK airports: British Airways (0844 493 0758; ba.com) from Heathrow; easyJet (0843 104 5000; easyjet.com) from Edinburgh, Bristol, Manchester, Stansted and Gatwick; Jet2 (0800 408 1350; jet2.com) from Leeds/Bradford, Edinburgh, Manchester, Newcastle and East Midlands; Ryanair (0871 246 0000; ryanair.com) from Stansted; Wizz Air (0906 959 0002; wizzair.com) from Luton.
A shuttle bus (00 420 220 116 758; cedaz.cz) runs into town – daily, every half an hour, 7.35am-7.05pm – taking 30 minutes to arrive at V Celnici street (2), just off Republiky namesti (square) (3). Taxis take 25 minutes to reach the centre, for around K750 (£22). Transfers may be included if you book a city-break package. I went with Parnassus Travel (020 3417 9839; parnassustravel.com), which has two-night breaks at the Four Seasons (4) from £352 per person (two sharing) including flights, transfers and breakfast.
Click here to see a bigger image of the map
Get your bearings
Prague is split in two by the River Vltava, which flows south-to-north through its heart – cleaving the historic Hradcany (castle district) and the elegant Mala Strana district on the west bank from the Stare Mesto (Old Town) and Nove Mesto (New Town) on the east. Trams, buses and the metro come under one banner (00 420 296 191 817; dpp.cz). Single fares start at K24 (72p). A one-day pass is K110 (£3.30), a three-day pass K310 (£9.25). The tourist office is in the Old Town Hall (5) at Staromestske namesti 1 (00420 221 714 714; prague.eu), open daily 9am-7pm. It sells the Prague Card, which covers more than 50 sites – plus transport: K1280 (£38) for two days.
Check in
Hotel Jungmann (6), a refurbished boutique retreat at Jungmannovo namesti 2 in Nove Mesto (00 420 224 219 501; antikhotels.com), has doubles from €79, including breakfast.
The four-star Hotel Archibald at The Charles Bridge (7) sits genteelly by the river at Na Kampe 15, with doubles from €103, room only (00 420 257 531 430; archibald.cz).
The Four Seasons (4) is the city's hotel dame, a sumptuous reminder of 1883 (00 420 221 427 000; fourseasons.com) at Veleslavinova 2a. Doubles start from €380, room only.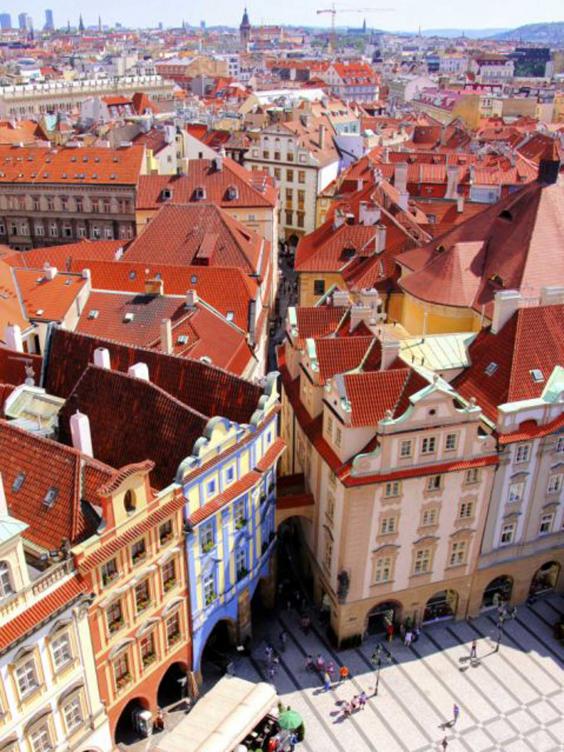 Day One
Take a hike
Start at the west end of Karluv Most (Charles Bridge) (8). The most iconic of the Vltava crossings is always crowded. Its 30 saintly statues are copies of the originals – but it is still essentially the structure that has stood here since 1357.
The Charles in question, Charles IV, the 14th-century king of Bohemia who planned the city's layout, waits as another statue at the east end of the bridge, in Krizovnicke namesti (9). Give him a wave, then plunge into the Old Town, past the 16th-century church of St Salvator (10) and on via the pedestrianised strip of Karlova. This draws to a close in Staromestske namesti (Old Town Square) (11), where the astrological clock on the Old Town Hall (5) gives times of sunset, sunrise and the hour at hand.
Window shopping
Karlova is awash with tourist traps, but halt at No 26, where Manufaktura (12) sells Czech handicrafts, from crockery to stained glass (00 420 230 234 376; manufaktura.cz). Locally made jewellery is the star of AleAle (13), tucked into the church courtyard of St Mary Below the Chain at Lazenska 2 (00 420 483 390 865; aleale.cz). The shopping motherlode, though, is Vaclavske namesti (Wenceslas Square) (14) in Nove Mesto, where antique arcades linger amid brand names. Palac Knih (15) at 41 (00 420 296 110370; neoluxor.cz), is a bibliophile's dream. Palac Rokoko (16) at No 38, has lovely Art Deco stylings (palacrokoko.cz).
Lunch on the run
The latter arcade has Cafe Lucerna (00 420 296 236223; www.lucerna.cz), which combines Twenties décor with paninis (try the edam with salsa) for K65 (£2).
Cultural afternoon
The main building of the National Muzeum on Vaclavske namesti is closed until 2015, but its New Building (17), immediately adjacent at Vinohradska 1, is open daily, 10am-6pm. The former stock exchange (00 420 224 497 111; nm.cz; K110/£3.30) currently has an exhibition (to 15 July), that gauges how currency effects art and morals.
In Mala Strana, the Czech Museum of Music (18) at Karmelitska 2 (00 420 257 257 777; nm.cz; daily except Tuesday, 10am-6pm; K100/£3) hosts concerts and a piano that was played by Mozart in 1787 at the 17th-century church of St Maria Magdalena.
Nearby, the Franz Kafka Museum (19) at Cihelna 2b (00 420257 535 373; kafka museum.cz; 10am-6pm; K200/£6), dissects Prague's gloomiest author.
An aperitif
Cafe Neustadt (20) sits in the courtyard of the Novomestska Radnice (New Town Hall) at Vodickova 3 – beers from K30/90p (00 420 731 105 764; facebook.com/cafeneustadt).
Dining with the locals
U Maltezskych Rytiru (21) (00 420 257 212 775; umaltezskychrytiru.cz) deals in Czech stodge – goulash with dumplings for K179 (£5.30) – at Prokopska 10.
In the one-time Jewish ghetto of Josefov, Kolonial (22) at Siroka 6 (00 420 224 818 322; kolonialpub.cz), offers pork schnitzel with potato salad (K175/£5.20) amid unusual window dressings – a clutch of penny farthing bikes.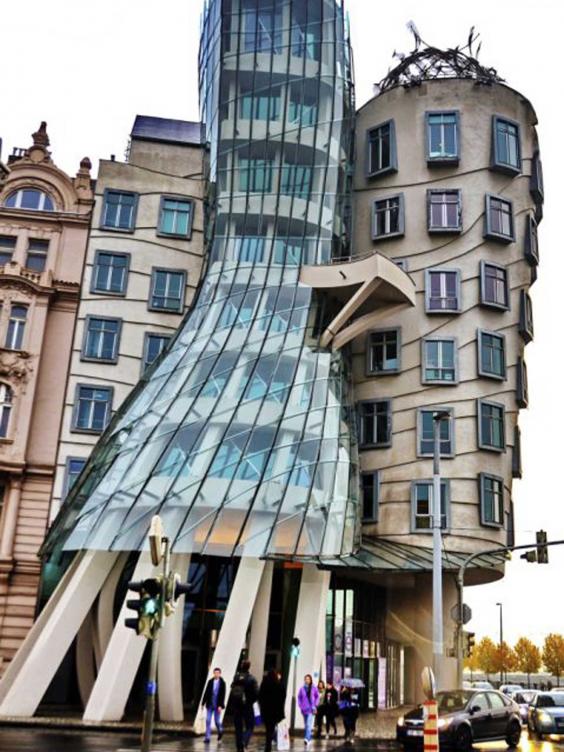 Day Two
Sunday morning: go to church
Prague's cathedral St Vitus (23) (00 420 724 933 441; katedralasvatehovita.cz) is so huge that it dominates Hradcany. The 14th-century Gothic temple is open daily 9am-5pm, except Sunday (noon-5pm, with masses at 8.30am and 10am). Free access is limited to the nave's east end. To visit the whole building, you have to pay. The "Circuit B" ticket costs K250 (£7.40) (00 420 224 372 434; hrad.cz) and also gives entry to the Old Royal Palace (24), the 10th-century St George's Basilica (25) and Golden Lane (26), whose pretty houses once hosted 16th-century alchemists.
Out to brunch
The western slope of the castle hill is adorned by St Wenceslas Vineyard (27) on Stare Zamecke Schody (00 420 257 219 079; svatovaclavskavinice.cz), a leafy enclave that serves a "Richter Burger" with fries for K239 (£7).
Below the hill in Mala Strana, Campanulla (28) is in the garden of a priory that was once run by the Knights of Malta at Velkoprevorkse namesti 4 (00 420 257 217 736; campanulla.cz). A goat-cheese salad is K175 (£5.20).
A walk in the park
Kampa Park (29) is the green heart of Kampa – an islet that juts into the Vltava. Locals come here to talk and sunbathe. Others come for Museum Kampa (30), a gallery at U Sovovych Mlynu 2 (00 420 257 286 147; museumkampa.cz). Daily, 10am-6pm, entry K260 (£7.70).
Take a ride
Departing from a base station (31) at the junction of Ujezd and Lanove Drahy, the Petrin Funicular takes the legwork out of the ascent to Petrin Hill (32). Part of the city transport network (single fares K24/72p), it whirrs to the 327m summit of Prague's urban lung every 10 minutes (daily 9am-11.30pm).
At the top, you can climb the Petrin Tower (33), a mini Eiffel Tower built in 1891. Daily 10am-10pm; K120 (£3.50) (00 42 725 831 633; muzeumprahy.cz).
Icing on the cake
Dash back to St Salvator (10), which stages concerts of the works of Mozart, Haydn and Bach every day except Tuesday, usually at 6pm (00420 603 460 283; czechclassic.com) – from K550 (£16.30).
Or call at Jiraskovo Nabrezi 6 in Nove Mesto, where The Dancing Building (34) is one of Frank Gehry's most striking confections. It resembles two dancers leaning into each other – an idea furthered by its restaurant Ginger & Fred (00 420 221 984 160; ginger-fred-restaurant.cz), where the veal cutlet costs K650 (£19.25).
Click here to view holidays, cruises and tours in Prague, with Independent Holidays.
Reuse content