Finland is often viewed as a winter destination, a land of huskies and reindeer where the Northern Lights flicker endlessly in the snowy darkness. Skiers flock to the resorts of Levi, Pyha, Ruka and Yllas; and those wide-eyed with wonder can meet Father Christmas himself.
But these images belong to a single season and latitude. Freed from winter's grip and bathed in light, Finns celebrate their short summers with gusto the length and breadth of the land. Round about now, inland temperatures often reach 30C. Everyone takes off to a lakeside cabin to swim, fish, walk in the woods, forage for wild food, or steam in the sauna.
Jokamiehenoikeus, the "right to roam", grants freedom to walk, cycle, swim, paddle, camp and ski unhindered in the countryside. These privileges are utterly intoxicating – after rowing on a glassy lake at midnight, hiking all day through a sweet-smelling pine forest without meeting a soul, or drifting down a river in a canoe, stopping to sleep wherever looks softest, a return to civilisation seems unthinkable.
Finland is the EU's most sparsely populated country. With its whispering taiga forests and still, silent lakes, it's a place of secrets, where you might stumble across prehistoric remains or overgrown trenches dating from the First World War along the trail. Bears even roam the dark woods, although spending a night in a bear hide is your best chance of seeing one: try Era Eero (00 358 40 015 9452; eraeero.com; from €180 per person per night), which offers the chance to do so deep in the haunting Karelia region.
Active Finland
Active Finland
1/7 Active Finland

On the west coast, 6km-long Yyteri beach is one of the country's best windsurfing sites

Pekka Luukkola

2/7 Active Finland

The national rail network forms a spider's web across much of Finland

3/7 Active Finland

Finland's flat landscape and quiet roads are a pleasure for cyclists

4/7 Active Finland

The finest of Hanko's historical houses is Hotel Villa Maija

5/7 Active Finland

Trekking in Lapland is best in September after the biting insect season

6/7 Active Finland

Make a splash: kayaking near Helsinki

visitfinland.com

7/7 Active Finland
Much of the wilderness is protected by Finland's 38 national parks. Each has its own character, from the indigo waters and scattered islands of the southern Ekenas Archipelago to the birch forests and bare fells of Lemmenjoki in the far north. The newest, Southern Konnevesi, was created last month and safeguards a craggy lakeland region and ancient aspen forest.
All are managed by Metsahallitus (outdoors.fi), which provides marked trails, campfire areas, wilderness huts and national park visitor centres.
The main hiking season runs from June to September. The north-eastern Kuusamo/Ruka area is especially well set up for hiking, rafting, fishing and nature-watching, as well as winter sports. Contact Tourist Centre Karhuntassu (00 358 40 860 8365; ruka.fi) or Ruka Info (00 358 8 8600 250; ruka.fi) for options.
The majority of Finland consists of forest; the rest, seemingly, is made of water. Messing about in boats is a popular pastime, with around 188,000 lakes to choose from, as well as a wiggling 4,600km coastline. The central Lakeland area, more water than land, is the first choice for such pursuits, although rowing, canoes and kayaks can be hired at any lake or seaside resort.
The country also excels in off-beat celebrations. Make it a summer to remember by dancing for five days straight at the Seinajoki Tango Festival (tangomarkkinat.fi); playing imaginary guitar riffs at the Air Guitar World Championships (airguitarworldchampionships .com) in Oulo; or persuading your partner to participate in the Wife-Carrying World Championships (eukonkanto.fi) in Sonkajarvi.
Guild Travel (020 7388 4158; guildtravel.com) specialises in holidays in the great outdoors. A seven-day Lapland summer package costs from £975 per person, with hiking, canoeing, horse-riding and mushroom-picking as options. Prices include Finnair flights from Heathrow to Rovaniemi via Helsinki.
Where to stay
Finland's accommodation ranges from wilderness huts to luxury hotels but, to celebrate summer like a true Finn, rent a cosy lakeside cottage with its own sauna. See Finland Cottage Rentals (00358 45 895 5088;finlandcottagerentals.com). On Aland, camping is the only option in the Sund district. In neighbouring Saltvik, Kvarnbo Gasthem B&B (00 358 18 44015; kvarnbogasthem.com) at Kvarnbo-Kyrkvagen 48 is based in a beautifully restored 19th-century manor house. Doubles from €92, B&B.
Aino Ackten puistotie, a tiny boutique hotel in Savonlinna, Lossiranta Lodge (00 358 44 511 2323; lossiranta.net) has five rooms with stunning views of lake and castle. Doubles from €110, B&B.
The finest of Hanko's historical houses is Hotel Villa Maija (00 358 50 505 2013; villamaija.fi) at Appelgrenintie 7. The spacious rooms are flooded with seaside light; those facing the water have balconies. Double rooms from €105, B&B.
Cycling for all
Finland's flat landscape and quiet roads are a pleasure for cyclists, with 72 marked national cycle routes and plenty of local networks.
Aland, a sleepy scattering of 6,500 skerries and islands halfway between Sweden and Finland, makes for hazy, lazy summer rides. Hire bicycles from RO-NO Rent (00 358 18 12820; www.rono.ax; prices from €10 per day), based at Mariehamn and Eckero harbours, and strike out for Sund. This leisurely 20km route brings you to medieval Kastelholm castle (00 358 18 432150; kastelholm.ax/en; €6) and the ruins of Bomarsund (bomarsund.ax/en), a formidable 19th-century fortress.
Mountain bikers with a taste for rugged riding can head to Syote National Park (00 358 40 583 1608; syote.fi), back on the mainland, with 80km of rocky, boggy trails and a new race event, Syote MTB (00 358 40 7394 003; syotemtb.fi), held in August.
Rafts, canoes & cruises
The central Lakeland area is prime canoeing territory. Follow one of the routes, or pack a map and compass and create your own. Contact EraGuru (00 358 400 160 989; wildcanoe.com) for advice and equipment hire.
Lappeenranta harbour makes a picturesque departure point for a Saimaa cruise. The M/S Brahe (00 358 5 5410 100; saimaatravel.fi; from €59pp) sails to Savonlinna, home of the internationally renowned opera festival. Ruka, just below the Arctic Circle, offers thrilling white-water. Rafting runs vary from short family trips to a seven-hour adrenalin-fest that hurtles you right up to the Russian border. Contact Ruka Safaris (00 358 8 852 1610; rukasafaris.fi; €45pp) or Safaritalo Ruka (00 358 10 2710 510; tailoredadventures.com; €139pp) for options. Natura Viva (00 358 10 292 4030; kauppa.naturaviva.fi; €65pp) offers guided sea kayaking tours into the Helsinki archipelago.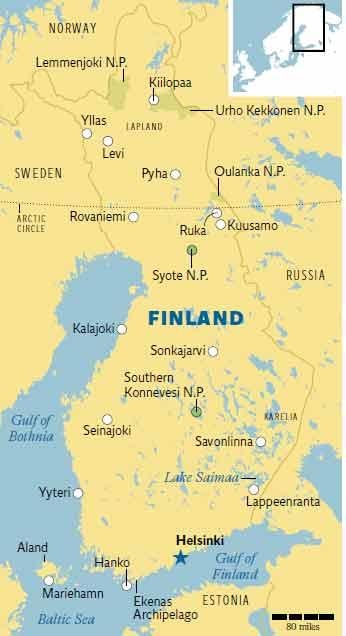 Hikes in national parks
Finland's most popular trail is the 80km Karhunkierros (Bear's Ring), in northeastern Oulanka National Park (00 358 40 732 5615; outdoors.fi). With pine forests and canyons, it makes a fine four- to six-day route even for novices. The 12km circular route, Pieni Karhunkierros (Little Bear's Ring), hits some of the same highlights. Basecamp Oulanka (00 358 400 509 741; basecamp oulanka.fi) arranges canoeing, climbing and Nordic walking.
Trekking in Lapland is best in September after the biting insect season; there are also vivid autumn colours. In Urho Kekkonen National Park, the (unmarked) 80km circular route from Kiilopaa to Luirojarvi is memorable.
Kiehinen visitor centre (00 358 205 64 7200; oulanka.fi) offers information, including a list of approved companies. LuontoLoma Pro Safaris (00 358 16 668 706; luontoloma.fi) has four-hour guided walks in the park for €52pp, and camping gear for hire.
Hit the beach
On the west coast, 6km-long Yyteri beach (yyteri.fi) is one of the country's best windsurfing sites: the Finnish Boardsailing Association (00 358 50 512 13 66; purjelautaliitto.fi/yyteri) rents equipment (€20 per hour) and gives lessons (€35 per hour) between June and August. Golf and beach volleyball are popular, and bird-watching towers poke up from the sandy dunes.
Further north, big new beachside resorts at Kalajoki (00 358 8 469 2500; visitkalajoki.fi) attract families. Kalajoki is also reputed to be the birthplace of Nordic walking. Safaritalo (00 358 45 111 6633; www.hsop.fi) rents out poles (€5 per day) to use on the 44km of trails.
Hanko is idyllic in summer, its leafy parks and ornate 19th-century villas lapped by the soothing sound of the sea. Take to the waves on a kayak or windsurfer at Silversand beach. Surf Club Hanko (00 358 40 5522 822; surfclubhanko .com) rents equipment. Alternatively, dive below to explore centuries-old shipwrecks with Hanko Diving (00 358 40 562 42 41; hankodiving.fi; from €75 for two dives).
Travel essentials
Getting there
Finland's main international airport is Helsinki-Vantaa, 18km north of the centre of the capital and linked by frequent buses. Finnair (0870 241 4411; finnair.com) flies from Heathrow and Manchester; British Airways (0844 493 0787; ba.com) from Heathrow; and Norwegian (0843 3780 888; norwegian.com) flies from Gatwick. Tampere is served by Ryanair (0871 246 0000; ryanair.com) from Stansted.
Getting around
The national rail network, run by Valtion Rautattiet (vr.fi), forms a spider's web across much of Finland. There are also long-distance bus routes, operated by Matkahuolto (matkahuolto.fi), ExpressBus (expressbus.fi) and the slightly cheaper Onnibus (onnibus.fi), which link the main towns and cities.
More information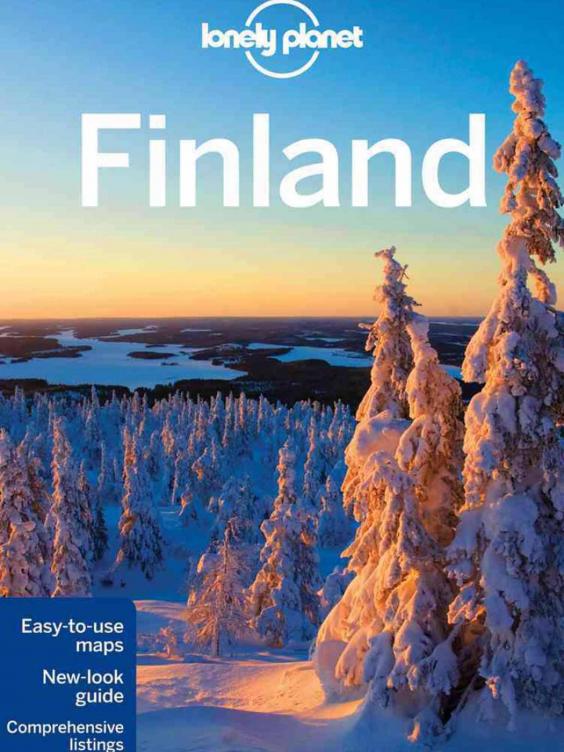 Lonely Planet's guide to Finland (seventh edition) costs £15.99 from shop.lonelyplanet.com
Reuse content