Ever come across the phrase barbecue winter? No, me neither – or at least I hadn't until I heard the Swedish chef Niklas Ekstedt talking on the radio about grilling meat in the snow at -20C and making it sound like the most normal thing in the world. Swedes, you see, have no qualms about the temperature, and they take their outdoor living seriously.
For them, the right to grilla (barbecue) is almost constitutionally enshrined, along with the right to roam – allemansrätten – which sees them strike forth across their vast, largely uninhabited country no matter the weather. All those forests mean firewood on tap; not for them a snatched petrol-station disposable jobbie. Even the coldest days will see them bundle up to make the most of their few hours of daylight; after all, a sandwich doesn't cut it in mid-winter.
Ekstedt, who is from Jämtland, situated about halfway up the country, says the days he spent grilling anything from reindeer to potatoes under "a crisp, clear Scandinavian open sky" were the most memorable of his youth. He has become an evangelist for cooking over open flames. "Fire is magical for us in the winter because of the darkness," he adds, alluringly.
Which is why, on a foggy day in early January, I come to find myself on the edge of a frozen lake in Jämtland's main ski resort of Åre watching Ekstedt squat down in front of a snowy fire pit, examining a piece of steak to see if it's done. The meat, which was pre-seared in a pan, is suspended from some nails on a specially fashioned wooden board, which is balanced next to the flames so the steak can cook gently. We can afford this slow burn because it's merely -11C or so, but Ekstedt remembers much colder days when he was younger. "At -26C you don't really have time to wait for a piece of steak to be done. You need small pieces: we fried thinly sliced meat with onions and cream."
Our steak, which I'm wimpishly grateful is beef, not reindeer as proposed, is the main course for a snowy, lakeside banquet, which began with hay-smoked trout: cooked first, in a cast-iron pan, over the fire, then placed over some smouldering hay. As a teen, Ekstedt, who was born in nearby Järpen but now lives in Stockholm, where he owns two restaurants, would have hopped on his snowmobile to lug everything up to the lake, but we are pulled up by a snow quad, which has extra caterpillar tracks for traction.
He's excited to be back and enjoys playing tour guide. "This little mountain here, I've probably ridden that 10,000 times. That's the church where I got baptised. And that's where I want to buy my house; it's the cutest spot in Åre, and it has its own lift. But first I'm buying a snowmobile."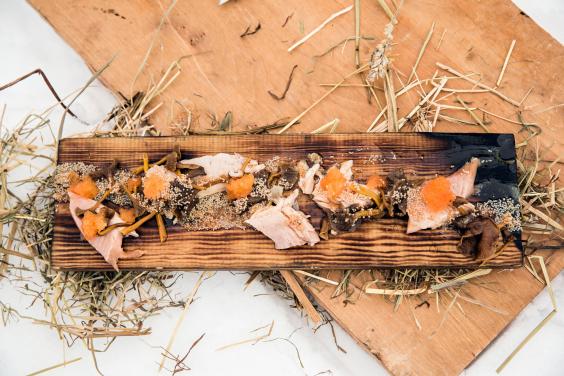 Today, our driver is Rickard Fredriksson, who runs a travel company called Explore Åre; he's already been up to the lake to set up a barbecue made of half an old oil drum. We've just missed the view: I'm assured there's a mountain beyond the trees, but an ethereal mist has descended. The light, which is fleeting so close to the Arctic north, is soft; the snowy firs a perfect contrast against the orange of the fire. The logs, a mix of easy-to-light birch, and pine, are roaring.
Before we can eat, we must fish, in one of Jämtland's 17,000 lakes. This one is barely distinguishable from the snow around it. Winter came late here this year, but the ice is still strong enough to walk on. I grab the ice drill and, holding tight, start winding it round and round. Rickard makes it look easy but it takes some grit to break through to the dark water, which I do with an icy splash.
I let out my line, watching the flashing green light on the maggoty hook disappear through my perfect circle. And there it is! A bite! I wind up my line, tentatively, to find a silvery Arctic char about to breathe its last. (Up here, where people buy an extra freezer to store the local favourite, elk, there are no vegetarians.)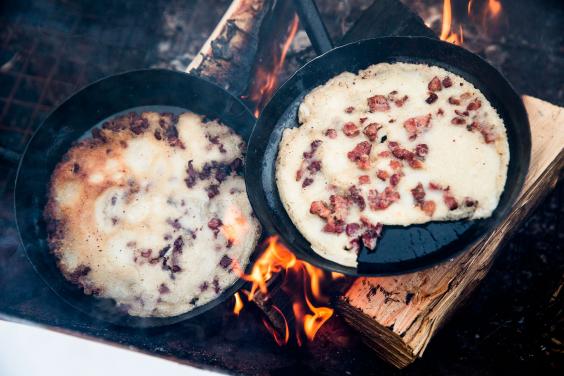 Ekstedt pulls apart a trout he has cooked to serve on a giant crispbread, arranging chunks with roe, some fried to a gentle pink, the rest lightly salted, and some pickled mushrooms, preserved to last the long winter months when little grows. We eat, curled up on a reindeer skin, which is as vital for winter picnics as the logs to cook over. Dressed in multiple layers, most of which were designed locally, from my Lundhags jacket to my Woolpower jumper, I'm perfectly toasty. (As the adage goes, you don't need warm weather, only warm clothes.)
Before pudding, which is a sourdough waffle with booze-steeped cloudberries – so called because they look like baby cumulus clouds – I'm tasked with making a kolbulle, a salty, oily, bacon pancake that Jämtlanders have eaten through the ages. It's taken seriously in these parts: the next day at Ekstedt's old family home, where his parents' friends still live, I pick out the odd word from a heated discussion about exactly how salty the meat should be. My biggest thrill comes from flipping it higher than Niklas himself; all those years practising with pancakes in the kitchen finally paying off. It's eaten, like so many Swedish dishes, with lingonberries. Coffee brewed in a kettle on the fire washes it all down.
Most Swedes would wait for a slightly sunnier day to fish over the ice – the best coming from March through to May, which Jämtlanders view as a fifth season. But it's been a lot of fun and I leave resolving to dig out the family picnic rug as soon as I'm back in London.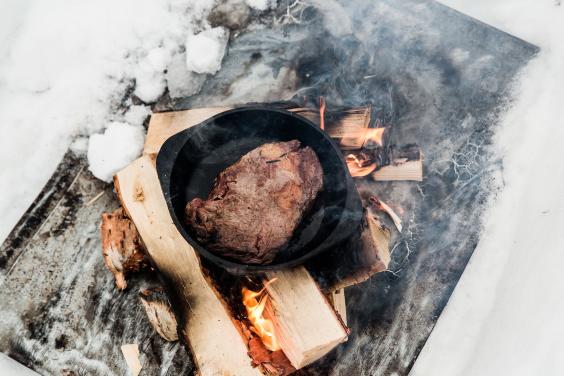 What's funny is how odd Swedes think I am for making so much of something that's so commonplace for them. Later, over a drink in our home for the night, a waffle-house-turned-hotel called Buustamons Fjällgard, up yet another snowy track in Åre, Ekstedt says simply: "Outdoor cooking for us Scandinavians is so basic because we've always done it, in any weather!" Even his kids, aged nearly five and nearly two, eat lunch outside every day at their Stockholm kindergarten. Except when it's really cold – "Like below -17C."
It's snowing heavily the next day as we drive back through Jämtland's capital, Östersund, to catch our plane, so the big lake there, Storsjon, is deserted. But on a typical weekend it would be packed with people ice skating, Nordic skiing, pushing babies all snuggly in well-padded buggies, and, yes, eating. Tables on the edge of the lake have mini grills built in for people to bring their own food to cook.
It's easy enough to get to Åre, either via Stockholm, or direct to Trondheim in Norway, just two hours away, but if you want the taste of smoke with the comfort of four walls, Ekstedt has it covered. His eponymous Stockholm restaurant recreates that cooked-over-an-open-flame flavour by, yup, cooking over an open flame. "I wanted to do something Nordic and based on Swedish traditions, but not just copy [the Danish restaurant] Noma. I wanted it to be more than just the new Nordic," he explains. "So I made the restaurants based on technique that originate from our lifestyle in Sweden."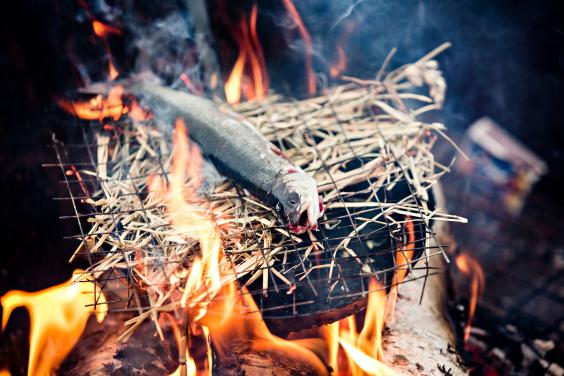 Head chef Gustav Otterberg does not use any electricity or gas to cook his dishes, which on the night I eat there range from smoked oysters and avocado to a delicate piece of hay-smoked sole, served with langoustine seared first in butter before being smoked in a "stone-age microwave" – Otterberg's latest invention, a box warmed with smoke funnelled through chimneys from the main fire pit with embers thrown in for good measure – and four types of onions: pickled, puréed, fried in rings and smoked.
There's also more steak, again strung from that nail-studded board (made of pear wood to withstand high temperatures) and served with smoky tomatoes, which hang, strung like a red pearl necklace, high over the flames. A make- it-yourself saffron tortilla, which arrives with baby pots of chilli-spiked orange curd, crushed meringue, alcoholic cloudberries, and brown-butter ice-cream, finish everything off.
Like the sound of that? Well, Ekstedt is hoping to open a restaurant in London next year. Until then, there's plenty of winter left to wrap up and fire up even in Britain, snow or no snow.
Outward bound: The full Swedish experience
If you're feeling inspired, the local tourist board, Visit Östersund, has set up a new website to help you book anything from ice fishing to a spot of ice driving: with lunch outside, of course. They'll even help you organise a trip to Jämtland via Ekstedts restaurant in Stockholm. adventuresonice.co.uk
With Explore Åre you can whip up a full banquet, or keep things simple with a kolbulle, one of those bacon pancakes. And if you snow-shoe to your destination, you won't need to worry about all the oil in those kolbulle either. exploreare.se/snoskovandring
Or perhaps you're interested in living like the Sami, Scandinavia's indigenous reindeer-herding population. You can try it all with Nulltjarnsgarden, a company that specialises in experiences from smoking elk to cooking mountain fish. nulltjarnsgarden.se
Another option is to have dinner with a local family from Östersund, which is the capital of Jamtland. From March, the local tourist board, Visit Östersund, is launching an initiative that will encourage visitors to hook up with hosts who are keen to show off their favourite outdoor-eating spots. The host families promise to make a "typical Swedish outdoor meal", using local produce from elk and moose to reindeer and fish. visitostersund.se/activities
Reuse content