Antoni Gaudi didn't design Barcelona, though it can seem that way. The city's long revival since the 1992 Olympics has also seen the resurrection of its defining architect and the restoration of his bizarre Art Nouveau buildings.
From his relatively straight-lined early commissions to the surreal and asymmetrical later works, the informal Gaudi trail now draws as many visitors as the city's golden beaches and famous football club. And now there's a new pit stop in the works: after years of repairs, Casa Vicens, the first house he ever designed will open to the public for the first time later this year. Originally scheduled for an Easter opening, it now looks like September is more likely. Early photos, though, suggest it'll be worth the wait.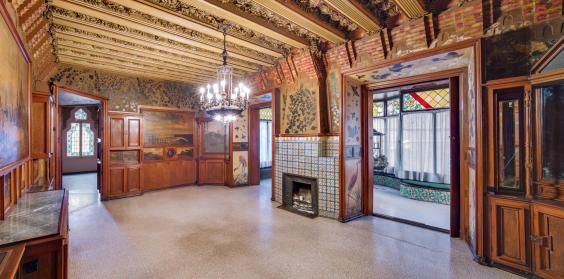 In the meantime, here's a run-down of the finest facades and interiors by the master of Catalan modernism.
Gaudí's Barcelona
Gaudí's Barcelona
1/11

Eat in Gaudi's own surroundings at Casa Calvet

Casa Calvet Facebook

2/11

Palau Güell is one of Gaudi's early works

Facebook

3/11

The roof at Palau Güell is an early example of his famosu style

Facebook

4/11

The Sagrada Familia is set to be completed in 2026

Sagrada Familia

5/11

It's possibly the most famous incomplete building in the world

Sagrada Familia

6/11

Inside the Sagrada Familia it's all about the light

AFP/Getty Images

7/11

Park Güell was originally intended as a residential district

Park Guell

8/11

Park Güell sees nine million tourists a year

Getty Images

9/11

Casa Calvet's set lunch menu means you can afford to eat in style

Casa Calvet Facebook

10/11

The staircase at Casa Battló

Casa Battló

11/11

Casa Battló is an essential stop on the Gaudí trail

Casa Battló
An early commission by Gaudi's main patron and benefactor, textile tycoon Eusebi Guell, this grand townhouse is now credited as one of the first Art Nouveau buildings in the world. Its fancy yet conventional wrought-iron frontage shows off the young architect's technical skill, and the parabolic dome above the main hall – perforated to let in sunrays and moonbeams like a sultan's throne room – reveals Moorish influences.
The rooftop, meanwhile, prefigures Gaudi's later fixation with nature. A morass of chimneys seem to grow out of the Barcelona skyline like mushrooms or deep-sea creatures, all painted in rich colours and encrusted with ceramic shards: a method he called trencadis, which would become his signature touch. 
Entry €12 (£10.40)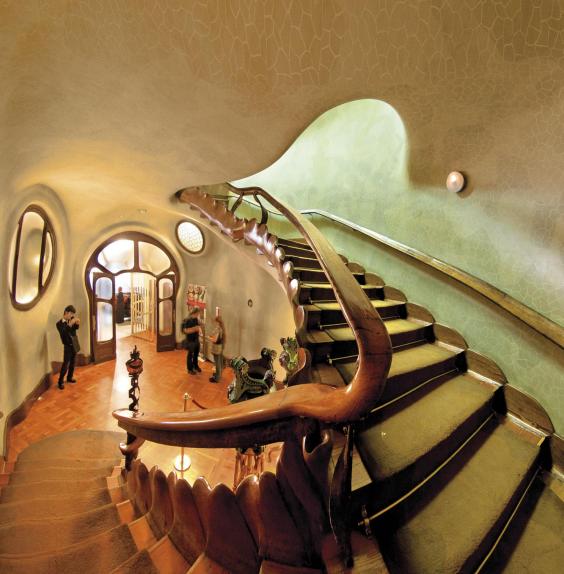 Since opening as a museum in 2004, this showcase for Gaudi's late-period aquatic-organic weirdness has drawn huge crowds, even in low season. Described by fan Salvador Dali as a "house of sea shapes", its facade ripples like a Mediterranean wave, while the interior rises from an entry hall like an undersea cave. Tours take you up a staircase that could be the spine of a gigantic prehistoric beast, winding around the central light well. You won't see anything resembling a right angle until you reach the fish gill vents around the roof and attic. 
Entry €23.50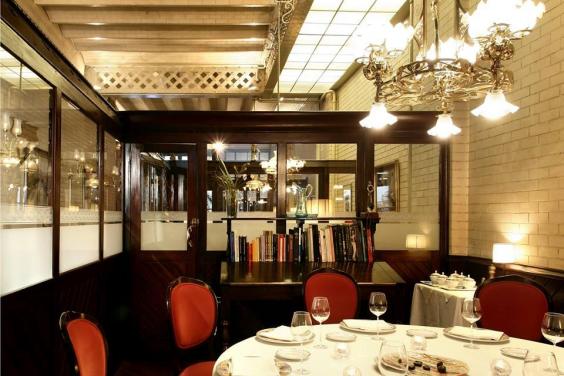 Another textile merchant asked Gaudi to design him a building in which he could live and work at the same time. The architect couldn't quite play it straight, disrupting a straightforward exterior with irregular curves and bulging balconies.
Today, Casa Calvet houses a restaurant of the same name, where you can eat dishes like seafood soup and curried lamb with yoghurt amid his handiwork: right down to lamps, ironwork and wood partitions. His extraordinary Art Nouveau elevator to what were upper-level apartments even contains a made-to-measure bench.
Mains around €30 or three-course lunch menu €38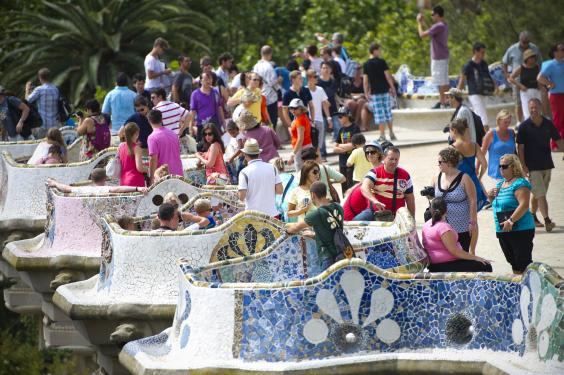 Eusebi Guell also tasked Gaudi to design a high-end housing development in the hills, but Barcelona's elite weren't too keen to buy property subject to the whims of such an oddball architect. So Park Guell became a mostly vacant playground for his ideas, with a sinuous irrigation system of viaducts and porticos; a market area with a mosaicked vault of fish and octopus patterns made from broken plates and bottles; and a public square that could have seated an entire community on a single undulating bench overlooking the city and sea.
Gaudi's mini-utopia may never have seen the residents that he planned for, but the site now receives nine million visitors per year. 
Entry €8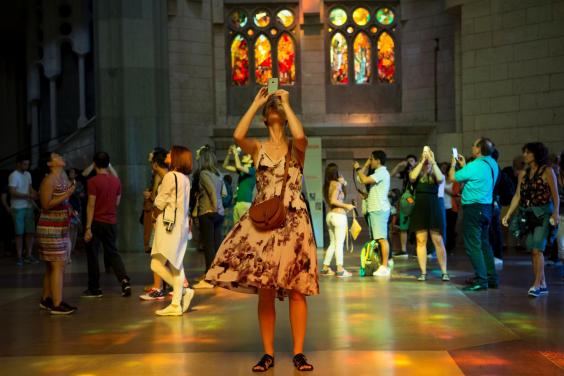 Gaudi's unfinished cathedral – it's scheduled to be completed in 2026, a century after his death – has become Barcelona's leading tourist trap, where Disney-like queues form outside for tickets and audio guides every morning. Familiarity hasn't made the structure any less strange though, with its tactile facade of saints, skeletons and inscrutable turtles leading into a "forest" of columns glowing like a rainbow from the light cast by the stained glass windows.
Gaudi spent his last few months living at the worksite, knowing he'd never live to see the finished basilica. He was hit by a tram in 1926 and is buried in the crypt below, while generations of expert craftsmen have since slowly advanced the project by following his original models and unorthodox geometric rules.
He wasn't much for detailed notes or blueprints though, and some consider the ongoing work-in-progress more a loose "interpretation" than an exact replication of whatever Gaudi once envisioned in his mystic reveries. But if the cathedral is finally completed on schedule and the bells ring at last from the towers high above, who will begrudge the architect his glory?
Entry €15 
Reuse content