Travel essentials
Why go now?
Early winter is the ideal time to visit Barcelona, with tourist numbers dwindling, the Mediterranean moderating the temperature and the city at its full, hectic pace. Add in the intrigue of this weekend's poll – a "consultation" on Catalan independence – and you will find a fresh energy to the city, as well as plenty of new sights.
Touch down
Barcelona is the prime route from Gatwick, from which there is intense competition between British Airways (0844 493 0787; ba.com), easyJet (0843 104 5000; easyjet.com), Monarch (0871 940 5040; monarch.co.uk), Norwegian (0330 828 0854; norwegian.com) and Vueling (0906 754 7541; vueling.com). These and other airlines – including Iberia (0845 601 2854; www.iberia.com), Jet2 (0871 226 1737; jet2.com) and Ryanair (0871 246 0000; ryanair.com) – fly from a wide range of British gateways.
Barcelona's El Prat airport is 12km south of the city centre, with Terminal 1 and Terminal 2 separated by the runway. Each has an express bus link to the centre: A1 from Terminal 1, A2 from Terminal 2. The former runs every five minutes, the latter every 10 minutes; €5.65 single, €10.20 return. They run to the Plaça de Catalunya (1) at the city centre, taking about half an hour.
Trains also depart every half-hour from 6am to 11pm from Aeropuerto station (a 10-minute walk from Terminal 2) to Sants station in 19 minutes and Passeig de Gracia in 26; fare €4.10.
The tourist office is buried on the north side of the Plaça de Catalunya (1), near the Aerobus stop (00 34 93 285 3834; barcelonaturisme.com; 8.30am-8.30pm daily.)
Get your bearings
Barcelona is squeezed between the mountains and the Mediterranean, and has some impressive hills of its own. The central axis of the city is its most celebrated street, La Rambla, running south-east from Plaça de Catalunya (1) to the statue of Columbus (2) on the seafront. The ancient core of the city, the Barri Gotic, is to the north and east; the former working-class district of Raval to the south and west. Towards the sea, the long arm of Barceloneta is topped by the shimmering silhouette of the W Hotel (3).
In the 19th century, the city expanded into the geometrically orderly Eixample ("extension"), whose most significant monument is the temple of the Sagrada Familia (4), by Barcelona's artistic son Antoni Gaudí.
Check in
The W Hotel (3) at Plaça de la Rosa dels Vents 1 (00 34 93 295 28 00; w-barcelona.com), is the city's landmark property, and offers dazzling design and style. In November it also offers excellent rates; a fortnight from now, you can get a "Cozy Room" for €208, excluding breakfast.
Tucked away about a minute's walk from the Plaça de Catalunya, a 19th-century commercial building has been stylishly converted into an art-filled boutique hotel. The H10 Metropolitana (5) at Rambla Catalunya 7 (00 34 93 214 0720; h10hotels.com) also has a secret patio at the rear of the ground floor, complete with (tiny) pool. Doubles are available for €145, with breakfast an extra €18 per person.
If you plan a New Year visit, the mas-sive building site on the waterfront at Passeig de Colom 9 is due to open as Barcelona's latest and most stylish hotel, The Serras (6). It is on the site of Pablo Picasso's first studio. Bookings are being taken at present only from 1 February, with rates as low as €179 for "oversize doubles".
Click here to see a bigger image of the map
Day one
Take a hike
Start with your back to the sea at the statue of Columbus (2) (he is looking out towards Mallorca). Walk up La Rambla. The central part of this broad boulevard is pedestrianised, and teems with street artists, performers, restaurants, souvenir and jewellery stalls, and one or two petty criminals; watch your wallet or handbag. Highlights on this stroll include: the Cafe de l'Opera (7), where a cafe con leche costs €2.20; a Joan Miró mural (8) embedded in the pavement; and La Boqueria market (9), open from early morning to mid-afternoon (closed Sundays). Plaça de Catalunya (1), the end of the walk, is dominated by a muddle of grand buildings, and at present is half closed for renovation work.
Lunch on the run
Barcelona is an outstanding gastronomic city, but it also has plenty of tourist traps where you can pay highly but eat poorly. For good-value, head for the Sant Pere area, east of Plaça de Catalunya. Under an arch at the south end of Plaça Pou de la Figuera, Espai Mescladis (10) is a remarkable community project: a cheerful semi-outdoor café offering delicious salads and cheap beer, with some ingredients sourced from the adjacent urban allotment.
Window shopping
From the nearby Arc de Triomf Metro station (11), a €2.15 ticket takes you two stops to Glories (12), location for Europe's most spectacular flea market: Els Encants (elsencantsbcn.com). The streets have been decanted into a multi-storey emporium for antiques down to junk (9am-8pm on Monday, Wednesday, Friday and Saturday).
Cultural afternoon
Next to Els Encants is the new Disseny library (00 34 93 256 2300; dhub-bcn.cat), a space dedicated to design. The present Art Nouveau exhibition is intriguing, and free. It opens 10am-8.30pm daily (Mondays from 4pm). Tram 4 from outside the museum runs to Ciutadella-Vila Olimpica (13). From here, head along to the Palau de Mar. The foundations were laid in 1881 as the port's General Stores. Today, it houses the Museu d'Historia de Catalunya (14) (00 34 93 225 4244; en.mhcat.cat), a new concept depicting the region's often-painful history from the great siege of 1714 to the Civil War in 1936. Open 10am-7pm daily (Wednesdays to 8pm, Sundays to 2.30 pm, Mondays closed); €4.50.
An aperitif
The top floor of the museum (14) is given over to the 1881 Restaurant, with a spectacular outdoor bar overlooking the marina. To accompany good beers and wines, nibble on tapas such as a €12 plate of artesanal cheeses.
Dining with the locals
Elsa Y Fred (15) at Rec Comtal 11 (00 34 93501 66 11; elsayfred.es) offers plates such as pumpkin ravioli with manchego cheese and sun-dried tomatoes for €10, in chic surroundings.
For a steak the size of Montevideo for just €17, book ahead at La Rueda (16) at del Rossello 266 (00 34 93 207 3163; braserialaruedabcn.com) in the Eixample. The huge grill at the front of this Uruguayan restaurant shows they mean business – it has been a Barcelona fixture for three decades.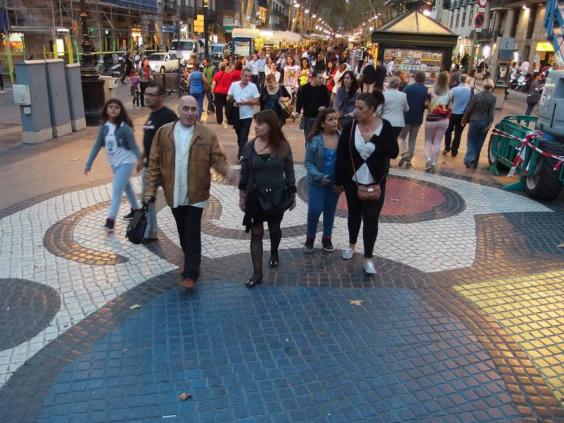 Day two
Sunday morning: go to church
Before you get too close to the Sagrada Familia (4) (00 34 935 132 060; sagradafamilia.cat), appreciate its grace and majesty from a distance along Avenida Gaudi. Then approach his masterpiece, which will slowly fragment into towers and columns that still await completion. It is best seen first thing on a Sunday morning; open 9am-6pm daily, admission €14.80.
Take a view
Pay an extra €4.50 for a tower visit at the Sagrada Familia, and you get to view this remarkable structure from a different dimension – and get a fresh city panorama.
A walk in the park
A dozen blocks south of the Sagrada Familia takes you to the Parc de la Ciutadella, which richly rewards exploration. From the north-west entrance (17), turn left to find a triumphal fountain that is worthy of Rome in its opulence. Head south-east to the Catalan parliament (18), the handsome political powerhouse for the region. Exit via the park's west gate (19), which leads to the Centre Comercial of El Born (20) – the district's old market, now transformed.
Out to brunch
Head for the beach, and Ca la Nuri (21) (00 34 93 221 3775; calanuri.com), a marvellous seafood restaurant at sand level. On Sundays it serves feasts from 1pm-4.30pm (book online or by phone), such as sardines with pa amb tomaquet – bread with garlic and tomato (€19.10). Afterwards, walk it off with a stroll along the beach.
Icing on the cake
Complete your exploration at MUHBA, the Museum of the History of Barcelona (22) on Plaça del Rei 00 34 93 256 2100; museuhistoria.bcn.cat). It occupies part of a palace, and leads you back through 20 centuries of history (10am-8pm Sundays, 7pm other days, closed Mondays), admission €7.
Reuse content